EU negotiations Q&A: What are David Cameron's demands? What happens next?
European Council president Donald Tusk has published his proposals for a 'new settlement' between Britain and the EU
Nigel Morris
Deputy Political Editor
Tuesday 02 February 2016 13:36 Comments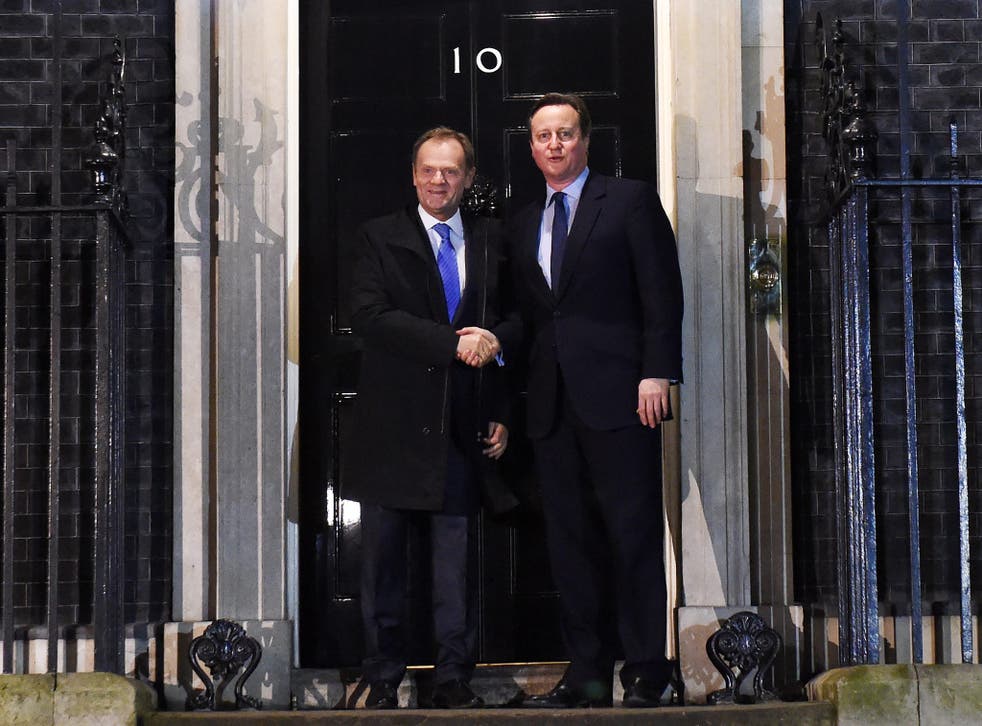 Why are the EU negotiations taking place?
In 2013, with the Conservatives under pressure from Ukip, Mr Cameron pledged to stage a referendum on EU membership before the end of 2017 if he won the forthcoming general election. He promised that he would renegotiate Britain's relationship with the European Union and put it to the country in the referendum.
Following his victory in May, he has embarked on a gruelling round of European capitals, as well as countless telephone calls with the EU leaders, attempting to win backing for four key demands.
What are the demands?
They fall into four main categories. First, he wants more powers for the House of Commons and other national parliaments to block proposed EU legislation which they view as unnecessary or unwanted. Secondly, he is calling for greater protection from EU member states outside the Eurozone from decisions taken by countries with the single currency.
Thirdly, he wants action to cut red tape and boost competitiveness across the bloc. Fourthly, he is demanding a limit on the in-work benefits paid to EU migrants working in Britain.
How have the negotiations gone?
They have been protracted and hugely complex. Two of his demands – on vetoing unwanted EU laws and increasing competitiveness – have been broadly welcomed by other leaders, but the proposals on the Eurozone and (in particular) migrants' benefits have run into strong opposition.
Eurosceptic Tory MPs

Show all 7
What is the problem with the Eurozone demand?
George Osborne has driven this agenda, pressing for greater protection for the nine countries outside the Euro. Britain is calling for powers to stop Eurozone laws which could affect countries with their own currencies. It is effectively attempting to safeguard the City of London from interference from Europe's other financial centres. France is among the nations suspicious of the move, warning that it could hamper the ability of Eurozone countries' ability to respond to crises.
What about the migration plans?
Mr Cameron's key demand has been for a four-year ban on EU nationals receiving in-work benefits, which he sees as essential for countering a migration "pull-factor" to Britain.
It has run into vehement opposition in the EU on two grounds: that it undermines the EU's basic principle of freedom of movement and is discriminatory. Poland and other central and eastern European countries have made clear they would not accept his proposal.
The European Commission has suggested an alternative scheme under which an "emergency brake" on welfare payments to EU workers could be triggered if a nation can demonstrate migration levels are putting public services under impossible strain.
What has happened today?
Donald Tusk, the European Council president, is publishing his proposals for a "new settlement" between Britain and the EU. He believes it can be the basis of a lasting deal, but has acknowledged there are still several unresolved issues to be addressed.
What do the Tusk proposals say about migration?
He says the proposed emergency welfare brake will allow national governments to impose a four-year restriction on migrants claiming in-work benefits, but proposes that migrant workers should be allowed to have benefits phased in over the four-year period.
But it leaves open the question of how long the brake can remain in place.
The document makes clear that EU states are entitled to refuse access "on preventative grounds" to people likely to threaten national security, even if the threat is not imminent – a measure demanded by Theresa May, the Home Secretary. It also allows member states to tackle the use of fraud or sham marriages to gain the right to enter and remain.
And on other UK demands?
It makes clear that non-euro states are not required to help bail out single currency members which get into trouble, and proposes a new mechanism for non-euro states to "escalate" concerns about possible discrimination in favour of the eurozone for discussion by the full European Council, as the Prime Minister has demanded.
The draft blueprint makes clear that the proposals would come into force immediately after the UK votes in favour of remaining in the EU.
What happens next?
The document will be the basis of intense diplomatic activity in the run-up to a summit in Brussels on 18-19 February. If Mr Cameron can win the support of the other 27 leaders than for his reform blueprint, that will clear the way for his promised referendum to take place on 23 June. Under those circumstances, the Prime Minister and the vast majority of his Cabinet would join the Remain campaign.
Register for free to continue reading
Registration is a free and easy way to support our truly independent journalism
By registering, you will also enjoy limited access to Premium articles, exclusive newsletters, commenting, and virtual events with our leading journalists
Already have an account? sign in
Join our new commenting forum
Join thought-provoking conversations, follow other Independent readers and see their replies