Jo Cox death has taken 'momentum' away from Brexit, claims Nigel Farage
Ukip leader says the tragedy has 'had an impact on the whole campaign for everybody'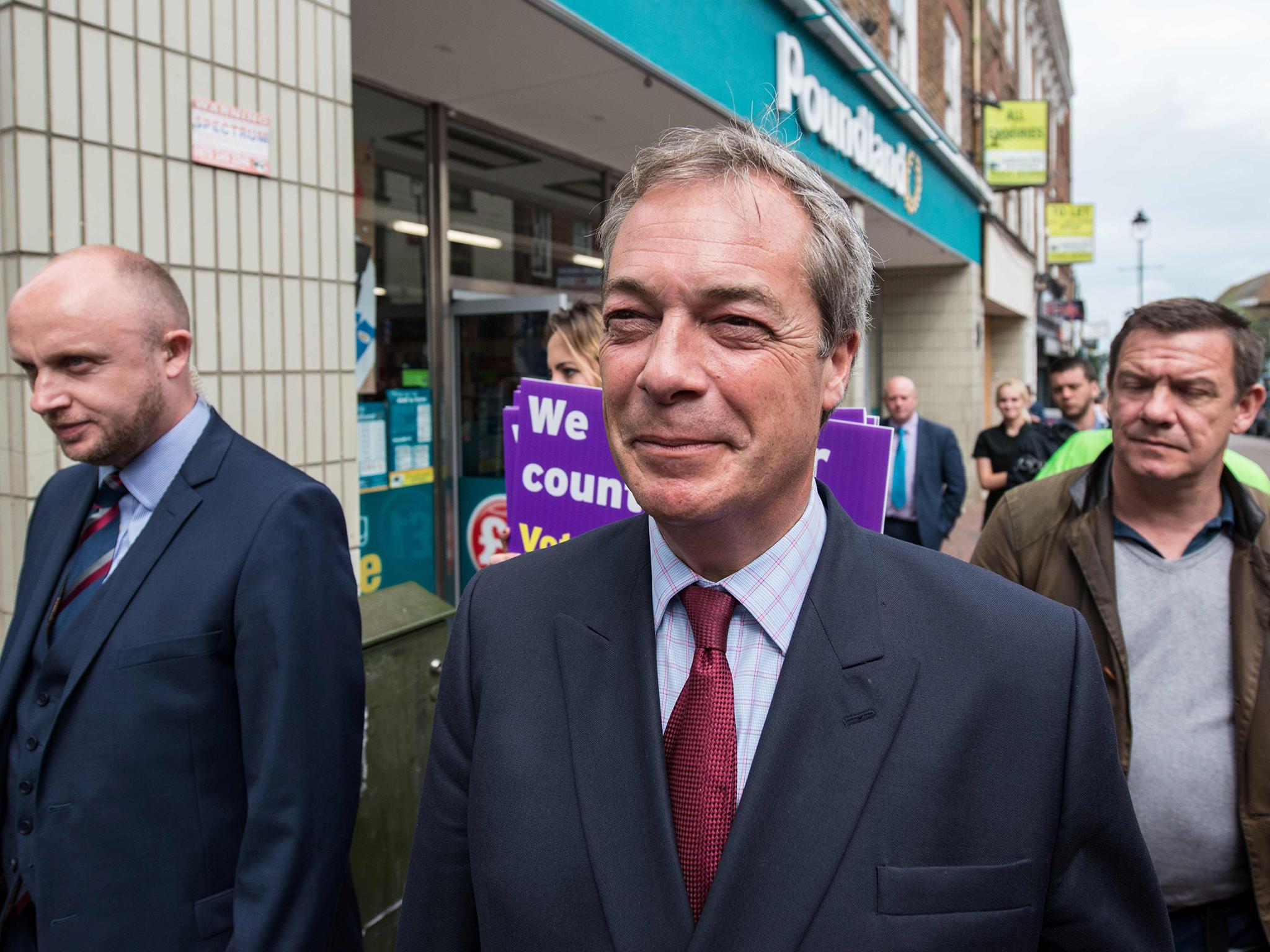 The death of Labour MP Jo Cox has taken some of the momentum out of the campaign to get Britain out of the European Union, Ukip leader Nigel Farage has suggested.
His comment came as he was accused by George Osborne of "whipping up division" with a poster showing a column of migrants walking through the European countryside under the slogan Breaking Point, which the Chancellor said was reminiscent of extremist literature produced in the 1930s.
Leading Leave campaigner Michael Gove also distanced himself from the image, saying he "shuddered" when he saw it.
Speaking on ITV1's Peston on Sunday, Mr Farage said he believed that voters who had made up their minds to vote Leave would still turn out on June 23 to do so, but appeared to accept that the drive to win over waverers may have been hit by Mrs Cox's death after a violent attack outside her constituency surgery on Thursday, which led to a three-day suspension in campaigning.
"I think we have momentum," said one of the leading advocates of Brexit. "We did have momentum until this terrible tragedy. It has had an impact on the whole campaign for everybody.
"When you are taking on the establishment, you need to have momentum. I don't know what's going to happen over the course of the next three to four days, but (this was) the action of one person with serious mental issues. What we saw was an act of terrorism."
He added: "It is difficult to tell, but I think those who have made up their minds to leave, because they want to get control over their country back, will go out and vote on Thursday."
Speaking to Peston earlier, Mr Osborne said he hoped Mrs Cox's death would lead to "a less divisive political debate in our country" with "less baseless assertion and inflammatory rhetoric and more reasoned argument and facts".
He denounced Mr Farage's poster - released just hours before the attack on Mrs Cox, and already the subject of complaints to the police over alleged racism - as "disgusting and vile".
"There are perfectly legitimate concerns about migration, concerns that are felt in every Western democracy in the world," said the Chancellor.
"But I think there is a difference between addressing those concerns in a reasonable way and whipping up concerns, whipping up division, making baseless assertions that millions of people are going to come into the country in the next couple of years from Turkey, saying that dead bodies are going to wash up on the beaches of Kent, or indeed putting up that disgusting and vile poster that Nigel Farage did, which had echoes of literature used in the 1930s.
"That is what we should say 'No' to."
But Mr Farage rejected the charge of stoking up hatred, telling interviewer Robert Peston: "I think I have been a politician who has been a victim of it, to be honest with you.
"When you challenge the establishment in this country, they come after you, they call you all sorts of things. We saw the Chancellor a few minutes ago - despite the fact that overnight he talked about turning down the rhetoric - doing the same thing again."
The Ukip leader declined to discuss whether he could form part of a Boris Johnson government following a Leave vote, saying only that he had not been asked about it.
He said he was right to raise issues like the New Year sex attacks on women in the German city of Cologne and the arrests of four people "plotting to blow up Dusseldorf, who came in posing as refugees last year". At current rates of net migration, Britain would have an additional 10 million inhabitants within 20 years - more than the number of people in Greater London - he said.
"The real point I am making is that as part of a European Union, we have lost control of who can come into our country," said Mr Farage. "We would be safer taking back control."
Mr Gove told the BBC1 Andrew Marr Show: "When I saw that poster I shuddered. I thought it was the wrong thing to do.
"I am pro-migration but I believe that the way in which we secure public support for the continued benefits that migration brings and the way in which we secure public support for helping refugees in need is if people feel they can control the numbers overall coming here."
He defended a warning by Vote Leave that there could be an additional one million immigrants from Turkey within eight years if Britain remains in the EU, even though the Government has insisted it will be many years before Turkey will be able to join.
"The rate and speed at which Turkey will join will depend on a variety of political factors but it is the case that during the course of this year that the European Union have made it clear that they want to accelerate that process," he said.
PA
Join our commenting forum
Join thought-provoking conversations, follow other Independent readers and see their replies