Jeremy Corbyn could face leadership challenge next month, Labour MP suggests
Exclusive: Pro-EU Labour figures fear that Mr Corbyn will not throw his full weight behind the Remain campaign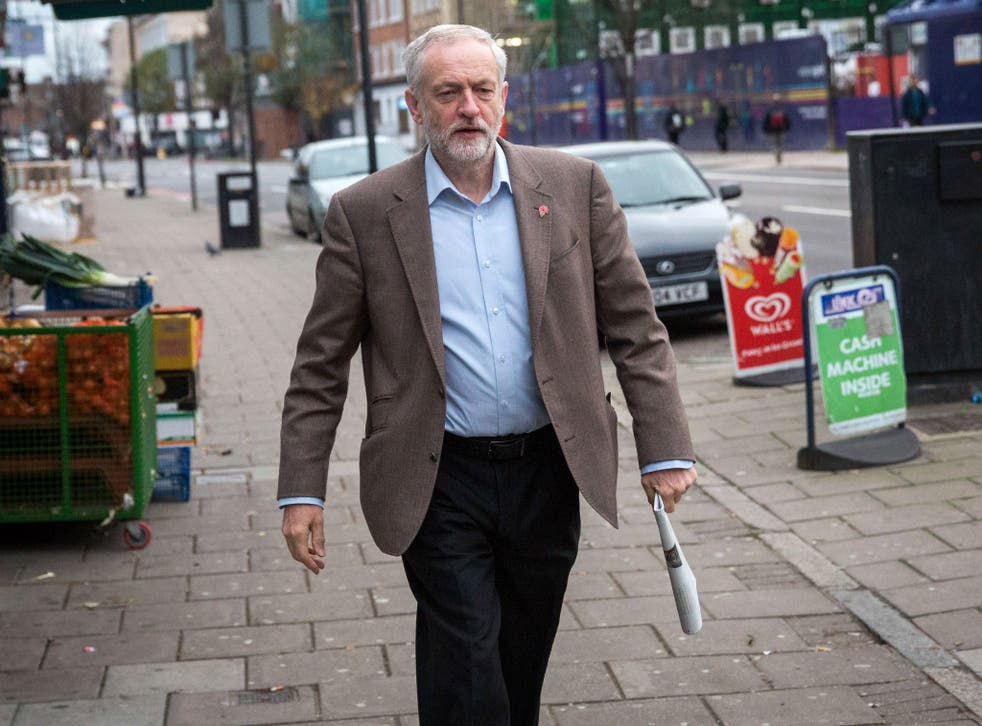 Labour MPs have warned Jeremy Corbyn he must make more effort to mobilise Labour supporters in order to prevent Britain voting to leave the EU in next month's referendum.
Pro-EU Labour figures fear that Mr Corbyn will not throw his full weight behind the Remain campaign and that it could lose the referendum as a result. Some Labour MPs have even raised the prospect he could face a leadership challenge after a Brexit vote, as he would get the blame. But others insist the Labour leader is safe for a year.
In an interview with The Independent, Jo Cox, a Labour backbencher, said: "The next big challenge for Jeremy in the next few weeks is the referendum. Lots of us in the Labour Party are going to be looking for some real leadership from Jeremy. He has to lead from the front and put a convincing case."
The MP for Batley and Spen said: "Whatever the outcome of the referendum, there will be huge implications for both the Conservative and Labour parties." Asked if a Brexit vote could provoke a Labour leadership contest, Ms Cox replied: "I want to see those Labour voters come out and vote Remain. If they don't, and we leave [the EU], that is a conversation for 24 June."
She said Mr Corbyn, as a sceptic about some aspects of the EU, had a "unique voice" and must deploy it "with gusto."
There are fears in the Remain camp that, although Mr Corbyn launched Labour's pro-EU campaign this week, he will not follow it up with regular appearances and speeches over the next six weeks. With the opinion polls next and neck, and a majority of Conservative supporters likely to back Brexit, Remain is desperate to win Labour voters. Mr Corbyn voted to leave the EU in the 1975 referendum and there are fears that a lukewarm endorsement of membership by him now would not persuade Labour supporters to vote to stay.
One Labour frontbencher said: "If the public vote to leave the EU, Labour will get the blame." Another said: "The finger would be pointed at Jeremy and there could be consequences."
However, other senior Labour figures dismissed the prospect of a leadership challenge after a Brexit vote. One Shadow Cabinet member said: "Jeremy is safe for a year. We should get behind him now. If the Tories are tearing themselves apart and trying to get rid of Cameron, why on earth would we do the same? It would be madness." Corbyn allies insist he is fully committed to Britain remaining in the EU. They will be dismayed that Labour MPs are setting yet another test for him only four days after he appealed to them for unity.
In her interview, Ms Cox also urged the Labour leader to take a tougher line against supporters who attack his critics on social media. She said: "These people do speak in his name. Jeremy has said repeatedly he doesn't sanction this kind of behaviour. But I think has to do a little bit more to make it clear that this is not in his name. It does him a disservice because it is not the gentler kind of politics he stands for."
Ms Cox, 41, who has received sexist comments and remarks about her appearance on social media after criticising Mr Corbyn, said: "We have got to be able to have debates that do not descend into vile attacks or abuse. It should be OK for people to put their head above the parapet in the Labour Party in a fair and moderate way without being mowed down for that. There are definitely misogynistic trends and themes, an aggressive, patronising and slightly sexist tone to some of the messages I get."
She defended Laura Kuenssberg, the BBC's Political Editor, who was the victim of sexist abuse after an online petition called for her to be sacked over her reports on last week's election results. "She did a good job. This is offensive. There is a strand of people involved in the Labour movement who go way too far in attacking anyone who has a different view to them," she said.
Khan uses first major interview as Mayor to attack Corbyn
Ms Cox hinted that Mr Corbyn should stand down voluntarily as leader if he fails to broaden Labour's appeal to make it look like an alternative government. "Everyone is committed to making it work. If it does not, ultimately there are many of us who think that Jeremy needs to take responsibility," she said. "If he can convince the British public that he is a prime minister-in-waiting, I will be the first to back him. If he can't, then he needs to reflect on that.
"The clock is ticking. If we don't change tack, many Labour MPs will not be Labour MPs after the 2020 election. It is not just Jeremy; we are all on probation."
What's the European Parliament ever done for us?

Show all 5
The former aid worker, who was elected to Parliament a year ago, now regrets nominating Mr Corbyn for the Labour leadership in order to widen the party's debate. She did not want him to win and voted for Liz Kendall. "I do regret it. I wanted the leadership campaign to be broad and inclusive, a real debate," she said. " I wanted Jeremy to listen to that and not just talk about things that those who voted for him wanted to talk about. I have not seen enough of that broader conversation."
Ms Cox said Mr Corbyn "personally needed to act faster and go much further" in tackling anti-Semitism in the party. She claimed several Labour MPs wrote to him some weeks before the controversy erupted but got no response. She argued that Ken Livingstone, who has been suspended by Labour after suggesting that Hitler was a Zionist, should be expelled permanently. She said: "I think it is time for Ken to leave the party. It would be very difficult for members to accept him back after what he said."
Ms Cox, who describes herself as "on the left of the party" and "definitely not a Blairite", said: "Jeremy needs to accept that we are trying to be critical friends. We need a really inclusive message that reaches out beyond the Labour Party's base. Some of the people around him are very good at talking to the movement that helped propel Jeremy to power in the party – a really important constituency who are passionate, principled and excited. They cannot be blind to the fact that that is not enough of a constituency or coalition to get us into power."
Join our new commenting forum
Join thought-provoking conversations, follow other Independent readers and see their replies