EU referendum: Brexit would spark 'constitutional crisis' for UK, warns Welsh First Minister Carwyn Jones
Exclusive: Welsh leader uses strongest language of campaign so far to warn of political consequences of leaving EU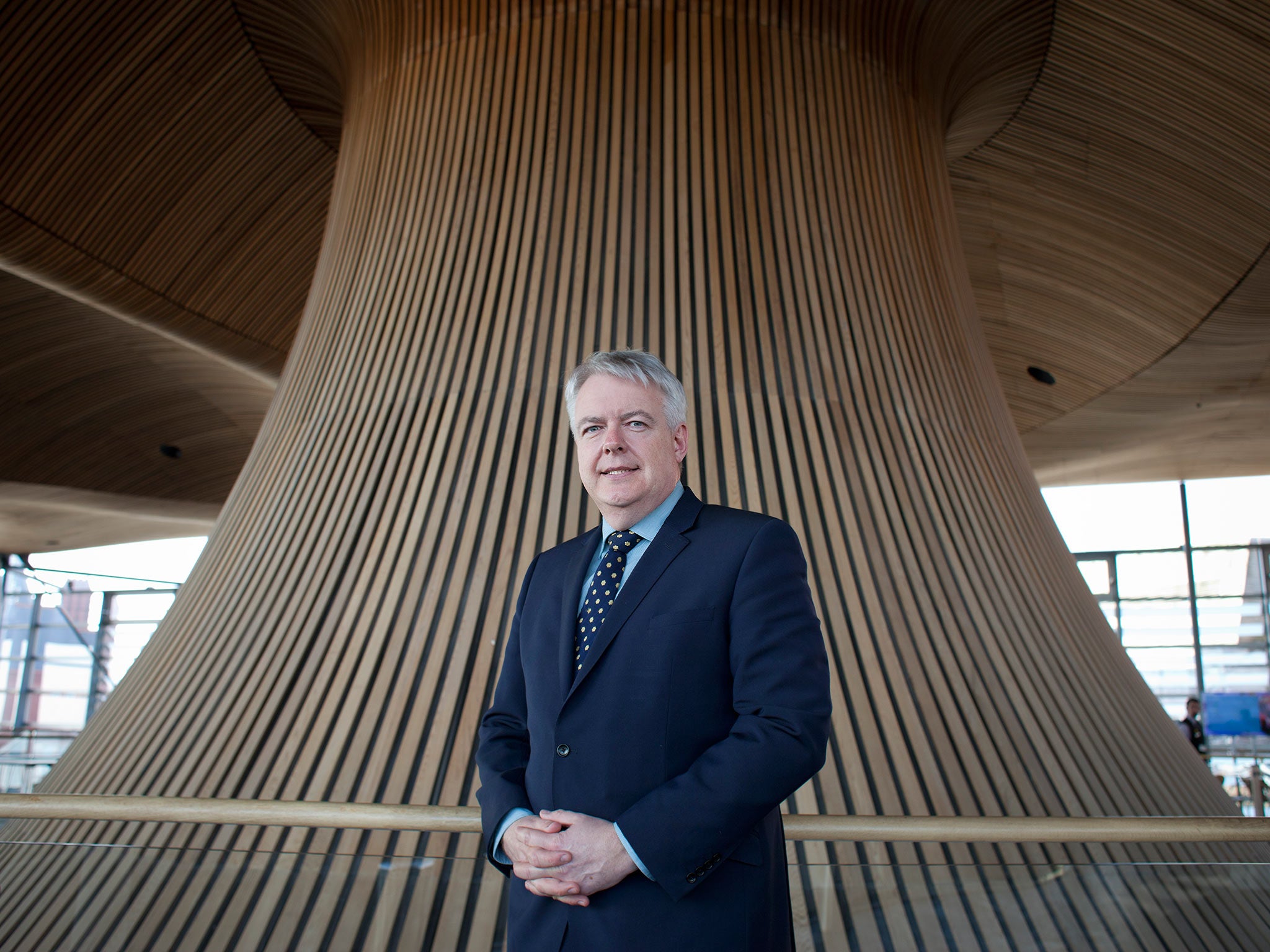 A vote to leave the European Union would spark a "constitutional crisis" that could put the future of the UK at risk, according to the Welsh First Minister.
In an exclusive interview with The Independent, Welsh leader Carwyn Jones used the strongest language of the referendum campaign so far to warn of the disastrous political consequences if the separate nations of the UK vote different ways in June.
Mr Jones also warned that the Welsh economy would "tank" in the event of Brexit, as EU grants to the nation disappear and multinational employers pull out. Wales benefits significantly from EU aid and farming subsidies and, like Scotland, is considered one of the more pro-EU regions of the UK.
"If Wales votes to remain in the UK but the UK votes to leave, there will be a crisis. There will be a constitutional crisis. The UK cannot possibly continue in its present form if England votes to leave and everyone else votes to stay," the Labour politician said.
"If we leave the EU our economy will tank and we might be in a position at some point in the future where the Welsh people are asking which union – the UK or the EU – we should be a member of."
The First Minister added: "We benefit from our membership of the UK, just as we benefit from our membership of the EU and it's sad from a Welsh perspective that we are being asked to choose between one or the other."
Speaking ahead of the EU vote and May's Welsh Assembly elections, Mr Jones attacked the "flag-waving nationalism" behind elements of the Brexit campaign.
The First Minister claimed that an Out vote would signal the collapse of a £1.2bn regeneration and transport deal for South Wales that was announced earlier this week. And he warned that major firms and manufacturers would "quit" Wales if the country lost access to EU markets.
"We have companies in Wales who are here because it is their European base, and if we are not in the EU they will go elsewhere," he said. "It won't happen overnight, but they will go after an exit vote. When I go abroad looking for investment to bring to Wales, EU membership is absolutely fundamental."
Back in November, Mr Jones said an effective veto for Wales and Scotland over the UK leaving the EU was "worth considering", but his latest comments have more weight as they are attached to his strongest warning yet on the economic implications of Brexit for Wales.
Wales, which receives around £500m a year in EU funding and has a farming industry heavily reliant on financial support from Brussels, has historically leaned towards supporting EU membership, although recent polls have been less clear and Eurosceptic support is thought to be increasing in some areas.
Leave campaigners will accuse the First Minister of resorting to scare tactics, but Welsh Labour says 200,000 jobs in the country rely on EU membership and that more than 40 per cent of exports go to the EU.
Mr Jones said it was "nonsense" that the EU would fall over itself to "construct trade deals" with the UK in the event of a Brexit vote. "There is so much uncertainty if we were to leave that it's impossible to predict what the future of the UK might look like or even whether it exists at all in its current form," he said.
Mr Jones, the Assembly member for Bridgend since 1999, also used the interview to launch a veiled attack on Labour leader Jeremy Corbyn and David Cameron as he called for "more passion" from Westminster politicians in favour of continuing EU membership. He also admitted that open warfare in the Westminster Labour Party would have an impact on Welsh Labour's prospects in the forthcoming Assembly elections. "I'm not going to pretend otherwise... but this is a different election campaign. Our election campaign is about Wales."
Welsh politicians will have just a few weeks to campaign over EU membership after May's Assembly election, which Welsh Labour sources say remains the party's top priority. The party faces its toughest challenge in the 17-year history of devolution and could face its first major nationwide defeat in Wales since the Liberal win in 1918 under David Lloyd George.
Early polls suggest the Conservatives could win several seats, while a surge in support for Ukip in Wales could help reduce Labour's hold on the Senedd thanks to its proportional representation electoral system. This is despite allegations of in-fighting with Ukip in Wales and the selection of shamed former MP Neil Hamilton and former independent MP Mark Reckless to stand for the party.
Mr Jones said the two candidates showed Ukip was treating Wales with "absolute and utter contempt" by using it as a "dumping ground for Westminster failures".
Join our commenting forum
Join thought-provoking conversations, follow other Independent readers and see their replies