EU referendum: Britain will act like Bosnia and Ukraine in event of Brexit, says Michael Gove
Senior Government officials, however, believe European leaders would not be prepared to offer the UK special status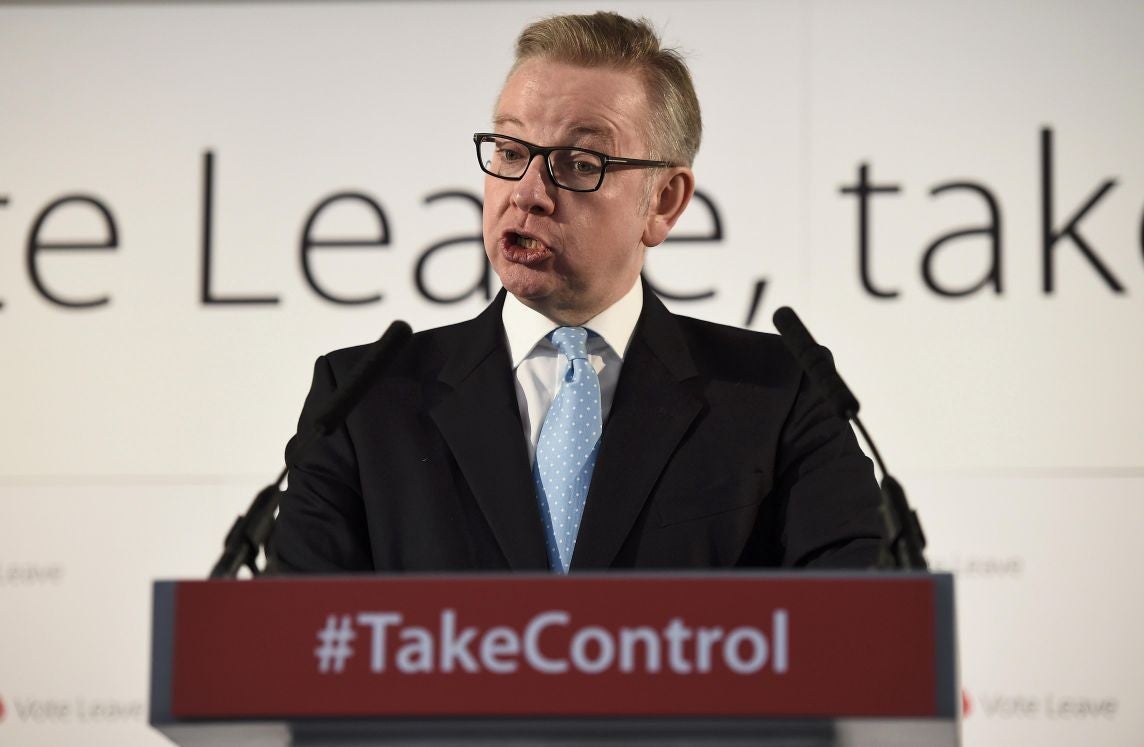 Britain will have the same relationship with the European Union as Bosnia, Albania and Ukraine if the country votes for Brexit, Michael Gove suggested yesterday.
Unveiling his vision for the UK's future outside the European Union Mr Gove said joining countries that traded freely with the EU but were not bound by its rules would "be the core of our new arrangement with the EU".
But critics pointed out that although countries such as Albania enjoyed liberalised trade in goods with the EU, the trade in services, where Britain is strong, were not covered by such an arrangement.
Senior Government officials also believe that other European leaders would not be prepared to offer the UK any kind of preferential treatment in the event of a leave vote for fear it could stoke anti-EU sentiment in other member states.
But speaking in London the Justice Secretary suggested that other EU countries would eventually allow Britain preferential status.
"There is a free-trade zone stretching from Iceland to Turkey that all European nations have access to, regardless of whether they are in our out of the euro or EU," he said.
"After we vote to leave we will remain in the zone. The suggestion that Bosnia, Serbia, Albania and Ukraine would remain part of this free-trade area — and Britain would be on the outside with just Belarus — is as credible as Jean-Claude Juncker joining Ukip.
"The idea that the German government would damage its car manufacturers - and impoverish workers in those factories - to make a political point about Britain's choices; or the French government would ignore its farmers - and damage their welfare - to strike a pose; or the Italian government would undermine its struggling industries just to please Brussels... well, that is ridiculous."
Mr Gove's aides accepted that Britain would not seek to remain part of the EU's single market, saying that the UK could not accept the principal conditions for entry.
Under Vote Leave's plans, the UK would secure a "unique" deal after Brexit, enjoying a tariff-free trade agreement but without accepting free movement of EU citizens, paying into the Brussels budget or being bound by the European Court of Justice.
Setting out his plan at Vote Leave's headquarters in London, Mr Gove said: "An independent Britain could choose to strike free trade agreements with emerging economies and lower tariffs, extending new opportunities to developing nations and in the process allowing prices in Britain to become cheaper."
Post-Brexit, the UK would keep the money it currently sends to Brussels - "about £350 million each and every week" - but if it voted to Remain in the EU that sum could rise, with "open season" declared on the British rebate, Mr Gove warned.
The UK would also be free to adopt an Australian-style points-based immigration system outside the EU's free movement rules.
"As long as we are in the EU we cannot control our borders and cannot develop an immigration policy which is both truly humane and in our long-term economic interest," he said.
But in a speech to the London Stock Exchange, pro-Remain minister Anna Soubry urged businesses to speak out ahead of the referendum.
The business minister said: "It's right for us to belong to a group of countries with whom we have so much in common, whether it's the values of human rights, democracy or how we do business.
"That's why it's imperative we hear loud and clear the voices of all businesses so that the British people have all the facts and hear all the arguments before they cast their vote on June 23."
The Justice Secretary mocked the tactics used by the Remain camp - dubbed Project Fear by critics - which "treats people like children, unfit to be trusted and easily scared by ghost stories".
Instead, he said, it was a vote to Remain which carried risks for the UK.
"It is clear that if we vote to stay we are giving away more power and control to unaccountable EU institutions this year and every year," he said.
The EU had plans for greater power over tax and the financial system and the European Court of Justice could "erode even more of our independence" in future.
"If we vote to stay we are not settling for the status quo - we are voting to be a hostage, locked in the boot of a car driven by others to a place and at a pace that we have no control over," he said.
But the former home secretary, and chairman of the Labour In for Britain campaign, Alan Johnson, claimed the Leave campaign were also engaged in project fear.
"I'll tell you what Project Fear is, we heard it from Boris Johnson, he actually said over 70 million Turks will be coming here - if that's not Project Fear, what is?" the ex-Cabinet minister told BBC Radio 4's World At One.
Mr Johnson also insisted the Justice Secretary was wrong about Britain having lax border controls, as he stressed the economic benefits of staying in the EU.
"Michael Gove wants to wish away reality, but the truth is every credible independent forecaster says Brexit will hurt our economy.
"Reports from the IMF, the LSE, Oxford Economics the CBI and others all show how important it is to jobs and our economy to remain in the EU.
"But it's vital for workers' rights, protecting our environment and keeping our social protections too - all issues that the Leave campaign have no credibility on and no interest in," Mr Johnson said.
Join our commenting forum
Join thought-provoking conversations, follow other Independent readers and see their replies