EU referendum: Brexit would see Britain back to 'square one', says Cameron
Prime Minister says EU vote 'is an irreversible decision. There is no going back'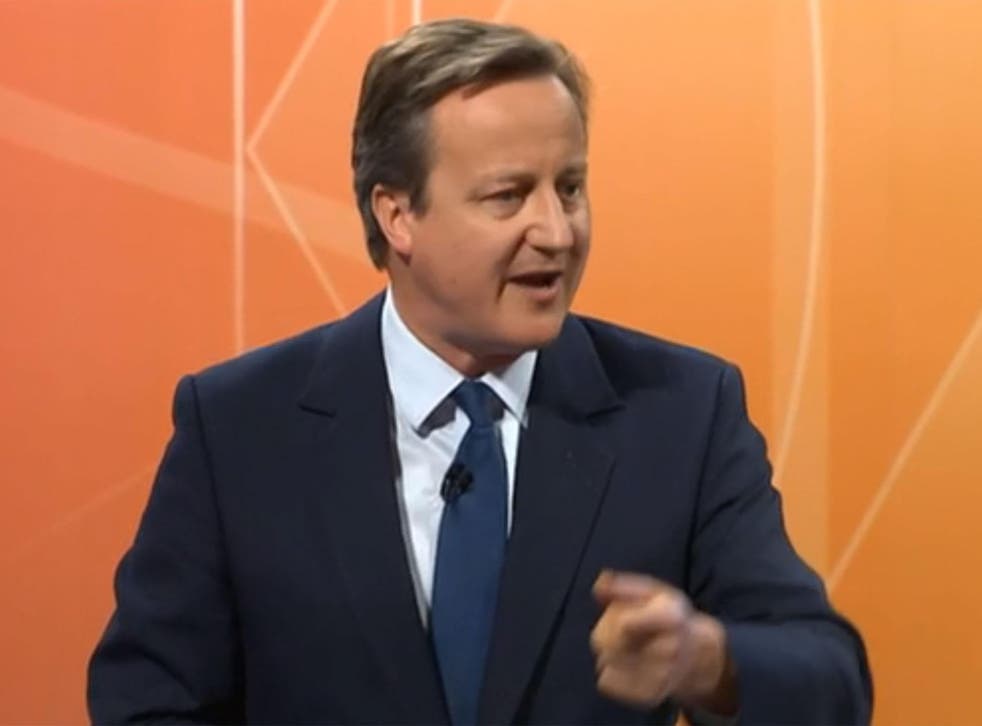 David Cameron has appealed to Labour supporters not to vote for Brexit in an attempt to kick him out of Downing Street.
In his last major television appearance of the campaign Mr Cameron pleaded with voters not to "muddle up the future of this politician or that politician" with the EU referendum.
"It is an irreversible decision. There is no going back," he said.
Mr Cameron faced tough questions on immigration, Turkey's membership of the EU and benefits payments to EU migrants.
But the Prime Minister insisted that the UK would be going back to "square one" if voters backed leave and repeated George Osborne's claim that it would be necessary to put up taxes or cut spending in the event of Brexit.
"I am absolutely convinced our economy will suffer if we leave," he said.
"We will have less growth, we will have less jobs, we will have less livelihoods for people in our country."You don't gain money by leaving the EU. You make your economy smaller, you have fewer jobs, less tax revenues so therefore you have a big hole in your public finances.
"If we leave and the experts are right – there will be no saving from (leaving) the EU.
Referring to Mr Osborne's warning that he would have to implement an emergency budget if the UK voted to pull out Mr Cameron said: "You can't leave it. You have to put up taxes, cut saving or let borrowing rise."
What has the EU ever done for us?

Show all 7
Mr Cameron also revealed that he would block Turkey's membership of the EU if it came up in the next few years.
But he insisted that would not happen and accused leave campaigners of distorting the debate for their own ends.
"It is the biggest red herring of the referendum debate," he said.
"People are getting leaflets from Leave campaign that are completely untrue."
He added: "If it was going to happen in the next couple of years I would not support it. But it is not going to happen."
Mr Cameron also invoked Winston Churchill urging voters not to "walk away" from Europe. He said he sits a few yards away from where Churchill decided to "go it alone" in the fight against Hitler in Europe adding that "he didn't quit and we shouldn't quit either."
On immigration Mr Cameron admitted that it had been a difficult issue to get to grips with but said even outside of the EU it was unlikely that migration would fall significantly.
"Is it really worth leaving the single market to make progress on this issue (immigration)," he said.
"I don't think it is. There is no silver bullet to deal with this issue."
Mr Cameron admitted that many members of the public had "found the debate confusing" but stressed they should remember there was "no going back" on a decision to leave.
His appearance on the programme came as:
Three new polls showed the remain campaign pulling back into the lead. A YouGov poll found support for "remain" up 5 points to 44 per cent while support for "leave" has fallen 3 points to 43 per cent. Another poll for the Independent on Sunday suggested that the murder of Jo Cox may have swayed some voters to turn away from Brexit.
Britain's biggest banks said they were drafting in staff to work through the night on Thursday amid fears a Brexit could send shockwaves through financial markets. Barclays, Lloyds Banking Group and US giants such as JP Morgan Chase and Citi are among those calling in senior traders and workers.
Boris Johnson sought to dial down the Leave campaign's rhetoric about immigration by calling for an amnesty to be given to migrants who entered the UK illegally more than 12 years ago. However, he was shouted down by some members of the crowd when he made the announcement with some people booing and shouting 'no'.
Nigel Farage faced a furious attack from other Brexit campaigners for using an image of desperate refugees in a Ukip leaflet. Michael Gove today admitted he "shuddered" when he saw the poster while George Osborne said it was "disgusting and vile". He added that it had echoes of 1930s propaganda.
In the final Sunday of the campaign both leave and remain sides were out in force trying to persuade those who have yet to make up their minds to support their cause. Campaigning was suspended on Friday and yesterday following the murder of Jo Cox.
George Osborne stepped up warnings of the threat to the economy saying that the damage could be "quite a lot worse" than even the International Monetary Fund (IMF) was predicting with hundreds of thousands of jobs at stake.
For the Leave camp, Justice Secretary Michael Gove insisted Britain would be able to cope with "whatever the world throws at us" outside the EU.
However the Ukip leader Nigel Farage admitted the campaign had lost momentum following its suspension in the wake of the alleged murder last Thursday of Mrs Cox in her West Yorkshire constituency.
"We did have momentum until this terrible tragedy. It has had an impact on the whole campaign for everybody. When you are taking on the establishment, you need to have momentum," he told ITV's Peston on Sunday.
Amid heightened sensitivity over the way immigration has featured as an issue in the campaign, Mr Farage found himself under attack from senior figures on both sides over a controversial Ukip poster showing migrants queuing to get into the EU under the slogan "Breaking Point".
Mr Farage rejected claims that he was stoking up hatred, complaining that he was the one who was being targeted.
"I think I have been a politician who has been a victim of it," he said. "When you challenge the establishment in this country, they come after you, they call you all sorts of things."
EU kiss-a-thon for UK to stay
With immigration set to be one of the key issues in the remaining days of the campaign, the official Vote Leave campaign seized on an admission by Labour leader Jeremy Corbyn that there could be no upper limit as long as Britain was in the EU.
"I don't think you can have one while you have the free movement of labour," he told The Andrew Marr Show.
Concerns about immigration have widely been blamed for driving traditional Labour voters to swing heavily towards Leave.
The pro-Brexit Labour MP Gisela Stuart, who chairs Vote Leave, said his comments exposed the inability of the Remain camp to control numbers coming into the UK.
"They have no plan for how we will fund the NHS so it can cope with the extra pressures that staying in the EU will create," she said.
"They have no plan for where we will build the extra houses and they have no plan to help people who will see further pressure on their pay packets."
Join our new commenting forum
Join thought-provoking conversations, follow other Independent readers and see their replies