David Cameron to launch final appeal for Tory backbenchers to back EU deal
Downing Street fears up to half of The Prime Minister's own MPs are preparing to defy him and campaign for Brexit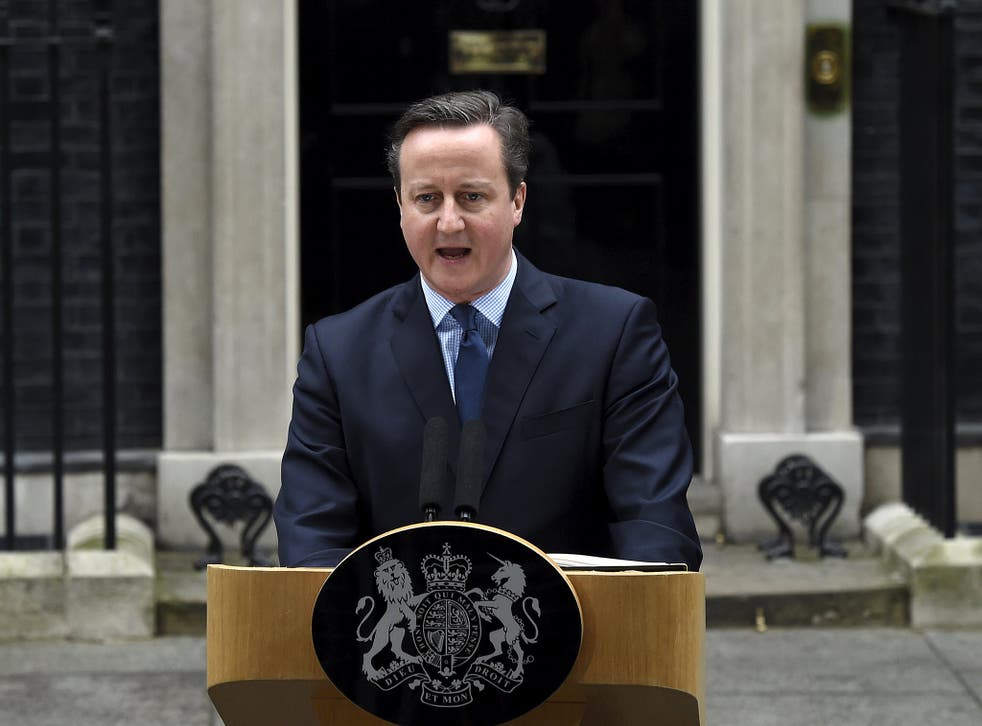 David Cameron will launch a final appeal to Tory backbenchers to back his EU renegotiation package amid fears in Downing Street that up to half of his own MPs are preparing to defy him and campaign for Brexit.
So far over 70 Tory MPs have declared that they are in favour of leaving including five cabinet ministers and at least three ministers of state.
But with many more yet to declare some in the party believe that up to 150 Tory MPs could eventually come out against Britain's membership – out of a total of 330.
Leave campaigners said the likely decision by Boris Johnson to declare for Brexit would further boost the number of MPs willing to support them and admitted that frantic lobbying was going on by both sides to win over waverers.
David Cameron doesn't know the details of the Benefit Deal at Andrew Marr's show.mp4
Mr Cameron himself is expected to try and sell his deal one to one with those MPs yet to declare both before and after his Commons appearance on Monday.
Downing Street desperately needs to ensure that a majority of his Parliamentary party backs the Prime Minister in the referendum campaign. Not achieving this would be symbolic failure that aides fear would haunt him on the campaign trail.
On Sundayt, in his third public attempt to sell the deal he struck in Brussels on Friday night Mr Cameron used an interview on the BBC to warn that while leaving the EU could create the impression that Britain was reclaiming its own sovereignty, in practice this would be an "illusion".
"If Britain were to leave the EU that might give you a feeling of sovereignty but you have got to ask yourself 'is it real?'," he said.
"Would you have the power to help businesses and make sure they weren't discriminated against in Europe? No you wouldn't. Would you have the power to insist that European countries share with us their border information so we know what terrorists and criminals are doing in Europe? No you wouldn't.
"If suddenly a ban was put on for some bogus health reasons on one of our industries, would you be able to insist that that ban was unpicked? No you wouldn't.
"You have an illusion of sovereignty but you don't have power, you don't have control, you can't get things done."
While Mr Cameron acknowledged that it was possible that Britain could have a trade deal with the EU if it left, he pointed to the example of Canada, which had been negotiating for seven years and still did not have full access to European markets.
"If we leave: seven years, potentially, of uncertainty, and at the end of that process you still can't be certain that our businesses will have full access to the market. So it could cost jobs, it could mean overseas businesses not investing in Britain. It would be a step into the dark," he said.
"The weakness of the Leave campaign is, I think, they forget that even if you leave the EU still exists, it is still on your doorstep."
What has the EU ever done for us?

Show all 7
Mr Cameron also repeated his warning that a time of great international uncertainty - with the threats of Russian expansionism and Islamic State terrorism - there was "strength in numbers".
He added that in the coming days he would be setting out his plans for new domestic legislation that, he claimed, would increase Britain's sovereignty and make it harder for Government decisions to be challenged in the European Court of Justice.
But in a sign of the new reality in the Tory Party on Europe his Work and Pension Secretary went on the same programme to undermine the assertion by Theresa May that being in the EU made the UK more secure.
Iain Duncan Smith claimed that in fact the European Union left Britain vulnerable to a Paris-style terrorism attack.
"This open border does not allow us to check and control people who may come and may spend time (here)," he said.
"We see what happened in Paris where they spent ages planning and plotting.
"The present status of the open border we have right now, many of us feel, does actually leave that door open and we need to see that resolved."
His comments were immediately condemned by the pro-EU former deputy prime minister Lord Heseltine.
"I hope that Mr Duncan Smith's comments about terrorism are not typical of the scaremongering that could so easily characterise those arguing to leave Europe," he said.
"He has not a shred of evidence to support the statement that we would be safer outside the European Union. Anybody with any knowledge of how counter-terrorism activities work knows that our intelligence services are closely interwoven with those of our American and European colleagues."
The Leader of the Commons Chris Grayling - one of five Cabinet ministers campaigning for "out" - dismissed fears that Britain's trade with Europe would suffer if it left the EU.
"Do you think on the day that Britain leaves the European Union the Germans are going to say: 'We are no longer going to sell BMWs to the British?' It's not going to happen," he told the BBC1 Sunday Politics programme.
"We run a massive trade deficit with the European Union, we are their biggest customer. Why would they take a risk with jobs in Germany and in France and in other European countries by not agreeing a proper, modern free trade agreement in goods and services?"
Join our new commenting forum
Join thought-provoking conversations, follow other Independent readers and see their replies