EU referendum: David Cameron denies claims of 'mission impossible' amid push for Europe deal
Mr Cameron will set out four 'objectives' – including being able to control EU migration and tackle abuses of free movement
Andrew Grice
Tuesday 10 November 2015 10:38 Comments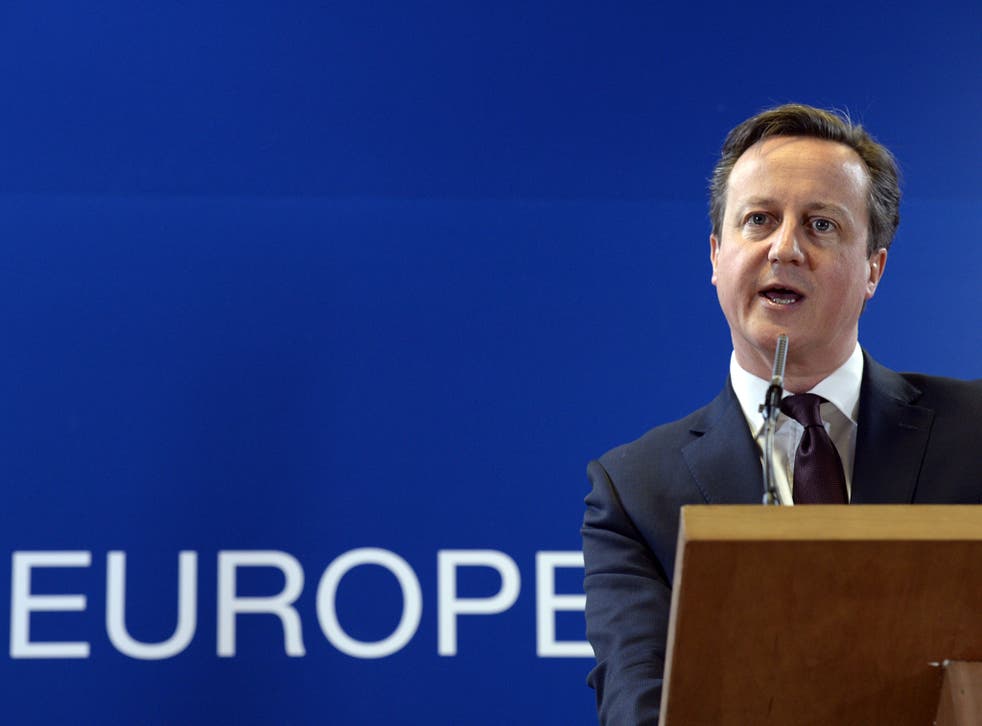 David Cameron is set to deny that he has embarked on "mission impossible" as he sets out his key demands for a new deal for Britain from the European Union.
In a long-awaited letter to Donald Tusk, who chairs meetings of the EU's 28 national leaders as European Council President, Mr Cameron will set out four "objectives" – including being able to control migration from the EU and tackle abuses of free movement.
In a speech, the Prime Minister will dismiss speculation that he has dropped his demand that EU migrants should have to wait four years before being able to claim tax credits and child benefit in Britain. This faces strong opposition from Eastern European countries, led by Poland, and EU diplomats believe he will have to settle for less.
Mr Cameron will reject claims by Eurosceptics that a vote to leave the EU in his in/out referendum would strengthen the UK's hand ahead of a second referendum. He will insist that a decision to quit would be final.
Taking on doubters who predict he will not win real reform, he will argue: "There will be those who say – here and elsewhere in the EU – that we are embarked on Mission Impossible. I say: why? I do not deny that seeking changes which require the agreement of 27 other democracies, all with their own concerns, is a big task.
"But an impossible one? I do not believe so for a minute. When you look at the challenges facing European leaders today, the changes that Britain is seeking do not fall in the box marked 'impossible'. They are eminently resolvable, with the requisite political will and political imagination."
Mr Cameron will list his three other objectives as protecting the single market for non-eurozone members; exempting Britain from "ever closer union" while bolstering national parliaments and boosting economic competitiveness. His agenda is bound to be attacked as limited and unambitious by campaigners who want to leave the EU.
Cabinet ministers believe a trade-off is on the cards under which the UK wins safeguards to prevent the 19 eurozone countries imposing their will on the nine member states outside the single currency. In return, the euro nations would be allowed to integrate further.
But Lord Mandelson, the Labour former Cabinet minister and ex-European Commissioner, will warn that such an approach could leave Britain in the EU's second division. He will tell the EEF manufacturers' body: "I have a real nervousness about any suggestion that Britain might become a second tier EU member because I know from experience that with this relegation comes less and less influence inside the EU. That is not good for Britain." He will say: "There is no point in being in a club and then implying that as we only want to use some of the facilities, we are in principle happy to be treated as second class or associate members - especially when we still pay the full membership fee."
The Prime Minister will insist to recommend at the referendum that Britain remains in the EU. But he is also warning his EU partners he could urge an Out vote if they do not back his reforms.
On 9 November, Mr Cameron told the CBI's annual conference he was "deadly serious" about his demands and wanted to "debunk" the idea that the UK could not survive outside the 28-nation bloc. "The argument is not whether Britain could survive outside the EU - the argument is how are we going to be better off," he said.
Cameron's EU demands
Objective one: "Protect the single market for others outside the eurozone."
Goal: A new EU treaty to stop the 19 members in the eurozone ganging up on the nine "outs", including the UK, on EU-wide decisions.
Chances of success: Reasonable. In return, the UK will allow the eurozone countries to integrate further.
Objective two: "Write competitiveness into the DNA of the whole EU."
Goal: To cut the overall burden of EU regulation on business.
Chances of success: Good. The European Commission is already moving this way. But any UK demands to dilute workers' rights could lose Labour and trade union support in the referendum.
Objective three: "Exempt Britain from 'ever closer union' – and bolster national parliaments."
Goal: Legally binding and irreversible changes to allow a group of national parliaments to join forces to block proposed EU laws.
Chances of success: Reasonable. But will not satisfy Eurosceptics, who want a veto for UK Parliament.
Objective Four: "Tackle abuses of the right to free movement, and enable us to control migration from the EU."
Goal: EU migrants who want to claim tax credits and child benefit should first live in the UK for a minimum of four years.
Chances of success: Slim. Eastern European countries say this would amount to discrimination, breaching EU free movement rules.
Register for free to continue reading
Registration is a free and easy way to support our truly independent journalism
By registering, you will also enjoy limited access to Premium articles, exclusive newsletters, commenting, and virtual events with our leading journalists
Already have an account? sign in
Join our new commenting forum
Join thought-provoking conversations, follow other Independent readers and see their replies