EU referendum: David Cameron insists on brake on benefits as price of deal with European Union
Critics compare Prime Minister's plan to Neville Chamberlain-style paper waving
Oliver Wright
Political Editor
Sunday 31 January 2016 21:30 Comments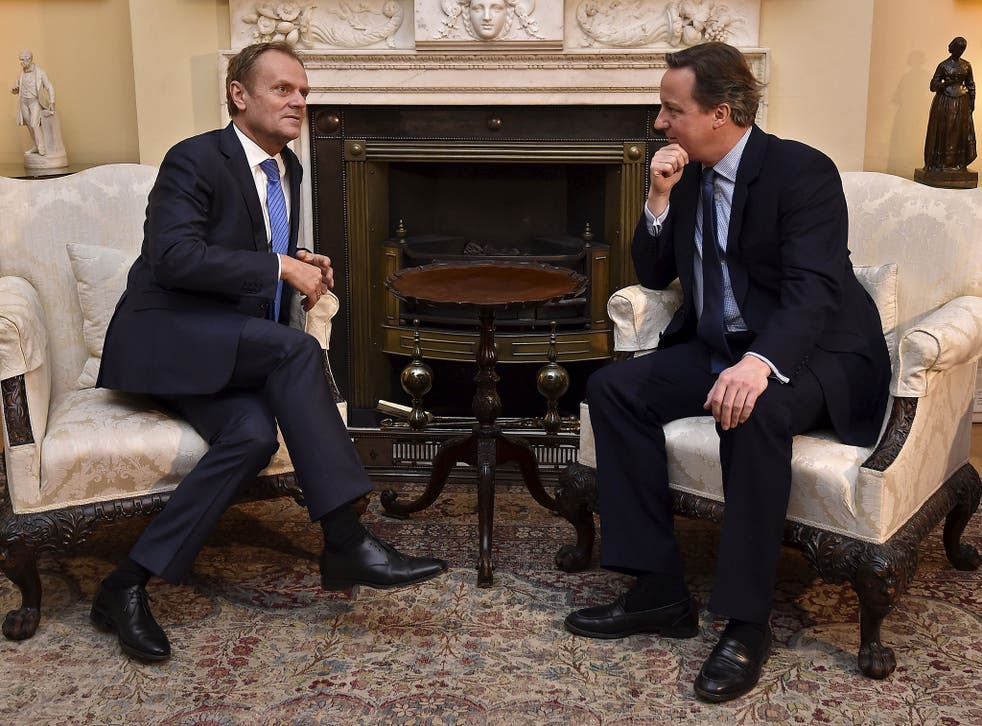 David Cameron has demanded that Britain be granted an immediate "emergency brake" on paying in-work benefits to new migrants for up to seven years as his price for doing a deal with other European leaders on his renegotiation demands.
During talks in Downing Street on 31 January the Prime Minister told Donald Tusk, the President of the European Council, that any proposals put forward would have to allow the UK to begin restricting benefits as soon as the referendum had passed.
While Mr Cameron has not said explicitly how long such a "brake" would last, Downing Street sources said it would have to be for a meaningful length of time – perhaps as long as seven years with re-assessments.
Yet they insist it would still only be a "stop-gap measure" before more permanent restrictions could be put in place that would require treaty change.
Mr Tusk is expected to issue a report on 1 February setting out the broad legal basis of the proposals. However any final deal will have to win the approval of all 27 member states at a European Council meeting later this month.
Despite backing down on his original proposal of a four-year ban on paying migrant benefits, even Mr Cameron's new emergency brake proposal is likely to meet resistance from Eastern European states whose citizens could be adversely affected by the change.
By contrast it will certainly not be enough to convince domestic Eurosceptics that he was won a meaningful concession. On 31 January, Steve Baker, co-chairman of Conservatives for Britain, said the measure was "not going to answer the concerns of the British people".
"This is looking like the synthetic row we always expected the Government to manufacture," he said.
In addition to the emergency brake Mr Cameron is also looking for concessions to make it harder for other EU citizens to bring spouses into the UK from outside the union.
If a British citizen wants to bring a partner into the UK they have to prove that they can speak English and be supported without state aid. However these rules do not apply to other European nationals.
Before the meeting with Mr Tusk the Prime Minister met with George Osborne, Theresa May and Philip Hammond to discuss his negotiation stance.
Ahead of the talks, Downing Street claimed: "The Prime Minister intends to leave Mr Tusk in no doubt that he will not do a deal at any price, making clear he is not in a hurry and that it's far more important to secure significant reforms," said a source.
The former Tory cabinet minister David Mellor compared Mr Cameron to Neville Chamberlain. "I feel like voting Out simply because I am not going to be conned by that man, borrowing Chamberlain's overcoat, stumbling down the plane's steps waving a piece of paper, claiming this is a triumph for Britain," he said.
It has also been suggested that Tory Eurosceptic MPs could unite with Labour and the SNP to try to delay the referendum until the autumn so it does not clash with Scottish and local elections.
Mr Cameron is keen to hold the vote before the summer when many expect the migration crisis to worsen.
However the Welsh and Scottish governments are concerned that the referendum campaigns could overshadow elections to the Assembly and Parliament that are due to take place in May.
Slow progress: The basis of a deal
* Britain could be eligible for an "emergency brake" to stop paying in-work benefits to new refugee workers coming into the country for a specified (but not agreed) time.
* Non-EU spouses married to people from other European countries would face the same hurdles being allowed to settle in Britain as non-EU spouses of British citizens.
* Parliaments would be able to block new EU legislation if 60 per cent opposed it.
* New protections for non-eurozone countries so that they would not be adversely affected by decisions made by countries in the zone.
* Expansion of the single market to include free movement of services. This would benefit the UK, which has faced regulatory hurdles expanding into other European markets.
Register for free to continue reading
Registration is a free and easy way to support our truly independent journalism
By registering, you will also enjoy limited access to Premium articles, exclusive newsletters, commenting, and virtual events with our leading journalists
Already have an account? sign in
Join our new commenting forum
Join thought-provoking conversations, follow other Independent readers and see their replies