EU referendum: David Cameron receives frosty welcome in Paris amid a push for concessions
In brief declarations, Cameron and President François Hollande promised that they would work together to try to reach an agreement on EU reform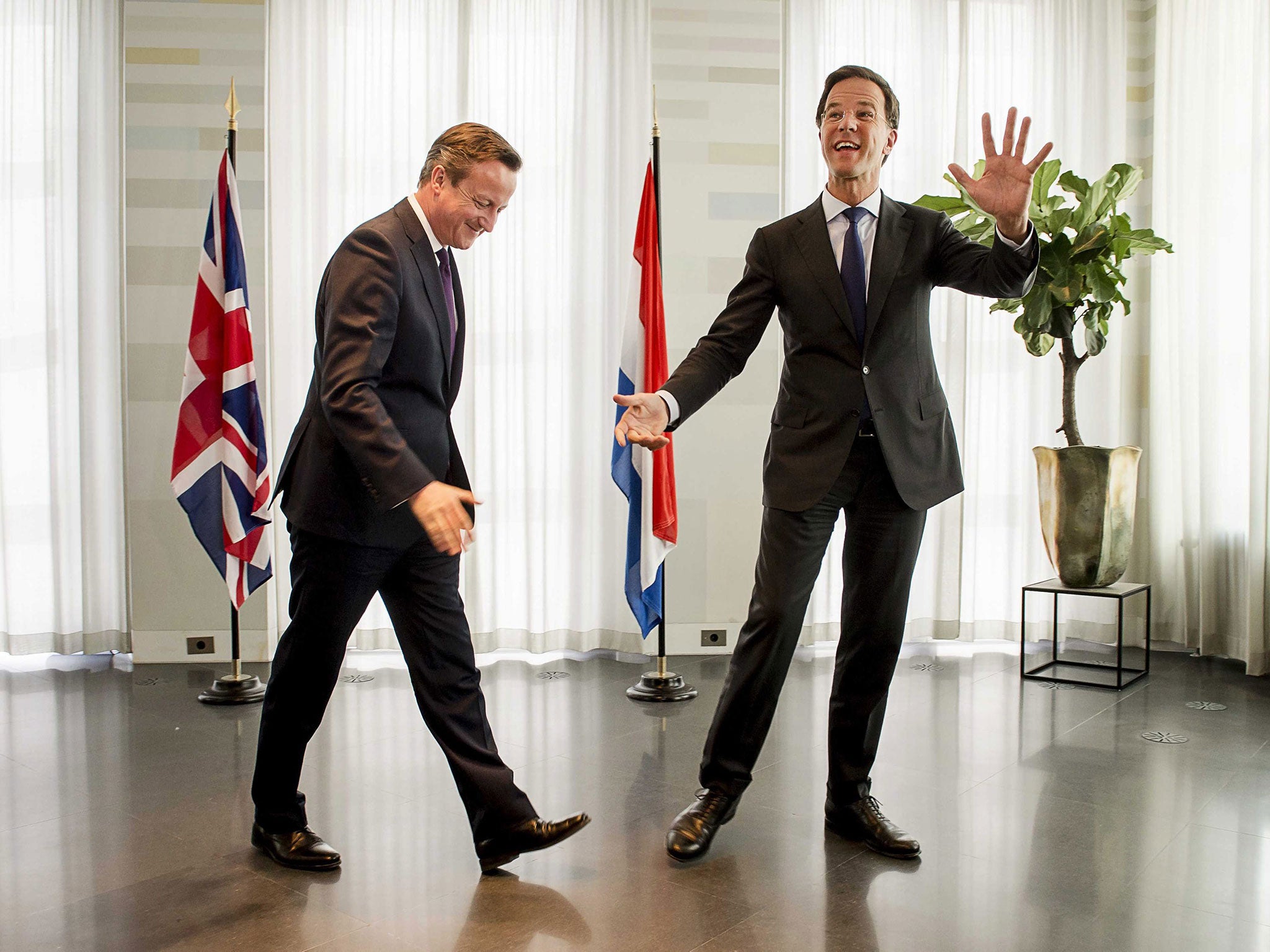 David Cameron received a politely frosty welcome to Paris as he began his quest for concessions from EU leaders before the in-out referendum on British membership.
In brief declarations before a dinner at the Élysée Palace, the Prime Minister and President François Hollande promised that they would work together to try to reach an agreement on EU reform.
President Hollande said: "France wants Great Britain to remain in the European Union. We will see how we can advance so that the British people can make a decision which will be their own."
Earlier, the French foreign minister Laurent Fabius warned that Paris regarded the referendum as "very risky" and "quite dangerous".
"We want Britain to stay in the EU. We support improvements to the Union but we cannot agree to dismantling it," he said. "Britain joined a football club. They can't now say in the middle of a match that they want to play rugby. It's one thing or the other."
Mr Cameron travelled to the Netherlands and France as part of a four nation preliminary tour of EU capitals before a summit in Brussels next month. He then flies on to Germany and Poland.
French sources said Paris is prepared to make limited concessions but will defend core principles such as freedom of movement and the supranational power of EU law.
Paris and Berlin hope a deal with Mr Cameron can be added to their plans to strengthen and centralise economic decision-making in the Eurozone.
Countries outside the zone, like Britain, would have a more semi-detached relationship with Brussels, based largely on the single-market. This would institiutionalise the idea of a two-speed Europe – something previous British governments have resisted
Earlier Mr Fabius told French radio that if " Mr Cameron demands "a specific status…so that Britain has advantages without constraints, then it's 'No'." Britain would lose the most from a decision to quit the EU, Mr Fabius said, but the European Union would also be seriously damaged.
"The United Kingdom is one of the world's biggest enconomies. It is a military power and a diplomatic power. If such an important counry left the European Union, it would create an extremely negative impression of Europe," he said
Mr Cameron received a warmer welcome in the Netherlands that is seen as a key UK supporter. Arriving for a working lunch in The Hague, Mr Cameron said the UK and the Netherlands were "old friends and like-minded allies".
He told a press conference with Dutch Prime Minister Mark Rutte he was "looking forward to discussing" a range of reforms. "We have worked together on making sure that the European budget is under control, we have worked together on trade deals with other parts of the world, we have worked together on strong, pro-market, pro-enterprise agenda. So we will discuss all that and my plans for European reform."
Earlier the Foreign Secretary Philip Hammond said only "substantial" reforms would allow the Government to win an in/out referendum promised by the end of 2017.
"The Prime Minister is very clear in dealing with European counterparts that if we are not able to deliver on these big areas of concern the British people have, we will not win the referendum. We expect our European Union partners to engage with us in delivering a package that will enable the British people to decide Britain's future is best delivered inside the European Union."
Turning the tide: who can Cameron persuade?
The Netherlands
Arriving in The Hague, David Cameron described the Netherlands as Britain's "old friend" and a "like-minded ally". He could have gone further and admitted that if he can't convince the Dutch of his ideas for EU reform, he stands no chance of convincing the other 26 members.
In 2013 the Dutch presented proposals calling for less regulation from Brussels. They also back Mr Cameron's plans to extend the free market to services.
France
President François Hollande is facing a Presidential election in 2017 and his position on British demands will be driven as much by domestic concerns as European ones. There is no desire in France for any kind of EU treaty change. With the threat of a resurgent National Front, Mr Hollande will also not want to be seen making concessions to Britain on migration. On the single market, France's economic travails have made Paris more open to liberalisation but will fiercely resist any attempt to a cut in EU common agricultural spending.
Germany
David Cameron must get the Angela Merkel onside if he is to have any chance of getting his plans agreed. Germany has blown hot and cold on the question of treaty change but with elections in Germany in 2017 the chances of anything meaningful happening before are slim to non-existent. One way around this could be to add protocols to existing treaties to satisfy British demands that what Mr Cameron negotiates can't be undone.
Poland
With so many Poles living and working in the Britain David Cameron's plan to restrict the rights and benefits of EU migrants in Britain are a domestic political issue in Warsaw. Poland will never compromise the free movement of labour but might be prepared to accept restrictions on in-work benefits – especially when it is pointed out to them (as it will be) that the consequences of a 'no' vote would be much more profound.
Join our commenting forum
Join thought-provoking conversations, follow other Independent readers and see their replies