EU referendum: David Cameron told by Eastern bloc countries his benefits plan is unacceptable
Leaders of Hungary, Slovakia, Czech Republic and Poland demand changes to PM's migrant policy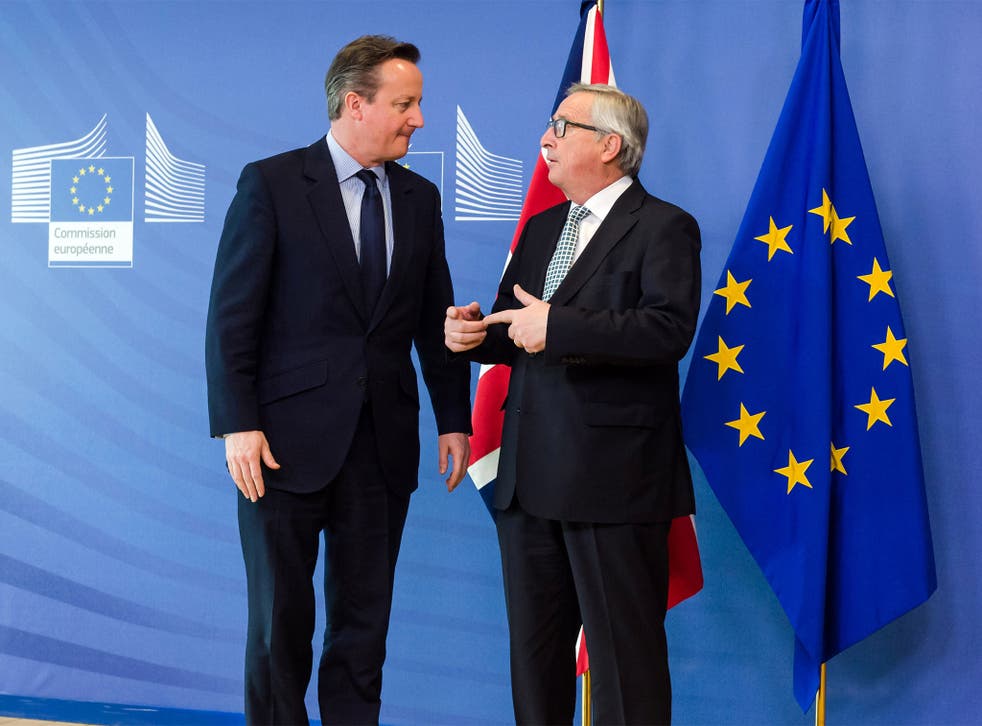 Eastern European leaders are demanding that David Cameron water down key demands for restrictions on migrant benefits as their price for signing up to his wider EU renegotiation package.
With less than two days to go before European leaders meet in Brussels to try to thrash out an agreement on a new settlement for Britain's membership of the EU, Hungary, Slovakia, the Czech Republic and Poland have made clear that the current plans are unacceptable.
In particular, they want changes to proposals to limit child benefit payments to EU migrants living in Britain and want to impose further restrictions on Britain's so‑called "emergency brake" on welfare.
Both changes are unlikely to be acceptable to Mr Cameron, who was described by one source as being "very stressed" during the negotiation.
Downing Street made clear on Tuesday night that Mr Cameron had been "steadfast" in his demands for benefit reform and aides are well aware that any watering down of proposals published earlier this month will be portrayed as a humiliating climbdown by the Out campaign.
One source told The Times that Mr Cameron was appearing to be under great pressure and very stressed, when "usually he is so very confident and relaxed".
Senior government sources suggested that while "everyone was focused on getting a deal" at this summit it would still be possible for Mr Cameron to walk away if he did not get an agreement he could sign up to. This would mean the issue would probably be reconsidered at an emergency summit later this month – which would still be in time for a June referendum.
Among the other main sticking points are Belgium's concern about the changes to the wording of "ever closer union".
William signals support for EU
But a dispute between Paris and London over eurozone integration and protections for the City of London are understood to have been resolved following talks between Mr Cameron and President François Hollande. The European Council President Donald Tusk warned that there was now "an extra mile to walk" to get agreement at the summit meeting tomorrow night.
"The position of the Visegrad Four [towards the deal] is very clear," he said following a meeting in Prague with the Czech Prime Minister Bohuslav Sobotka. "In view of that I have no doubts there is an extra mile to walk. We will now need to sort out the remaining issues in a constructive way."
Mr Sobotka added: "We look with criticism at the parameters of the adjustment of child benefits and the conditions of the so-called 'emergency brake'."
What has the EU ever done for us?

Show all 7
In another headache for Mr Cameron, the left-of-centre President of the European Parliament, Martin Schulz, warned the Prime Minister that while he would work quickly to pass any legislation agreed by EU leaders he could not guarantee MEPs would approve the deal in its entirety or not try to amend it.
Speaking after he met Mr Cameron in Brussels early on 16 February, Mr Schulz promised the parliament would be "as constructive as necessary" once Britain voted to stay in the EU but warned the legislative process could be unpredictable.
"To be quite clear, no government can go to a parliament and say: 'here is our proposal, can you guarantee about the result?' This is a democracy, it is not possible," Mr Schulz said after the meeting, which included senior MEPs from the parliament's centre-right, centre-left and Liberal blocs.
Farage: PM asked for nothing
"The European Parliament will do the utmost to support a compromise and a fair deal, but I can't pre-empt a result in the European Parliament," he added.
Mr Schulz's remarks are certain to complicate Mr Cameron's attempt to sell the agreement in the referendum campaign and will be seized upon by his opponents as evidence that the deal could be easily undone if the UK votes to stay.
But the EPP leader, Manfred Weber, who is also an ally of Germany's Chancellor Angela Merkel, said Mr Cameron appeared "strongly convinced that he can convince Britain" to back continued EU membership in a referendum expected in June. "We need this outcome because we need to convince the British voters," Mr Weber said.
The head of the parliament's centre-left S&D group, Italy's Gianni Pittella, said he had "a very open and constructive discussion" with Mr Cameron and said he would support keeping Britain in the EU. "On the other hand, this deal must not undermine European principles and values, especially on the social agenda."
Mr Cameron also met the European Commission President Jean-Claude Juncker, who earlier insisted that a British exit from the EU was not an option.
"I am not entering into the details of a plan B, because we don't have a plan B," Mr Juncker said. "Britain will stay in the European Union as a constructive and active member of the Union." British officials said their talks focused on "those issues where there are still details to be nailed down" and agreed that "the renegotiation had progressed well".
Umunna case for Britain in EU
In a sign of the unease felt in parts of Europe about the proposals to curb welfare payments, the Czech minister for Europe, Tomas Prouza, said they were concerned other EU countries might want to follow the UK's lead.
"In Central Europe there has been willingness to help the UK and there still is, but the issue we have is not with the UK and David Cameron's demands, the issue is with other countries trying to piggyback on the British proposals for their own benefit," he said.
"The proposals are clear that the limits on in-work benefits would apply only to the newcomers as it's a very UK-specific solution, so we need the very same guarantees also for the child benefits indexation that applies only to the newcomers and only those working in the UK.
"It's important we don't do the changes retrospectively."
A Downing Street spokeswoman said Mr Cameron had spoken to the Czech Prime Minister by phone during the day in an attempt to find a compromise.
"The Prime Minister welcomed the support for the UK renegotiation expressed by the Czech Republic, Hungary, Poland and Slovakia at their meeting in Prague and both agreed that further discussions are necessary to pin down all the details."
Join our new commenting forum
Join thought-provoking conversations, follow other Independent readers and see their replies