EU referendum: Nigel Farage accuses David Cameron of exploiting Jo Cox death for Remain
'What we are seeing here is the Prime Minister and the Remain campaign trying to conflate the actions of one crazed individual with the motives of half of Britain,' says Ukip leader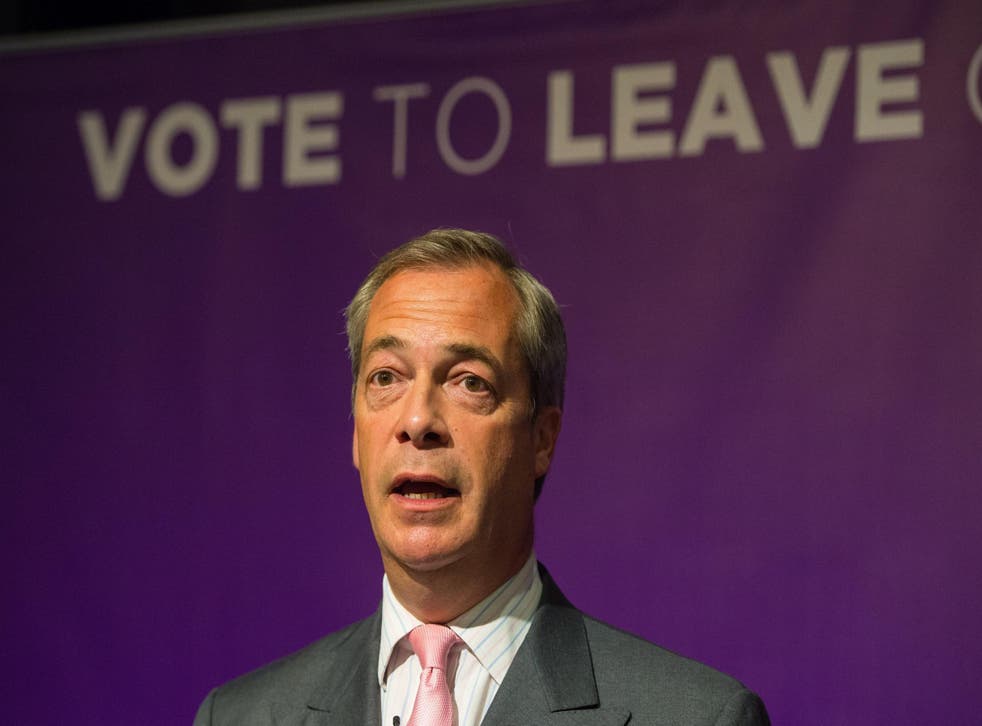 Nigel Farage has accused David Cameron of a "despicable" attempt to create a link between the EU referendum and the death of MP Jo Cox to improve his chances of winning Thursday's poll.
Mr Cameron tweeted a link on Sunday to an article written by Ms Cox shortly before she was murdered.
"Jo Cox's strong voice in the campaign to remain in the EU will be badly missed," he wrote.
But appearing on LBC radio station, the Ukip leader claimed the Remain camp were "scared witless" about the prospect of defeat on 23 June and were trying to "conflate" the motivations of the Labour MP's alleged killer with those of the millions of voters who want to leave the European Union.
"What we are seeing here is the Prime Minister and the Remain campaign trying to conflate the actions of one crazed individual with the motives of half of Britain who think we should get back control of our borders and do it sensibly.
"We have a Prime Minister and a Chancellor and other big political leaders in Britain who are scared witless. They thought they would win this referendum by a country mile. They know it's neck and neck, they know it's down to who turns out on the day to vote, and there is no level of denigration or false association that they will not stoop to, but I think people are intelligent enough to see through this sort of thing."
He added: "I think there are Remain camp supporters out there who are using this to try to give the impression that this isolated horrific incident is somehow linked to arguments that have been made by myself or Michael Gove or anybody else in this campaign, and frankly that is wrong," he said.
Mr Farage also defended the controversial poster released hours before Ms Cox's death, which showed a column of migrants walking through the European countryside under the slogan "Breaking Point".
Challenged over the poster, Mr Farage said: "If the timing of her murder and me putting out that poster has upset people, I'm sorry. That certainly wasn't the intention. The intention was to use that poster for a day to point out that the EU is a failed project in every sense."
Mr Farage also launched into the former Tory chairman Lady Warsi – who announced she was transferring her support to the Remain Campaign.
He described her defection as a "Number 10 put-up job".
Register for free to continue reading
Registration is a free and easy way to support our truly independent journalism
By registering, you will also enjoy limited access to Premium articles, exclusive newsletters, commenting, and virtual events with our leading journalists
Already have an account? sign in
Register for free to continue reading
Registration is a free and easy way to support our truly independent journalism
By registering, you will also enjoy limited access to Premium articles, exclusive newsletters, commenting, and virtual events with our leading journalists
Already have an account? sign in
Join our new commenting forum
Join thought-provoking conversations, follow other Independent readers and see their replies