EU referendum: Nigel Farage claims pound sliding after Brexit would be good for exports
'If sterling were to fall a few percentage points after Brexit, so what?'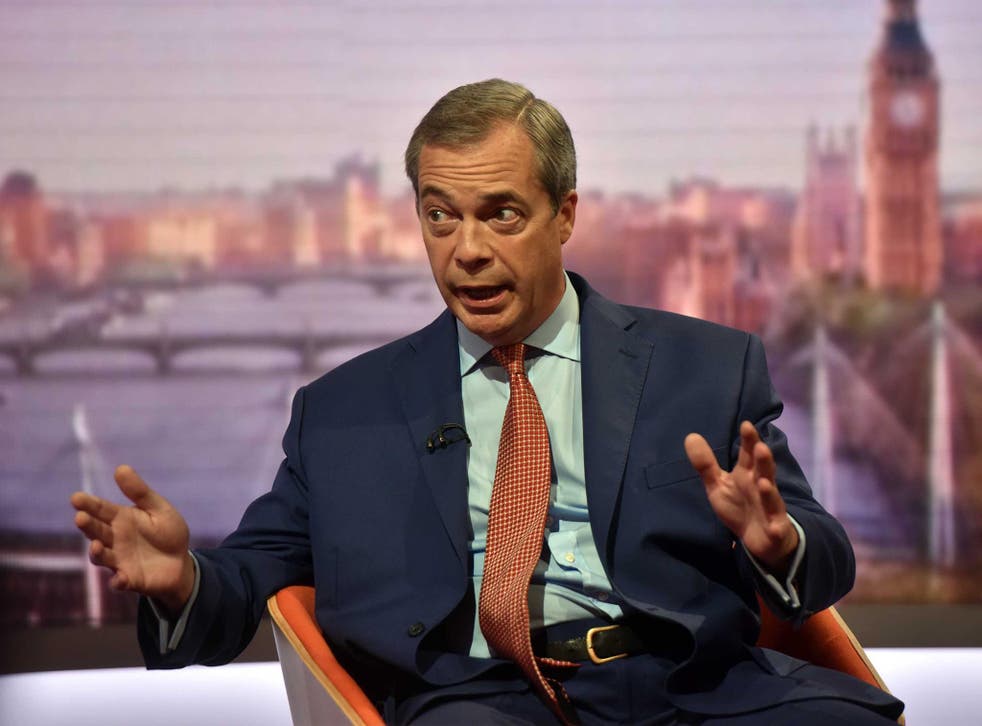 The prospect of a further sharp decline in the value of the pound in the wake of Brexit is nothing to worry about, according to Ukip leader Nigel Farage.
"If sterling were to fall a few percentage points after Brexit, so what?" Mr Farage told the Andrew Marr Show, claiming it would be good for exports, and that people shouldn't be worried by 'ludicrous scare stories'.
Mr Farage also stood by his controversial stance on banning foreigners with HIV from coming to the UK for NHS treatment.
He didn't mention HIV patients directly, but he did insist that all migrants coming to Britain should have medical insurance..
'Let's be clear," he said. "If you're coming to live in this country, to work in this country, you have to bring your own health insurance.
"The way Australia does it is very simple, you've got to be under 45, you've got to have a trade or skill, you've got to have some money, no criminal record and bring your own health insurance.
The most scaremongering arguments for Brexit

Show all 7
'Doesn't that sound like a good, sensible way for immigration to become a positive part of British debate and not a negative one?'
In the wake of a shock Friday poll showing a ten point lead for Brexit, the pound plunged to a new eight-week low against the dollar, at $1.41 - its weakest position since April 18.
Eddie Izzard attacks Nigel Farage over immigration rhetoric
But Mr Farage, a former commodities broker, said: "I did work in this for 20 years; I know a little bit more about it than most people.
"Sterling is up since March. Since Brexit became a possibility sterling is up, and the FTSE is exactly the same level it was in March.
"And what happened on Friday were very bad economic figures from America and the fact that our growth forecast in Britain had been downgraded from two and a half to two per cent, and that our borrowing is still out of control.
"So again, these are ludicrous scare – these are scare stories that are being put up. Even if sterling, even if sterling were to fall a few percentage points after Brexit, so what?"
Prime Minister David Cameron said it was wrong to dismiss the fall in the pound, as it pushes up prices on 'the weekly shop.'
The EU referendum debate has so far been characterised by bias, distortion and exaggeration. So until 23 June we we're running a series of question and answer features that explain the most important issues in a detailed, dispassionate way to help inform your decision.
What is Brexit and why are we having an EU referendum?
Will we gain or lose rights by leaving the European Union?
What will happen to immigration if there's Brexit?
Will Brexit make the UK more or less safe?
Will the UK benefit from being released from EU laws?
Will leaving the EU save taxpayers money and mean more money for the NHS?
What will Brexit do to UK trade?
How Brexit will affect British tourism
What will Brexit mean for British tourists booking holidays in the EU?
Will Brexit help or damage the environment?
Will Brexit mean that Europeans have to leave the UK?
Join our new commenting forum
Join thought-provoking conversations, follow other Independent readers and see their replies