EU referendum: Nigel Farage to become poster boy for Remain campaign
Remain campaigners will ask voters whether they want to live in 'Nigel's Britain'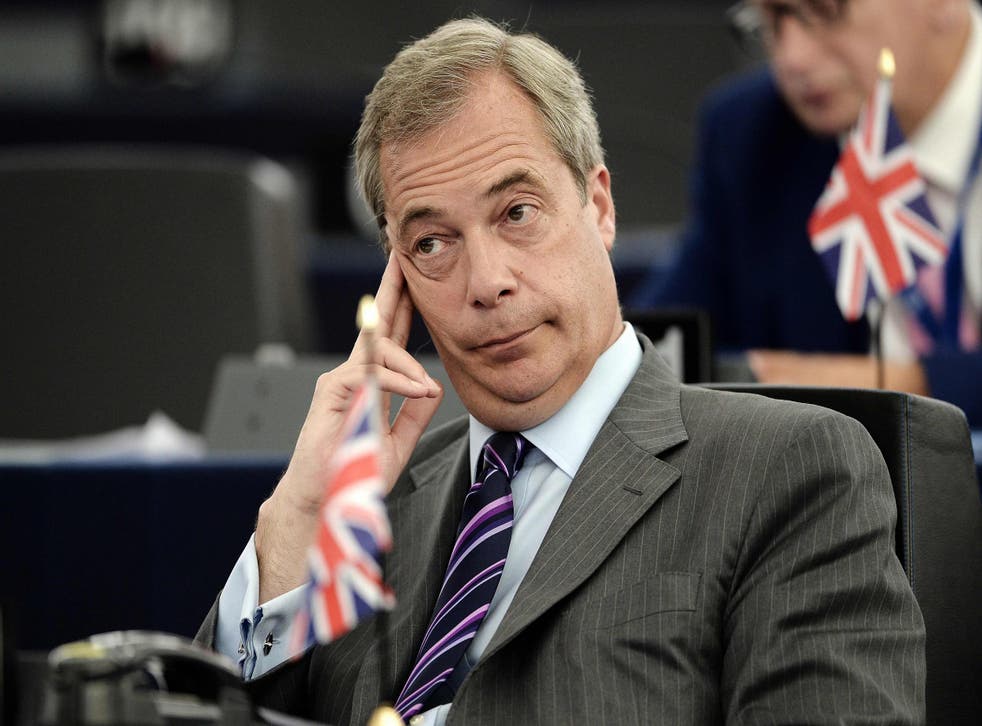 Ukip's leader Nigel Farage is to become the unlikely poster boy of the campaign to keep Britain in the European Union – because they think he is such a divisive figure that even Eurosceptic voters won't want to be associated with him.
Over the next two weeks Remain campaigners will ask voters whether they want to live in 'Nigel's Britain' – a country which is cut off from the world, anti-immigrant and backward looking.
Senior figures even looked at creating a poster with an image of a tiny Boris Johnson in Mr Farage's pocket, in a take on the notorious Ed Miliband/Nicola Sturgeon election poster.
Instead they will today unveil an image of a cigar-smoking Mr Farage in a casino with Michael Gove and Boris Johnson under the strap line – "Don't let them gamble with your future".
The strategy is based on polling that suggests that while committed Leave voters admire Mr Farage, most undecided voters do not.
The campaign will also try and turn Vote Leave's strength on immigration into a negative by suggesting that it is slightly racist and not something people want to be associated with.
"Boris Johnson and Michael Gove are now running a campaign based on blaming immigrants for all of Britain's problems," said a senior Remain source.
What to believe about the EU referendum
"That is Nigel's tune and we are going to pointing that out to people. You are going to be hearing a lot more about Nigel in the next two weeks."
A taste of the new strategy has been apparent in the last few days in the comments of senior Remain campaigners.
On Tuesday night George Osborne told Andrew Neil in an interview: "I do not want Nigel Farage's vision of Britain. It is mean, it is divisive, it is not who we are as a country."
David Cameron used a similar phrase at PMQs when he said: "What I want to see is not Nigel Farage's Little England, but a strong Britain in Europe."
The most scaremongering arguments for Brexit

Show all 7
Amber Rudd joined in during last night's ITV debate, attacking the Leavers and the "company they keep".
Even Vote Leave fear the strategy could be effective. He has been described by his own side as "divisive", "like Marmite" and "capable of knocking percentage points off our vote".
"He is an acquired taste, and most of his fans have acquired it by now," one pro-Brexit Tory MP told The Times.
Vote Leave have long tried to keep him away from their main campaign – and were furious when ITV agreed that he could "debate" with David Cameron in the first of their televised referendum programmes.
Register for free to continue reading
Registration is a free and easy way to support our truly independent journalism
By registering, you will also enjoy limited access to Premium articles, exclusive newsletters, commenting, and virtual events with our leading journalists
Already have an account? sign in
Register for free to continue reading
Registration is a free and easy way to support our truly independent journalism
By registering, you will also enjoy limited access to Premium articles, exclusive newsletters, commenting, and virtual events with our leading journalists
Already have an account? sign in
Join our new commenting forum
Join thought-provoking conversations, follow other Independent readers and see their replies