EU referendum: Nissan taking legal action against Vote Leave campaign over leaflet
Proceedings are due to be issued in the High Court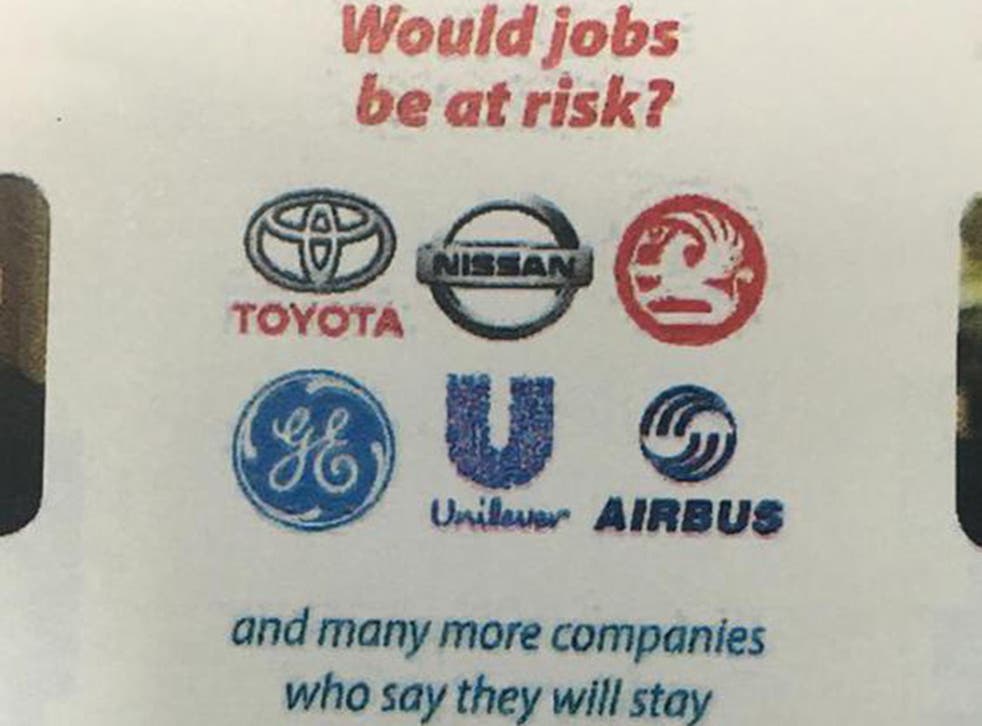 Nissan has announced it is taking legal action against the official campaign for Britain to leave the European Union after the group used the Japanese car manufactueres' logo in leaflets calling for voters to back Brexit on June 23.
On one "Vote Leave" flyer, the firm's logo appeared next to those of four other major companies including Unilever and fellow carmaker Vauxhall with the message: "Major employers ... have all said they'll stay in the UK whatever the result of the referendum."
Nissan, which says it would prefer Britain to remain in the EU, said it would be issuing legal proceedings on Monday in Britain's High Court to stop 'Vote Leave' from using its name and logo and to "prevent them making any further false statements and misrepresentations concerning Nissan."
A Nissan spokesperson said: "We were extremely disappointed to discover that the Vote Leave campaign had been using the Nissan name and logo in their literature and on their website without our permission. We immediately requested that they stop doing so.
"It has since come to light that the Vote Leave campaign continue to use our logo and trademark despite our repeated requests for them to stop. Permission to use our name and logo was not requested. If it was, it would not have been granted. Furthermore, use of the Nissan name and logo by the Vote Leave campaign in their materials grossly misrepresents our widely circulated and publicly stated position announced on 23rd February 2016.
"To be clear, Nissan is not supporting any political campaign regarding this most serious of issues. This is a matter for the people of the UK to decide.
"We vigorously protect the Nissan brand and intellectual property in all markets in which we operate. We have repeatedly asked Vote Leave to stop using our name and logo on their materials and to stop misrepresenting our views - a request that has clearly been denied.
"As such, we will be issuing legal proceedings today in the High Court asking for an injunction to stop Vote Leave's use of Nissan's name and logo, and to prevent them from making any further false statements and misrepresentations concerning Nissan."
UK news in pictures

Show all 50
It comes after The Independent revealed three of the country's largest employers had accused the official Leave campaign of "deliberately" attempting to "mislead" voters by using their logos on a taxpayer funded leaflet making the case for Brexit.
On Monday, several carmakers repeated their calls for Britain to remain in the 28-member bloc, with tariff-less access to the single market benefiting major firms.
What to believe about the EU referendum
In a furious letter to Boris Johnson's Vote Leave campaign, heads of Unilever, Airbus and GE accuse the group of using their names for "propaganda purposes" to imply their support for exit from the European Union".
Vote Leave has yet to comment on the announcement.
Latest polls have suggested Remain may be pulling back into the lead, following a recent surge for Brexit. It is believed that many voters who have previously said they are 'undecided' have now told pollsters they intend to vote for continued EU membership on Thursday. An estimated one in 10 voters are undecided.
Join our new commenting forum
Join thought-provoking conversations, follow other Independent readers and see their replies