EU referendum: Polls suggest Remain campaign pulling back lead after late surge for Leave
YouGov says it has detected a shift in opinion, with more undecided voters backing Remain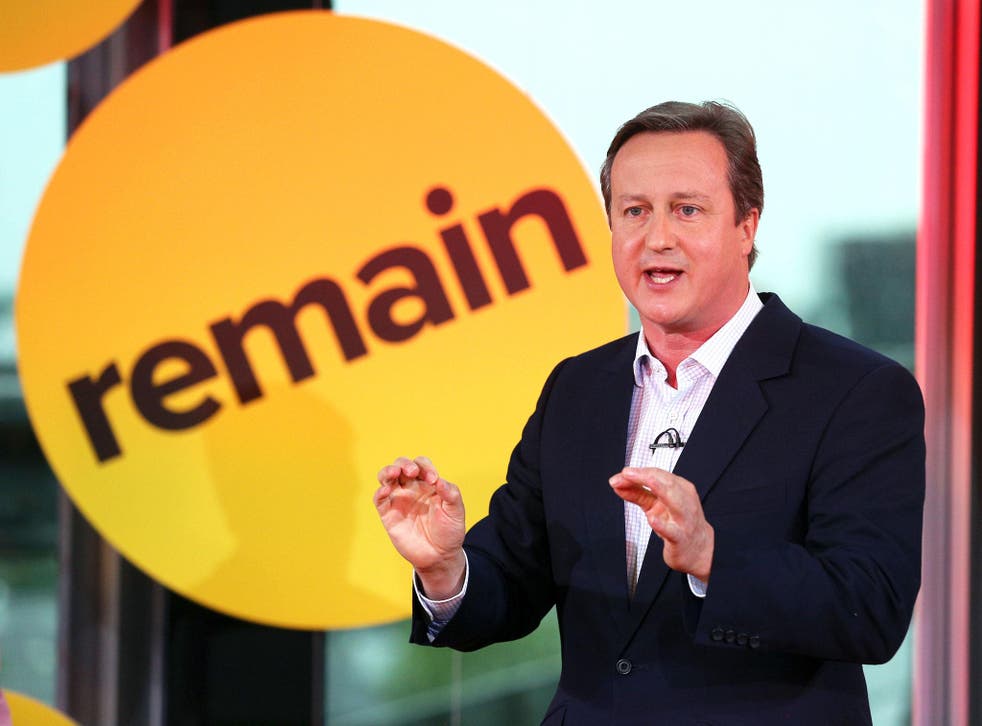 The first opinion polls on the EU referendum since the killing of the MP Jo Cox have suggested the 'Remain' campaign is pulling back into the lead.
There has been widespread speculation that the Labour MP's death could result in a shift in public opinion against the Leave campaign.
On Saturday, an exclusive Comres poll for The Independent that was carried out either side of the killing suggested there may have been a swing in support towards the pro-EU camp.
Of the 2,046 interviews carried out in the poll, 200 were done after the news of the attack emerged.
Andrew Hawkins, the chairman of the Comres, said the killing might have influenced responses: "Not all respondents will have learned of the attack immediately," he said. "And the results should be taken with a degree of caution, but across all emotions reaction to a Leave vote was more negative among those interviewed after 2pm on Thursday."
And since then, three more polls have shown a significant shift in support following a week in which the Brexit camp appeared to be gaining a significant advantage.
Nigel Farage has acknowledged that the drive to win over waverers may have been hit by Mrs Cox's death.
"We did have momentum until this terrible tragedy," he told Peston on Sunday. "It has had an impact on the whole campaign for everybody.
"When you are taking on the establishment, you need to have momentum. I don't know what's going to happen over the course of the next three to four days, but (this was) the action of one person with serious mental issues. What we saw was an act of terrorism."
What has the EU ever done for us?

Show all 7
He added: "It is difficult to tell, but I think those who have made up their minds to leave, because they want to get control over their country back, will go out and vote on Thursday."
A YouGov poll for the Sunday Times found support for "Remain" is up 5 points to 44 per cent while support for "Leave" has fallen 3 points to 43 per cent.
About 1 in 10 voters are still undecided but, when pushed to predict which side they are more likely to support, 20 per cent plump for "Remain" — almost double the 11 per cent who say they are more likely to vote to Leave.
YouGov's previous survey carried out last Monday had 'Leave' up seven points.
But the organization said they had detected a steady shift in opinion since then – with more undecided voters backing Remain. Sources in the 'Remain' campaign say their private polling backs this up.
The YouGov findings also appeared to be backed up by two other opinion polls also published on Sunday.
A Survation poll for The Mail On Sunday found Remain had opened up a three-point lead in the wake of the killing.
The poll was gathered on Friday and Saturday after Ms Cox's death and showed Remain on 45 per cent with Leave on 42 per cent.
All you need to know about the EU referendum
The findings reversed the result of Survation data on Thursday which had Leave ahead on 45 per cent and Remain on 42 per cent.
An Opinium poll for the Observer put both sides on 44 per cent, with 10 per cent saying they are undecided.
The online survey of more than 2,000 people was taken between last Tuesday and Friday, with 80% of the polling conducted before the death of Ms Cox.
The Comres poll also showed that the number of people delighted if the UK votes to leave the EU fell from 45 per cent to 38 per cent and the number delighted if we stay rose from 27 per cent to 36 per cent.
Similarly, the number disappointed if we leave rose from 32 per cent to 40 per cent and those disappointed if we remain fell from 44 per cent to 40 per cent.
The EU referendum debate has so far been characterised by bias, distortion and exaggeration. So until 23 June we will be running a series of question and answer features which will explain the most important issues involved in a detailed, dispassionate way to help inform your decision.
Will we gain or lose rights by leaving the European Union?
What will happen to immigration if there's Brexit?
Will Brexit make the UK more or less safe?
Will the UK benefit from being released from EU laws?
What will Brexit do to UK trade?
How Brexit will affect British tourism​
What will Brexit mean for British tourists booking holidays in the EU?
Will Brexit help or damage the environment?
Will Brexit mean that Europeans have to leave the UK?​
What will Brexit mean for British tourists booking holidays in the EU?
Will leaving the EU save taxpayers money and mean more money for the NHS?​
Register for free to continue reading
Registration is a free and easy way to support our truly independent journalism
By registering, you will also enjoy limited access to Premium articles, exclusive newsletters, commenting, and virtual events with our leading journalists
Already have an account? sign in
Register for free to continue reading
Registration is a free and easy way to support our truly independent journalism
By registering, you will also enjoy limited access to Premium articles, exclusive newsletters, commenting, and virtual events with our leading journalists
Already have an account? sign in
Join our new commenting forum
Join thought-provoking conversations, follow other Independent readers and see their replies