EU referendum: Pound falls against dollar after two new polls put Leave campaign ahead of Remain
The apparent shift in the polls coincides with a renewed focus by the Leave campaign on the impact of EU migration
Charlie Cooper
Whitehall Correspondent
Tuesday 31 May 2016 19:10 Comments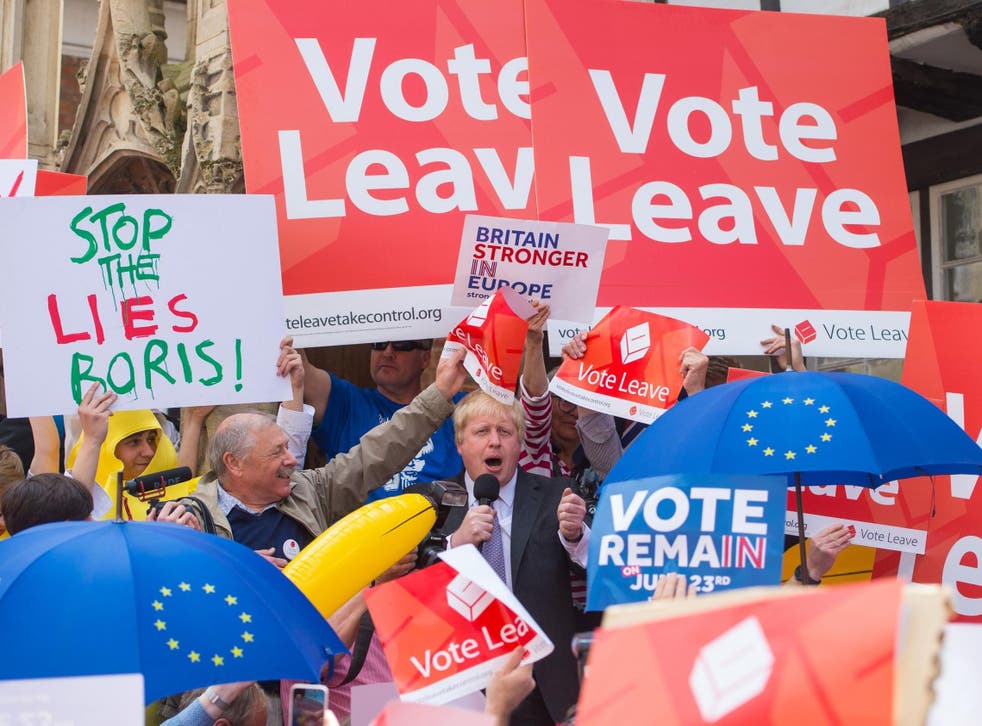 Support for Brexit appears to be increasing after two polls gave the Leave campaign a narrow lead with little more than three weeks to go before the referendum.
The pound fell against the dollar after the polls, one carried out online and the other by telephone, both gave Leave a 52-48 lead over Remain.
Martin Boon, director of ICM, which carried out the latest polling on behalf of The Guardian, said the result was an "unexpected reverse of polling assumptions so far". Remain has enjoyed a slight lead in average polling for almost all of the referendum campaign and phone polls have typically favoured a Remain vote.
But the ICM telephone poll had Leave up seven points to 52 per cent, and Remain down seven to 48. Remain campaigners played down the significance of the poll, but markets reacted nervously to the finding, with a slight slump in the value of the pound against the dollar.
The findings follow a BMG poll last Wednesday that put the two camps at 50-50, with a decimal point lead for Leave – meaning three of the polls in the past week have now put Leave ahead.
The apparent shift in the polls coincides with a renewed focus by the Leave campaign on the impact of EU migration. New immigration figures published last Thursday put net EU migration at 184,000, equalling its record high, and campaigning by Vote Leave has claimed that public services may struggle to cope with the arrival of more migrants, including from states such as Turkey, Albania and Macedonia that are not yet EU members.
Responding to the latest polling, Vote Leave sources insisted that they remain the underdog, but cited control of Britain's borders and its economy as issues that were beginning to have an impact on voters' intentions.
However, polling expert John Curtice, professor of politics at the University of Strathclyde, said that more proof would be needed before either side to have taken a strong lead.
"Last week there was much excitement after one poll reported an apparent big swing to Remain, only for it to prove a chimera. So we need supporting evidence from more than one poll before we can safely conclude that there has now been a significant shift in the opposite direction," he said. "After all, two other polls published today have reported figures well in line with what they have reported previously. The only safe conclusion is that neither side has the referendum in the bag - as has been the case throughout the campaign."
Register for free to continue reading
Registration is a free and easy way to support our truly independent journalism
By registering, you will also enjoy limited access to Premium articles, exclusive newsletters, commenting, and virtual events with our leading journalists
Already have an account? sign in
Join our new commenting forum
Join thought-provoking conversations, follow other Independent readers and see their replies