EU referendum results: 24 places in the UK that will tell us if Brexit or Remain is winning
When is the result due and what should you watch out for? These places are split between Remain and Leave – as they go, so will the nation
Harry Lambert
Wednesday 22 June 2016 14:18 Comments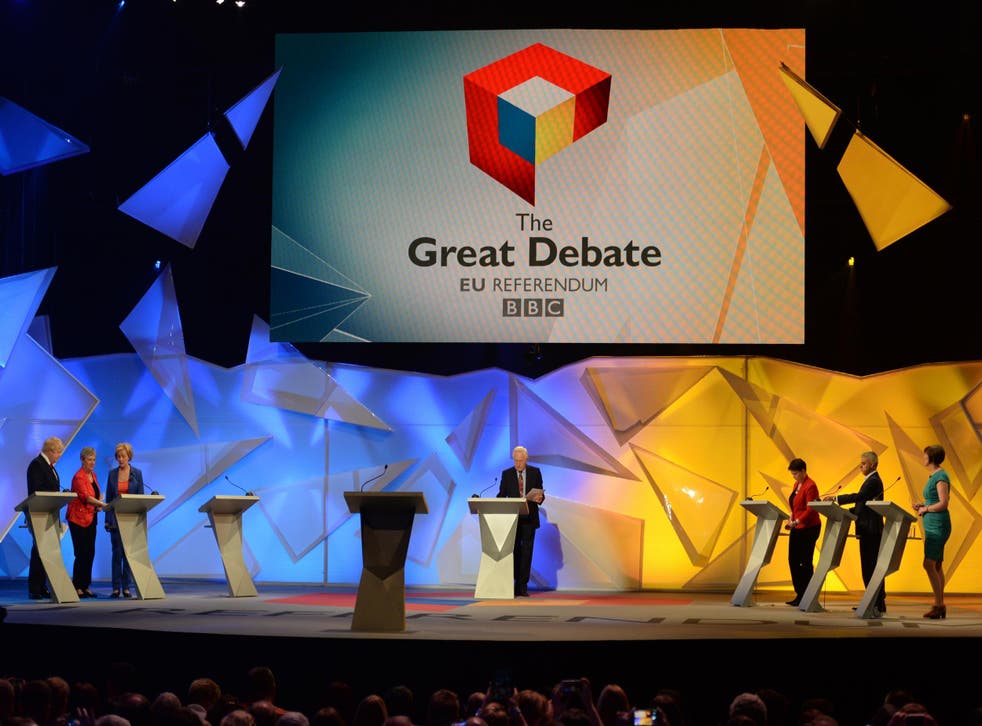 When can we expect the result in tomorrow's EU referendum? According to one top psephologist, it should be in the early hours of the morning. "I doubt that the BBC will call the result before 5am, and probably not before 6am," says Chris Hanretty.
But we'll get a very good indication of the result well before then. In fact, we'll start getting an impression of who's won as soon as the first districts report the result in their local area.
Follow the latest live updates on the EU referendum
How the EU referendum result unfolded
Returns from most of the country won't start pouring in until 3am, with the deluge due between 3 and 5, but we may be able to call the referendum – even if the understandably risk-averse BBC won't – far earlier, as we have an idea of how every district should vote.
The interactive map below colour-codes 378 of the 382 districts that will together make up the result (no estimates are available for the other four). Redder areas are for Brexit and bluer areas for Remain.
If you hover over a district, the numbers in the box tell you the predicted margin of victory for Remain (positive numbers) or Leave (negative numbers). The other number is that district's expected declaration time.
Hanretty is the psephologist behind this data, and estimated it by using the British Electoral Study's 30,000-person post-election survey of voting intentions.
He's made various assumptions to turn that data into something relevant to the EU referendum, which you can read more about here.
What to believe about the EU referendum
The upshot is that we can get a sense of the referendum very early on: we simply need to compare the result in a district with its predicted vote.
The results in each of these districts adds up to a tied overall vote, which is in line with current polling. In other words, a 53-47 win for Brexit in Sunderland at 12.30am would be in line with a 50:50 overall vote.
Which celebrities support Brexit and which support Remain?

Show all 30
And a 50-50 national tie implies a 12-point Remain victory in Newcastle, also expected to announce its results at 12.30.
Four districts should follow these two – Swindon, Oldham, Darlington and the City of London. The archaic (and tiny) City district is expected to back Remain over Leave by 50 percentage points.
But look more closely at the other three: Swindon is expected to back Brexit by 15 points, and Oldham and Darlington by 10 points. If those margins are narrower or greater, we can start to make tentative assumptions about how the rest of the night may play out.
Every seat is equally useful for making such a prediction: what matters isn't whether Leave or Remain win a district (only the total vote matters, unlike a general election, where constituency victories are what count), but whether the margin of victory differs drastically from what a 50:50 result – i.e. the map above – suggests should happen in each place.
These predicted results are probabilistic, which means they really say "90 times out of 100, anything from a 1-point win for Remain to a 13-point win for Brexit in Sunderland is consistent with a 50:50 overall vote."
We can't be so strict as to expect an exact 6-point win for Brexit in Sunderland, but that is the mid-point of predictions for the district, so that's the number to keep in mind.
Some readers may prefer to focus on the seats that are predicted to be very close and announce fairly early in the night.
There are two dozen of them, spread around the country, and all expected to announce their results between 1.30 and 3.30am.
If these 24 districts all lean toward Leave or Remain, you can be fairly sure the country is going to vote that way. You can hover, click and zoom on the map to identify each of them.
In other words, we should have a very good idea of who has won before almost 100 districts release their results at about 4am.
Of course, if those 24 districts are all very close, and split about 50:50 Leave:Remain, and the places that precede them also go largely to form, we are in very for a very long night and a near 50:50 vote.
We will have the latest results directly from Press Association as it happens on the night, and keep you up to date whenever seats differ significantly from these predictions.
Register for free to continue reading
Registration is a free and easy way to support our truly independent journalism
By registering, you will also enjoy limited access to Premium articles, exclusive newsletters, commenting, and virtual events with our leading journalists
Already have an account? sign in
Join our new commenting forum
Join thought-provoking conversations, follow other Independent readers and see their replies