EU referendum: Vote Leave board member to quit over Conservative Eurosceptic MPs' 'infighting'
Exclusive: Campaign's director Dominic Cummings faces attempts to force him out by senior Tory Eurosceptics
Oliver Wright
Political Editor
Thursday 28 January 2016 21:54 Comments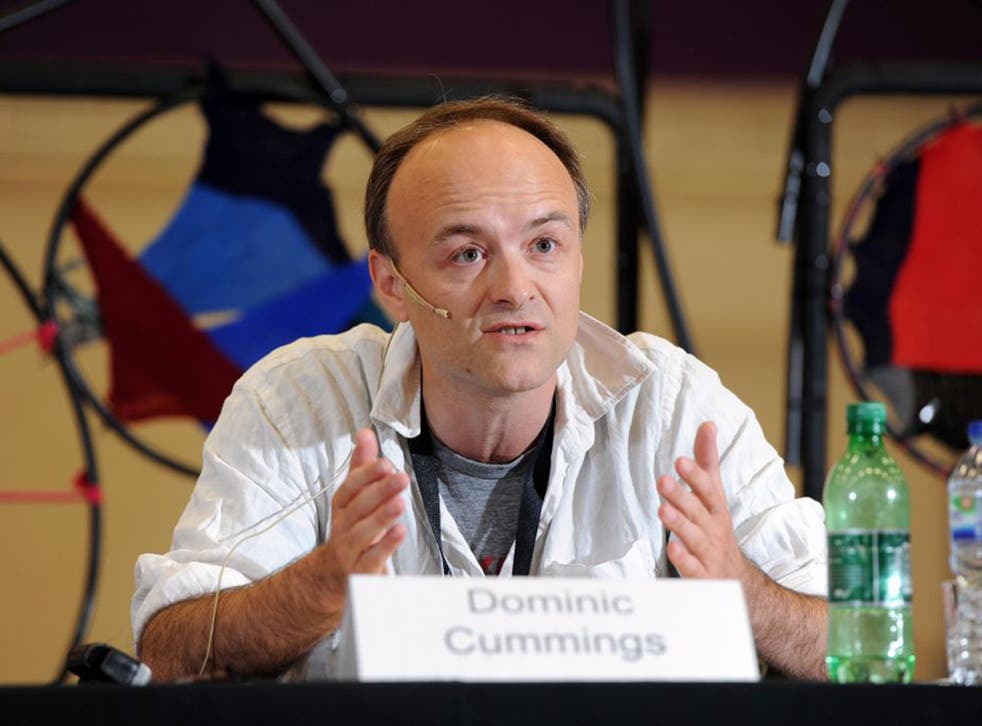 The main group fighting to pull Britain out of the European Union was in disarray as Tory Eurosceptic MPs clashed with the organisation's chief executive and one director announced he was quitting in disgust.
A member of the Vote Leave board told The Independent that he would be tendering his resignation from the organisation "within days" because he had become disillusioned with the "infighting" within the organisation. At the same time senior Eurosceptic Tory MPs who helped set up Vote Leave have turned on the campaign's director, Dominic Cummings, and are attempting to force him out of the organisation.
However, a senior Vote Leave source said this was being resisted by some of the organisation's major donors who retained confidence in Mr Cummings and Matthew Elliot, who is chief executive of Vote Leave's sister organisation Business for Britain.
They added that the on-going dispute was particularly damaging because it was distracting the organisation's attention ahead of the key Brussels summit next month which David Cameron hopes will agree a final blueprint for Britain's renegotiation.
"We should be preparing our strategy and putting in place a ground campaign, but as it is, we're spending our energy fighting each other," they said.
An MP on the board of Vote Leave, who asked not to be named because his resignation was not yet official, said he "wanted to do something a bit more positive with his time". "I joined up because I thought the campaign was going to be about a positive vision for Britain outside the EU," he said. "But that is not the way it's turned out. It's just squabbling about who is going to say what and what different people think should be the emphasis of the campaign. It is disorganised and not cohesive in any way."
At the heart of the dispute is a row over Mr Cummings's insistence that Vote Leave should not join forces with the other main Eurosceptic group Leave.EU, which is closely aligned to Ukip.
While Vote Leave has concentrated its campaign on the economic case for Brexit, Leave.EU has focused far more on the issue of immigration. How much should be made of the immigration issue is understood to be one of the causes of friction among senior Vote Leave supporters.
Both groups are fighting to achieve official designation with the Electoral Commission as the main Out campaign group – which would entitle them to public funding of over half a million pounds.
Senior Tory MPs on the group's board are also understood to be unhappy about what they see as an attempt by Mr Cummings to marginalise them from the campaign.
The group, led by Bernard Jenkin, are understood to have made moves to remove Mr Cummings at a board meeting earlier this week. But, so far, this is being resisted by Vote Leave's major donors, including Peter Cruddas who has given the campaign more than £1m.
"This is not over by a long way," said one source close to Mr Cummings. "Bernard is trying to mobilise support against Dom but he doesn't have the backing of the donors. Basically, he's unhappy because he thinks that he and people like John Redwood and Bill Cash should be the face of the campaign."
Another board member told The Independent that some Eurosceptic MPs were also unhappy at the acrimonious relationship with Leave.EU.
"There is a view among some of us that one way or another the squabbling between Vote Leave and Leave.EU has to stop," he said. "There needs to be a common front and both organisations have got to come together. But whether people can stop these squabbles is another matter entirely."
A Vote Leave spokesman said: "The board has complete confidence in Matthew and Dominic and there will be no merger with Leave.EU." Mr Jenkin refused to comment, as did Douglas Carswell the Ukip MP also on the board.
Register for free to continue reading
Registration is a free and easy way to support our truly independent journalism
By registering, you will also enjoy limited access to Premium articles, exclusive newsletters, commenting, and virtual events with our leading journalists
Already have an account? sign in
Join our new commenting forum
Join thought-provoking conversations, follow other Independent readers and see their replies