Exclusive Ed Miliband interview: I'll return politics to the people
With membership numbers declining, Labour's leader desperately needs to connect with people. Oliver Wright hears how he plans to do it
Oliver Wright
Friday 21 February 2014 20:24 Comments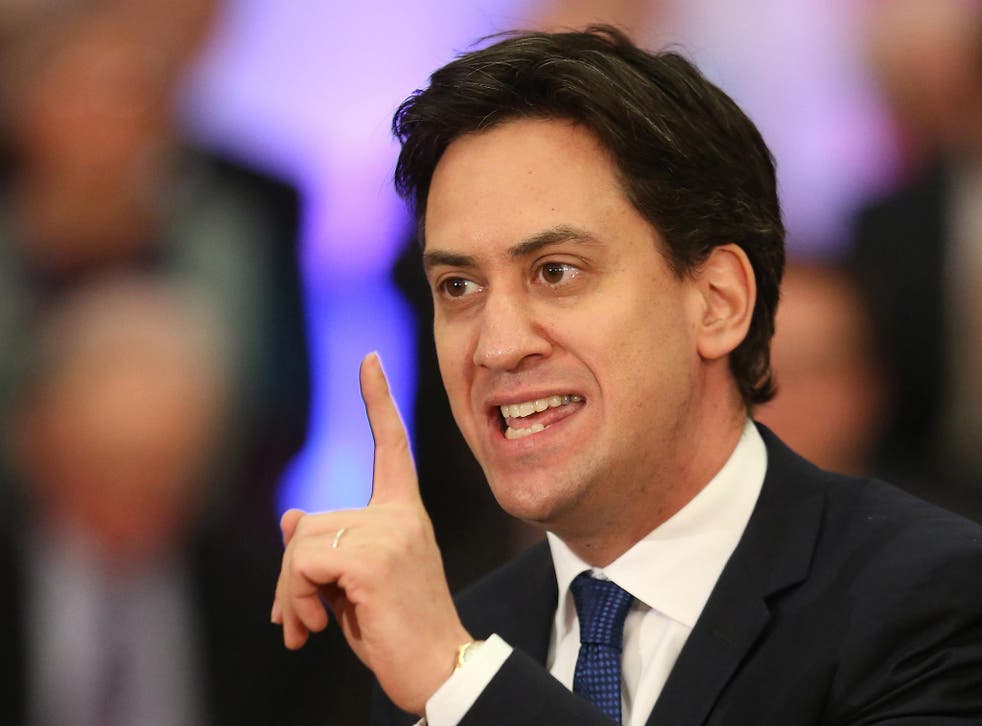 Talk quietly to any senior political figure from any major political party today and they all express the same concern. How do they connect with a public that often cares passionately about political issues but despises party politics?
Once, it was simple. Mass-membership parties elected constituency candidates for Westminster elections who would represent their interests and concerns. Those MPs in turn would select a party leader who had a wider legitimacy. All party members (to a greater or lesser extent depending on the party) had at least some role in formulating the party's policies and directions.
But with party membership ageing and declining, there is now a democratic deficit. Those members no longer represent the broader electorate and politicians are increasingly placed in the invidious position of either supporting the interests of the members who elect them or the voters they need to win power.
That is the problem that Ed Miliband was attempting to confront today at a meeting of Labour activists and trade unionists in Leeds. Next Saturday he will attempt to push through what is – by any standards – a pretty radical reform to the way in which his party is run, at a special party conference in London.
No longer will it be necessary to be a fully paid-up member of Labour to vote for a future leader, attend a local meeting or have an input into the policy-making process. Instead, for the nominal sum of £3, people will be able to register as "supporters" and take a pretty active role in the formation of future Labour politics.
It was clear today that the audience had some reservations about this new kind of politics, particularly the weakening of the traditional relationship between the organised trade union movement and Labour. In a way, it was a vivid representation of the problem: the kind of thing old Labour members care about would have very little resonance among the wider electorate.
But Mr Miliband is clear that the party has to change. In part his inspiration has come from America, where Barack Obama built up a formidable and motivated grass-roots organisation that propelled him to the White House.
But in part the reforms have their roots closer to home: he wants to portray Labour at the next election as the party of the many versus the Conservatives, whose support comes from a few rich donors and a dwindling band of ageing Tories in the shires.
"There is this myth that people don't care about the things that are happening around them because people are turned off political parties," he says. "The truth is that people are turned off political parties but care hugely about zero-hours contracts, childcare ... the care for their elderly mum. They just don't think the politics represents them.
"But it can represent them and deal with the issues that they care about. Part of this opening up is about saying 'We've got to hear those voices'. Once you crack open the system different things become possible. You can be part of the party without paying £40 – you can become a registered supporter."
Mr Miliband adds – with some justification – that some of the most important and radical changes to British society in the past 100 years have not come top-down from Westminster, but bottom-up from campaigns which politicians have then latched on to.
"How does change happen? Some people say the only way change happens is that great leaders get elected, make change happen and it has nothing to do with people," he says. "But all of the evidence is you need leadership but you also need movements. Everything from workers' rights to gay rights, equal pay to the minimum wage. All of the big changes nationally and internationally happened because movements made them happen."
He goes on: "And this is what is really interesting about the way in which Labour is changing because we are also creating a campaigning organisation on the ground. We are not just saying vote for us, we are campaigning on payday lending, on getting employers to adopt the living wage. We are campaigning on the things that matter. I know I can't just be prime minister at the heart of a declining party in government. I want us to be an expanding party in government and reaching out to new people."
And here the Obama parallel is interesting again. Because while Labour may have been envious of his success in building a movement, they have also witnessed how it failed to continue in a meaningful way once he became President. Many of his supporters have felt let down and disengaged by his time in power – and generally have not been motivated to support his day-to-day legislative agenda. It is a mistake, Miliband hints, that he would hope to avoid in Britain.
"You are more likely to achieve things and make change happen if you are a real presence on the ground," he says. "Why? Because you are more likely to win arguments door to door, street by street, neighbourhood by neighbourhood. And you are more likely to get ideas filtering up from the ground to government."
He then adds, pointedly: "We would have been a better government [under Tony Blair and Gordon Brown] if we had been listening to people on the ground."
As part of this new politics, Miliband wants to devolve more power to local authorities so decisions are made closer to the people that they affect. He does not accept the argument that many local councils are not up to the job: "The calibre of local politicians is very high," he says.
"In the 1980s Labour leaders, it would be fair to say, had some problems with local government, to put it mildly. But it is a different story now. There is an unwritten story about what local government leaders have done in incredibly difficult circumstances to try and keep the show on the road. We ... need to learn from them. We need to involve them in Whitehall."
In Westminster, he is interested in examining whether to resurrect the idea that voters could eject MPs who are not properly representing them. You also get the sense that he rather favours the idea of having at least some parliamentary sessions outside London.
Before then, of course, there is an election to win. And for that he will need the old Labour faithful fully engaged. Because it is all very well opening up your party to the new members – but you need to be careful that the existing faithful feel welcome in the brave new world too.
Register for free to continue reading
Registration is a free and easy way to support our truly independent journalism
By registering, you will also enjoy limited access to Premium articles, exclusive newsletters, commenting, and virtual events with our leading journalists
Already have an account? sign in
Join our new commenting forum
Join thought-provoking conversations, follow other Independent readers and see their replies