Exclusive: Nick Clegg stakes his political future on a showdown with party's left wing over economy
Deputy Prime Minister braces for conference confrontation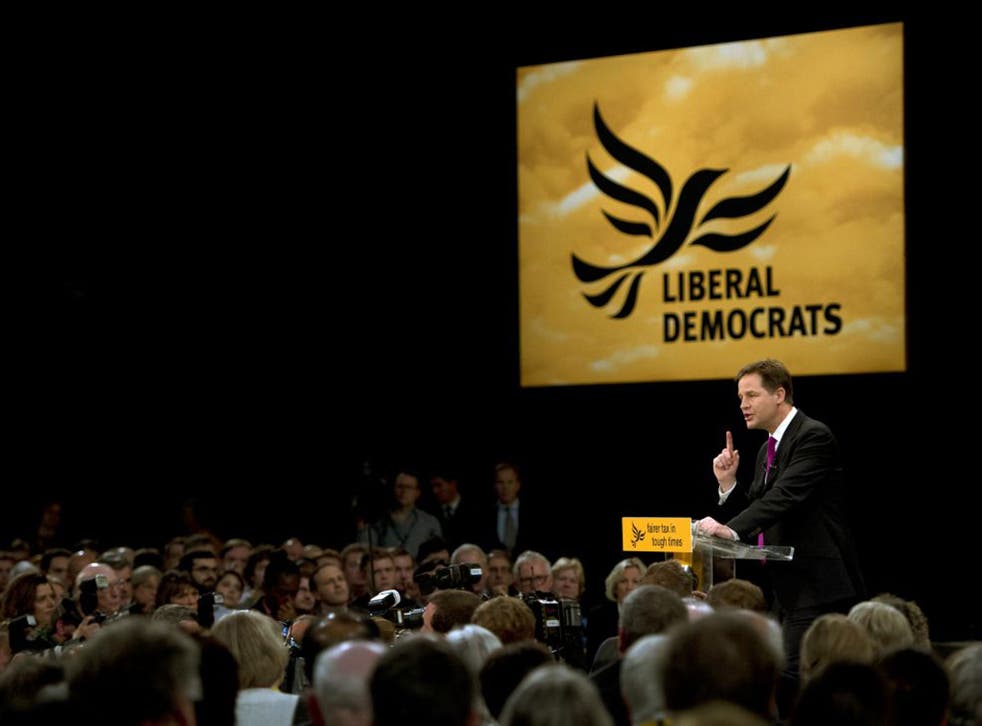 Nick Clegg has warned his Liberal Democrat critics they would put Britain's economic recovery at risk and score a huge political own goal if they defeat him in a crunch vote on the economy at his party's conference starting on Saturday.
In an exclusive interview with The Independent, the Deputy Prime Minister warned his critics they would provide a gift to the Chancellor George Osborne and his Labour shadow Ed Balls if they pass a rebel motion distancing the Lib Dems from the Coalition's cuts programme.
Mr Clegg will put his authority on the line by closing the key economic debate at the Glasgow conference on Monday, an unusual move for the party leader. He will urge his party to reject calls by the Social Liberal Forum (SLF), a left-wing pressure group, for a change of economic policy.
Clegg allies say the group wants to "tear up" the Government's fiscal mandate and end the Bank of England's independence by ordering it to do more to create jobs. Although Mr Clegg expects to win his showdown with his critics, some Lib Dem insiders say the vote could be close and defeat would be a humiliating blow for the party leader.
In his interview, Mr Clegg said the rebels' proposals made "no sense" economically or politically. "Just as the economy is turning, it would be a huge risk to start putting the stability on which growth is based on ice. It would create uncertainty and confusion in the markets, investors would very quickly become cautious again, employers wouldn't take on more people," he said. "There is nothing that would more inhibit growth at this delicate stage than another bout of uncertainty about what the long term plan is to clear the deficit."
He added: "Having spent three years explaining to people that we need to clear the decks and make sure future generations are not saddled with our debts, people would be very confused if suddenly we gave Ed Balls a boost by suggesting that somehow his critique was right and allowing George Osborne to take the plaudits for any growth."
While defending the Coalition's policy, Mr Clegg will reassure his party that it will fight the 2015 election on a distinctive Lib Dem economic policy – including a plan to free local authorities to build hundreds of thousands of new homes. "We are parting company with the Conservatives, Tory Treasury orthodoxy and Osbornomics by setting out a very distinctive Lib Dem approach how to go further and faster to promote growth," he said.
But his critics accused Mr Clegg of offering voters "more of the same" in 2015. Writing on The Independent's website, Prateek Buch, the SLF's director, said: "It falls on the Lib Dems to do more than rest on our laurels – in government with Tories content to inflate a housing bubble….we should try to raise investment and median wages up to and after the next election."
Register for free to continue reading
Registration is a free and easy way to support our truly independent journalism
By registering, you will also enjoy limited access to Premium articles, exclusive newsletters, commenting, and virtual events with our leading journalists
Already have an account? sign in
Register for free to continue reading
Registration is a free and easy way to support our truly independent journalism
By registering, you will also enjoy limited access to Premium articles, exclusive newsletters, commenting, and virtual events with our leading journalists
Already have an account? sign in
Join our new commenting forum
Join thought-provoking conversations, follow other Independent readers and see their replies