Exclusive: Top mandarin hits back at Iain Duncan Smith over universal credit smears
Sir Jeremy personally intervenes to stop Work and Pensions Secretary blaming Robert Devereux for universal credit programme debacle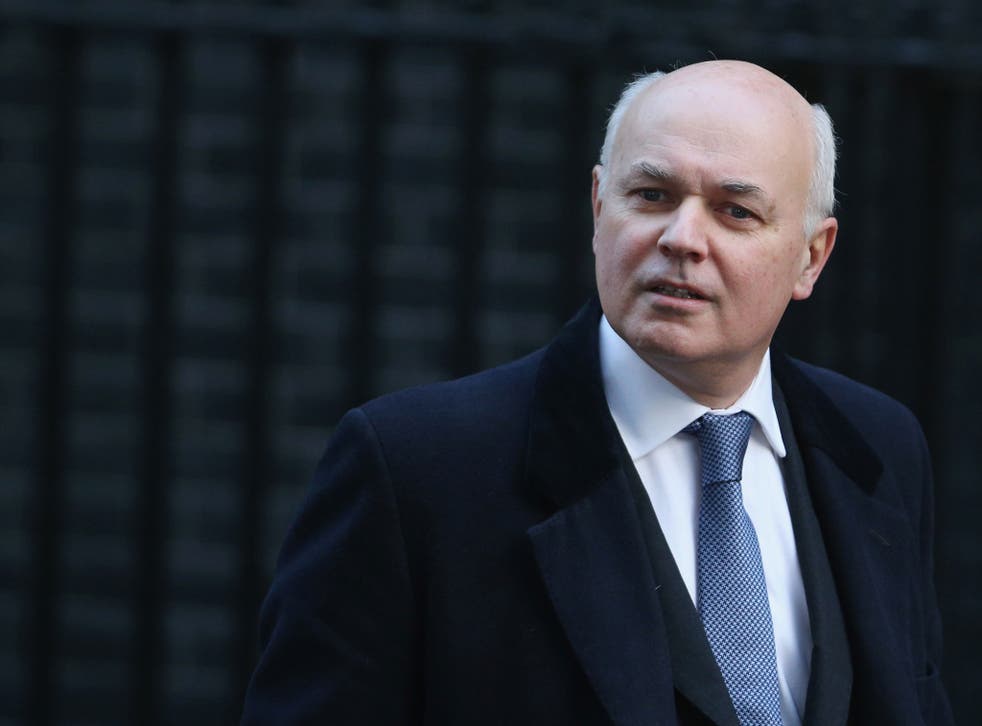 Britain's most senior civil servant intervened with David Cameron to help save the career of a permanent secretary who felt he was being "hounded out" of office by his political masters, The Independent has learnt.
Sir Jeremy Heywood told the Prime Minister that, as the de facto head of the civil service, he was concerned about the "concerted political briefing campaign" against Robert Devereux over failures in the Government's universal credit programme.
He is understood to have made clear that he did not believe Mr Devereux should be singled out for blame for the project and that responsibility also lay with Iain Duncan Smith, the Work and Pensions Secretary. He is also said to have pointed out that the public undermining a permanent secretary was harming civil service morale and was unfair because, as a government official, Mr Devereux was unable to defend himself.
Sir Jeremy's intervention is understood to have been behind a very unusual statement by Mr Duncan Smith, released earlier this month in which he stated he had "every confidence" with the team implementing universal credit adding "and that team includes Robert Devereux".
The meeting followed weeks of hostile briefings in the media against Mr Devereux blaming him for failures in getting to grips with the troubled universal credit programme.
Several newspapers, including The Independent, quoted political sources saying that he faced losing his job over universal credit. One reported that Mr Duncan Smith had rebuked civil servants in his department, accusing them of lacking professionalism and having a "culture of secrecy".
But most damaging of all were allegations that members of the Government had approached Tory MPs on the Public Accounts Committee to ask that its report "name and shame" Mr Devereux and help force him out.
A Government source told The Independent: "There was a lot of anger at the very top of the civil service about the way Robert was being treated. He had fallen out with [Francis] Maude and Duncan Smith and they were basically trying to force him out by blaming all the failures of universal credit on him.
"But for God's sake Duncan Smith was the minister in charge and it was his one big project. If he didn't know things were going wrong then he clearly wasn't doing his job properly either."
The source said it had taken the intervention of Sir Jeremy to make the briefings stop.
"Sometimes it's the job of the Cabinet Secretary to speak on behalf of the whole civil service and draw the line. And that's what happened here."
A Cabinet Office source said that Sir Jeremy was not "complacent" about poor performance but that such conversations needed to take place in private and not through the newspapers.
The episode highlights the tension between some ministers and their senior officials. While most are said to have good working relationships with their Secretaries of State at least two permanent secretaries have left their posts within the past 14 months having clashed with their political masters.
Dame Helen Ghosh left the Home Office last November to take up a job at the National Trust and Moria Wallace left the Department of Energy and Climate Change in October last year.
A Cabinet Office spokesperson said: "Iain Duncan Smith and his Permanent Secretary are working closely together to deliver universal credit - as the Secretary of State has repeatedly made clear. The Cabinet Secretary - and indeed the Cabinet Office as a whole - is providing full support to both of them as you would expect. Everyone in Government is focused on getting this project right."
Join our new commenting forum
Join thought-provoking conversations, follow other Independent readers and see their replies