Exclusive: Tories under fire for links to pro-Russia lobbyists
Firm donated one third of its profits to party in year leading up to 2010 election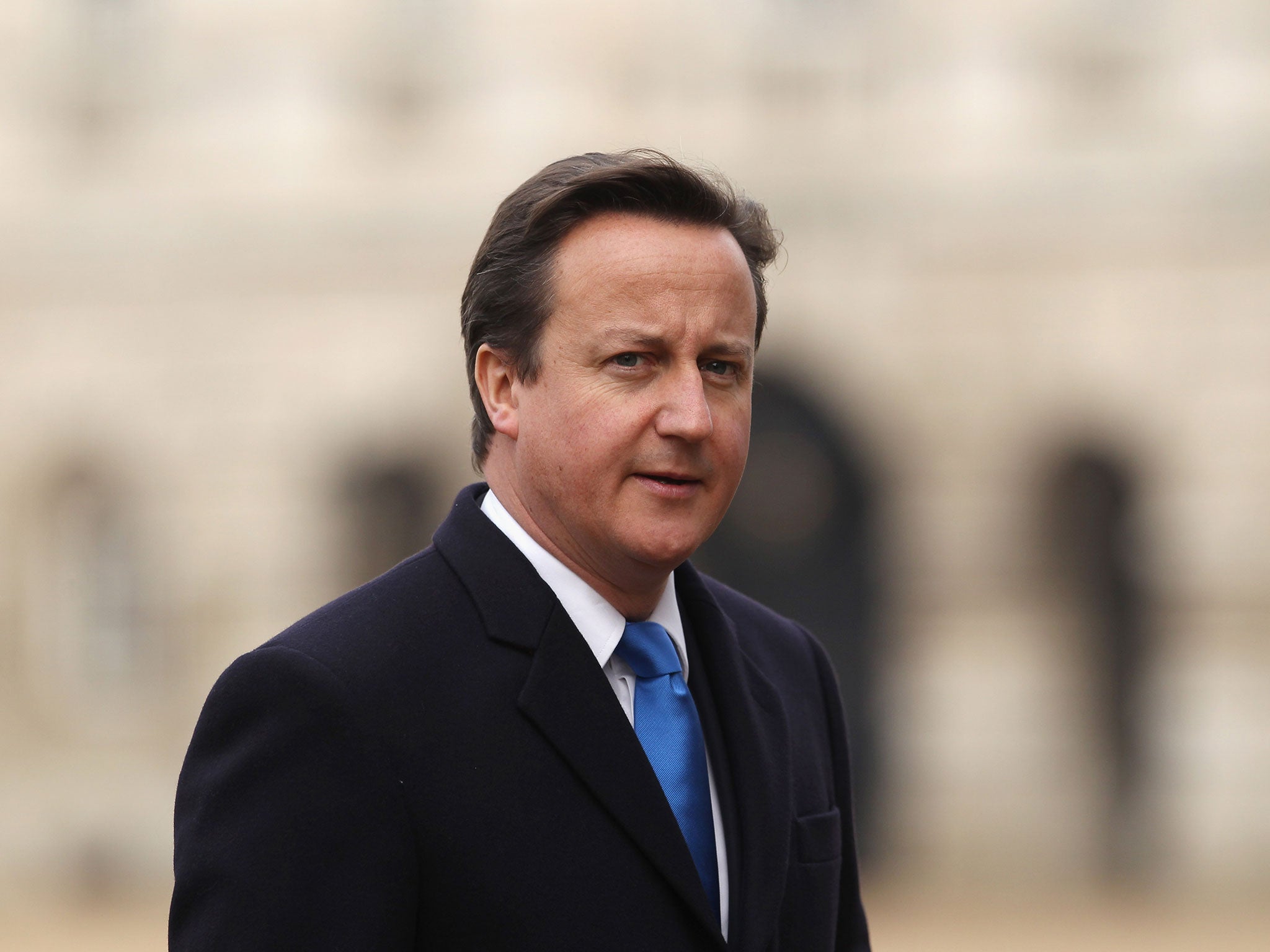 David Cameron is under pressure to explain his party's links with a lobbying firm representing high-profile Russian clients that donated a quarter of its annual profits to help the Tories win the last election.
According to Electoral Commission records, New Century Media gave the Conservatives £85,000 in the months leading up to the 2010 general election, despite the company only making £267,000 in profits for the same financial year.
The Independent also understands that:
* New Century represents the personal foundation of the Ukrainian billionaire Dmitry Firtash, who has been indicted on bribery and corruption charges, which he denies, in the United States. Last year, the senior Conservative MP John Whittingdale helped the foundation secure a prestigious reception in the Houses of Parliament. A few months before the reception, Mr Whittingdale was a guest of New Century at the Conservatives' summer ball.
* The company has paid for ministers to be their guests at previous Conservative events.
* David Burnside, New Century's executive chairman, has made extravagant claims about his connections with senior Tories, including saying he was able to secure an interview with Mr Cameron for the Russian state news agency ahead of the Prime Minister's 2011 trip to the country.
The revelations will raise concerns about the access that is available to lobbying firms who donate to the Tories' election chest. The company has paid for a table at the last four Conservative summer balls and paid for the Environment Secretary Owen Paterson and the International Development minister Alan Duncan to be its guests at Conservative events at a cost of £900 and £800 respectively, which they correctly declared on the Register of Members' interests.
While foreign nationals and governments cannot give money to political parties, there is nothing to stop lobbying firms working on their behalf from giving donations – as long as they are registered UK companies.
Tamasin Cave, who leads the Alliance for Lobbying Transparency coalition, said it was "extraordinary" that any company should donate a quarter of its profits in any one year to the Conservatives.
"These revelations raise very serious questions that the Conservatives need to answer," she said.
"We need to know why a lobbying company thought it worthwhile to give such a large amount of money to the Tories ahead of the last election and what, if anything, they got in return. This is very far from the transparency that David Cameron promised."
New Century said it was company policy not to comment on its clients and added that all donations to the Conservatives were correctly reported to the Electoral Commission.
Unlike the vast majority of lobbying firms, New Century fails to provide details of its clients to the industry's voluntary register of interests. In 2009, the company made profits of £70,000, rising to £466,000 in 2013, according to accounts filed to Companies House.
The firm has been able to invite guests at around £400 a head to the Conservative summer ball for several years, including this year's event that was held at the Hurlingham Club this week. A game of tennis with Mr Cameron and Boris Johnson was sold off at an auction for £160,000 to banker Lubov Chernukhin, wife of Vladimir Chernukhin, a former Russian deputy finance minister under Mr Putin, The Guardian reported. The Bureau of Investigative Journalism added that Lynton Crosby, the Conservative's party election director, and Lord Feldman, party chairman, were offered up as ball boys for the game by Foreign Office minister Hugo Swire, who carried out the auction.
Last year, two prominent Russians with connections to the Kremlin, including one of Vladimir Putin's judo partners, Vasily Shestakov, and the billionaire businessman, Andrei Klyamko, were said to have been invited to the event by New Century. Both were photographed chatting to Mr Cameron at the event.
Also on New Century's table, according to a leaked document given to the Bureau of Investigative Journalism, was due to be Peter Charow, BP's vice-president for Russia. On its website New Century says its consultants advised BP on the sale of its 50 per cent stake in TNK-BP to the state-controlled Russian energy giant Rosneft. However he later told the Bureau that he did not attend the event.
Neither the Conservatives nor New Century would confirm the names of any clients who had been invited to sit on its table this year.
But The Independent has established that the boutique public affairs and PR agency – run by the former Ulster Unionist MP David Burnside – has a roster of colourful clients, and has made a number of public boasts about the access and influence it has.
Its website states that it represents the charitable foundation of the Ukrainian billionaire Dmitry Firtash, who has been indicted on bribery and corruption charges in the United States. Mr Firtash, who has a home in Knightsbridge, was arrested on an FBI warrant in Vienna in March and posted what is believed to be the world's largest bail, €125m (£104m), pending extradition.
The indictment from the US Department of Justice accuses him of overseeing the payment of bribes to Indian officials to secure mining licences for his Group DF empire in Andhra Pradesh. A spokesman for Mr Firtash has said there "is no truth to the accusations" which he said were groundless and politically motivated.
Last year, the Firtash Foundation was able to arrange a high-profile reception at the House of Commons where guests included the Speaker John Bercow and the Conservative chairman of the Culture, Media and Sport Committee, John Whittingdale, who hosted the event.
Mr Whittingdale had been a guest a few months earlier of New Century at the Conservatives' summer ball. Mr Whittingdale was unavailable for comment.
The firm also represented a Russian oligarch who agreed to pay £900,000 a year to New Century to bolster his reputation because he wanted to acquire British citizenship.
Vladimir Makhlay – who arrived in Britain in 2005 seeking asylum – hired New Century as part of his campaign to portray himself in a positive light. But the arrangement went sour when Mr Makhlay stopped paying the firm's bills.
According to reports of the case, the High Court heard that New Century said that it could manage his reputation and "premium lifestyle", introduce him to an influential network of contacts and recommend "philanthropic opportunities" – for fees of £75,000 a month.
He was reportedly promised "personal introductions to an influential network of contacts" who could help him to achieve his "strategic objectives".
Mr Burnside, New Century's executive chairman, has in the past made extravagant claims about the influence that he can wield on behalf of his clients. A year after the election, he claimed to have secured an interview with Mr Cameron for the Russian state-owned press agency, Itar-Tass, "communicating the potential opportunities and benefits for British co-operation with Russia".
Mr Burnside was also included in a list of top London reputation managers by the wealth management magazine Spear's. He is quoted as saying: "I can go to cabinet ministers, former prime ministers, I've been dealing with them for 25 years, through PR in-house or through consultancy work, which I've been doing since the mid 1990s."
Most recently, Mr Burnside and New Century appear to be working on a campaign to promote the reputation of the Putin regime.
An organisation called the Positive Russia Foundation was established last year under the patronage of Mr Shestakov – who attended the Conservatives' ball apparently as a guest of New Century.
Friends of Mr Burnside praise his probity and describe him as "very well connected".
"He is straight talking and formidable," said one. "He has a number of Russian clients and helps them find their way around British society. He has a huge number of friends."
A Conservative Party spokesman refused to provide a list of New Century's guests at Conservative events but said: "All donations to the Conservative Party are properly and transparently declared to the Electoral Commission, published by them, and comply fully with Electoral Commission rules."
Well connected: Dramatis personae
Dmitry Firtash A Ukrainian oligarch involved in gas trading and with close links to Russia and to Viktor Yanukovych, the Kremlin-backed former Ukrainian President.
Vasily Shestakov A friend and judo partner of Russian President Vladimir Putin, Shestakov was given the job of improving Russia's international image in 2008. He helped set up the Positive Russia Foundation in connection with New Vision.
David Burnside Former Ulster Unionist MP who ran BA's public affairs department in the 1980s. His consultancy New Century boasts of having "unparalleled knowledge and long-standing connections" in international politics, media and business.
Join our commenting forum
Join thought-provoking conversations, follow other Independent readers and see their replies