Foreign spouse income limit: Supreme Court rules financial barrier lawful, barring entry to thousands of couples
But rules and instructions behind the threshold are not lawful when it comes to the welfare of children, the judges say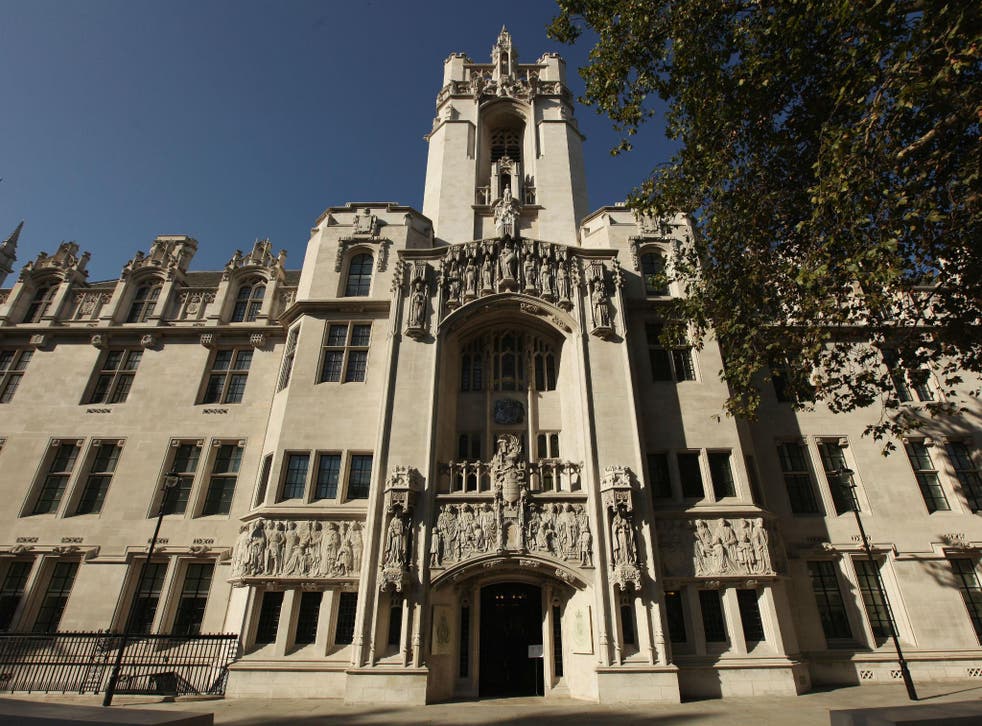 The Supreme Court has said the Government's £18,600 income threshold that bars UK workers' foreign spouses is lawful, but judges admitted it will continue to cause "significant hardship" for thousands of couples.
The policy, brought in when Theresa May was Home Secretary, has been blamed for keeping families apart because British citizens living in the UK do not earn enough money to bring their non-European Economic Area partners to the country. It holds even if their partner's earnings would tip them over the limit.
Britons have previously told The Independent they have had to move abroad to be with their families because of the policy.
The court's decision means thousands of relationships may still have to be conducted at long distance. But the judges also determined the rules and instructions behind the income threshold are not lawful when it comes to ensuring the welfare of children.
The judges said that while a minimum income requirement is "acceptable in principle" the way it has been implemented unlawfully fails to take "proper account" of the Home Secretary's legal duty to safeguard children. The rules must be amended to take this into account, and also to allow "alternative sources of funding" to be considered alongside salary.
They added: "The fact that the minimum income requirement may cause hardship to many does not render it unlawful. It has the legitimate aim of ensuring that the couple do not have recourse to welfare benefits and have sufficient resources to play a full part in British life.
"The income threshold chosen was rationally connected to this aim and the acceptability in principle of an minimum income requirement has been confirmed by the ECtHR."
In their full judgement, the justices recognised the income limit "has caused, and will continue to cause, significant hardship to many thousands of couples who have good reasons for wanting to make their lives together in this country, and to their children".
They said: "There are several types of family, not illustrated in the cases before us, upon whom the minimum income requirement will have a particularly harsh effect.
"These include British citizens who have been living and working abroad, have married or formed stable relationships there, and now wish to return to their home country.
"Many of these relationships will have been formed before the new rules were introduced or even publicly proposed. They also include couples who formed their relationships before the changes in the rules were introduced and who had every expectation that the foreign partner would be allowed to come here.
"Of particular concern is the impact upon the children of these couples, many or even most of whom will be British citizens themselves.
"But the fact that a rule causes hardship to many, including some who are in no way to blame for the situation in which they now find themselves, does not mean that it is incompatible with the [European Convention on Human Rights] or otherwise unlawful at common law."
UK news in pictures

Show all 50
A Home Office spokesman said: "The court has endorsed our approach in setting an income threshold for family migration that prevents burdens on the taxpayer and ensures migrant families can integrate into our communities. This is central to building an immigration system that works in the national interest.
"The current rules remain in force but we are carefully considering what the court has said in relation to exceptional cases where the income threshold has not been met, particularly where the case involves a child."
The Joint Council for the Welfare of Immigrants said the rules were "tearing families apart and significantly harming children" – but that Wednesday's judgement was a "real victory" and offered those families hope because of what the court said about the policy's inadequacy in safeguarding youngsters.
Its chief executive, Saira Grant, said: "This judgement confirms that the Government's position is now untenable and they must now take immediate steps to protect the welfare of children in accordance with their legal duty."
Liberal Democrat home affairs spokesman Brian Paddick said: "British citizens in loving relationships with foreign nationals should not be discriminated against by their own Government.
"Theresa May and Amber Rudd seem hell-bent on reducing immigration at all costs regardless of the heartbreak and suffering it results in."
On top of the £18,600 minimum threshold, a Briton must earn an additional £3,800 for the first dependent child and £2,400 for each further child.
The Supreme Court judges noted that under the "complex" previous system couples had to prove they could support themselves and their children "adequately" without recourse to the benefits system, using various metrics. There was no minimum salary requirement.
Both Government case officers and the applicants themselves found it difficult to work with, prompting the search for a new approach.
The current system came into effect in the summer of 2012, when now-Prime Minister Theresa May was heading the Home Office.
Register for free to continue reading
Registration is a free and easy way to support our truly independent journalism
By registering, you will also enjoy limited access to Premium articles, exclusive newsletters, commenting, and virtual events with our leading journalists
Already have an account? sign in
Register for free to continue reading
Registration is a free and easy way to support our truly independent journalism
By registering, you will also enjoy limited access to Premium articles, exclusive newsletters, commenting, and virtual events with our leading journalists
Already have an account? sign in