Former energy minister Lord Howell (George Osborne's father-in-law) says it's fine to frack in 'empty, desolate' North-east
Tory grandee says there should be different rules for the South-east
Nigel Morris
Wednesday 31 July 2013 14:47 Comments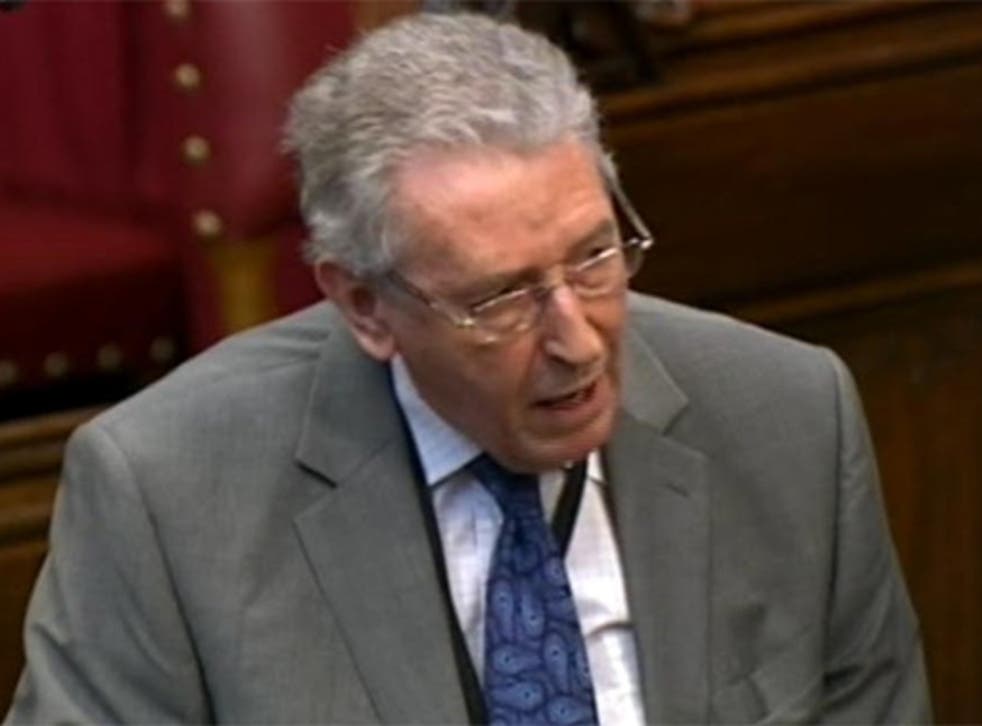 A senior Conservative peer who is George Osborne's father-in-law provoked anger and surprise today after he suggested "fracking" for shale gas should be limited to the North East of England because it has "large and uninhabited and desolate areas".
The comments by Lord Howell of Guildford will be a serious setback to Tory efforts to reach out to a region that has been broadly hostile to the party over decades, as well as a grave embarrassment to the Chancellor.
One of the few Conservative MPs in the North-east, James Wharton, denounced the remarks as "foolish and ill-informed", while the Archbishop of Canterbury, Justin Welby, joined the chorus of condemnation.
Lord Howell, a former Energy Secretary, triggered the storm when he intervened in a Lords debate to argue that fracking should not initially be considered for the whole of the United Kingdom.
"In beautiful rural areas there are worries not just about drilling and fracking, which I think are exaggerated, but about trucks, deliveries, roads and disturbance, which are quite justified," he told peers.
"However, there are large, uninhabited and desolate areas, certainly in parts of the North-east, where there is plenty of room for fracking."
As the row raged last night, Lord Howell issued an apology. He said: "I apologise for any offence caused. I certainly did not intend to suggest that the North-east is desolate... there are parts of the country that are less densely inhabited than others. That includes parts of the North-east, but also other areas in the South."
The damage had been done, however, and his past record has not helped the situation. Lord Howell, whose daughter Frances is married to the Chancellor, was made a minister after the general election and stepped down in September. The peer, who remained an energy adviser to the Government until three months ago, represented the Surrey constituency of Guildford as an MP and lives in Hampshire.
His gaffe followed a covert recording last year in which he told undercover Greenpeace activists that his son-in-law was behind moves to curb the spread of wind-farms, and said David Cameron was "not familiar with these issues, does not understand them".
Environmental groups have also raised questions over his extensive portfolio of energy interests, and have suggested he could use family gatherings to lobby the Chancellor. It includes the presidency of the British Institute of Energy Economics, which is sponsored by Shell and BP, and a consultancy with a transport company which is expected to tender when the HS2 rail line is built.
Craig Bennett, Friends of the Earth's policy and campaigns director, said of the fracking comments: "This breathtaking ignorance and arrogance is typical of the cosy cabal that surrounds George Osborne."
Leila Deen, Greenpeace UK Energy campaigner, said: "Were Lord Howell or any member of the Government to visit the North-east they would find there are actually people living there, people who don't regard their countryside as a disposable resource."
Tom Greatrex, the shadow Energy minister, said voters should question whether policy was being "drawn up over brandy and cigars rather than on the basis of robust analysis of science and evidence". He said: "It has become increasingly apparent that it is George Osborne who sets the government's energy policy, under the influence of Lord Howell."
The comments were widely condemned across the North-east. Lord Beecham, who is a Labour councillor in Newcastle, said: "Neville Chamberlain spoke of pre-war Czechoslovakia as 'a faraway country of which we know nothing'. Lord Howell clearly has a similar view on the North-east."
Ross Smith, the North-east Chamber of Commerce director of policy, also said: "This is a ridiculous way to describe a region that boasts some of the most beautiful unspoiled countryside in the UK."
Meanwhile Andy Wilson, chief executive of the North York Moors National Park Authority, said: "Half of England's national parks are in the North and the most tranquil areas are in the North of England."
Register for free to continue reading
Registration is a free and easy way to support our truly independent journalism
By registering, you will also enjoy limited access to Premium articles, exclusive newsletters, commenting, and virtual events with our leading journalists
Already have an account? sign in
Join our new commenting forum
Join thought-provoking conversations, follow other Independent readers and see their replies