Four in five blame Government for the 'needless fuel panic'
Devastating Independent on Sunday poll reveals public fury at petrol crisis, as panicked No 10 seeks new adviser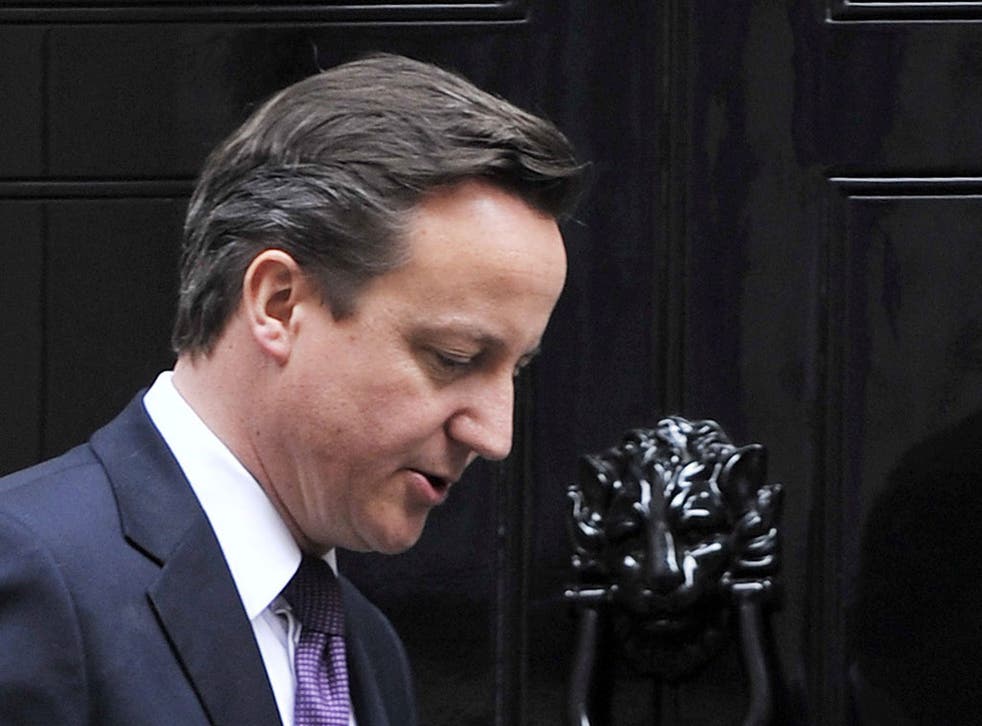 The British public today vents its fury against the Government for stoking the fuel crisis, with 81 per cent of voters accusing David Cameron and ministers of creating an "unnecessary panic" over petrol shortages.
With Mr Cameron struggling to get back on to the front foot after the worst week of his premiership, 72 per cent of people believe the Government is "out of touch with ordinary voters", a devastating poll for The Independent on Sunday shows.
Seven out of 10 oppose George Osborne's 20 per cent VAT hike on pasties and sausage rolls, the ComRes survey reveals.
More worrying for the Government's long-term credibility, 60 per cent of people do not trust the Prime Minister and the Chancellor to make the right decisions about the economy, a figure which has increased from 49 per cent in only two weeks.
Petrol forecourts began slowly returning to normal yesterday, although many pumps remained closed, with drivers being turned away.
Francis Maude, the Cabinet Office minister who is being blamed for the most inflammatory language by urging motorists to stockpile petrol in jerry cans, resisted calls to resign after a mother suffered 40 per cent burns when she tried to decant fuel in her kitchen. Diane Hill remained in a critical but stable condition in hospital last night.
Unite leader Len McCluskey, whose union represents fuel tanker drivers, expressed outrage at suggestions from Tory MPs to constituency associations that they should exploit the "Thatcher moment", appearing to confirm that drivers were being deliberately urged to stockpile fuel.
Charles Moore, writing in The Daily Telegraph, said the message from MPs was: "In order to defeat the coming miners' strike, [Thatcher] stockpiled coal. When the strike came, she weathered it, and the Labour Party, tarred by the strike, was humiliated. In order to defeat the coming fuel drivers' strike, we want supplies of petrol stockpiled. Then, if the strike comes, we will weather it, and Labour, in hock to the Unite union, will be blamed."
Mr McCluskey said: "We call on the Government to come clean on its whole approach to this dispute. Over the last few days its every move has been designed to whip up unnecessary tension at the expense of the public." The GMB union accused ministers of encouraging panic buying to increase tax revenues.
Luke Bosdet, spokesman for the AA, said: "We have got cash-strapped families suffering from a combination of a recession and ever-rising record fuel prices being put in a position where they felt obliged to rush out and buy fuel when they didn't need to."
Besides the backlash over fuel shortages, No 10 was left reeling over Mr Cameron's dinners with donors and anger at Mr Osborne's "pasty tax".
The IoS has learnt that panicked No 10 advisers are searching for a new "crisis comms" expert to be drafted in, particularly to deal with the power vacuum in the spin operation since Andy Coulson left last year.
One Tory source said: "We have not got level-headed, sensible people. We have just got a 'scream-scream, yell-yell team'. Dave has got a lot of spotty kids who are very clever but lack common sense."
Said one Tory MP: "It is a friggin' shambles. The twilight dinners with Dave are just a disgrace. There is real unhappiness at the moment."
Stewart Jackson, Conservative MP for Peterborough, said: "From a communications point of view, No 10 has to raise its game. There has to be better engagement with the parliamentary party – the people who are out there defending the Government and the party every day on local radio and local newspapers. There has to be an expansion of this rarefied group of people at the top who don't have experience of normal life."
Senior Tory MP Bernard Jenkin pointed the finger at the Government for fuelling the petrol crisis. He told the BBC: "My feeling is this was to try to take people's minds off donors, the Budget and pasties – and the Government added to the heat on this."
Despite the Government's woes, there was concern in the Labour Party that Ed Miliband had failed to capitalise on its position.
In the aftermath of Labour's defeat to George Galloway in the Bradford West by-election, a senior MP involved in Labour's campaign today admits it was "cautious and lacklustre" in comparison with the Respect Party figurehead's campaign.
Writing in The IoS, Toby Perkins, the shadow Business minister, says: "In a general election, many of those who voted for Galloway will still be hoping for a Labour government, but the sense that there 'has to be more to politics than this' was palpable, and will serve as a sharp reminder that Tory failure does not Labour success make."
Bishop attacks 'scaremongering prat' Maude
An outspoken Church of England bishop who ridiculed the Royal family and predicted that Prince William's marriage to Kate Middleton would only last seven years this weekend attacked cabinet office minister Francis Maude, controversially describing him a "scaremongering prat."
The Right Rev Peter Broadbent, Bishop of Willesden and acting Archdeacon of Northolt, took to Twitter on Friday to call for the Tory cabinet minister's resignation after a woman set fire to herself in York while decanting petrol at home. Mr Broadbent wrote on his public page: "Tory clueless petrol advice leads to woman setting fire to herself in York. Perhaps they expected the servants to do it? Resign, Maude!"
Confronted with sceptical tweets, which questioned the link between the incident and the cabinet minister's earlier advice, Mr Broadbent replied: "Who was the scaremongering prat who told her to stock up with jerrycans? You don't store petrol at home. End of."
The bishop is no novice to social networking sites. In 2010, he was suspended from the ministry after a tirade on his Facebook page outraged MPs and church members. He said he could not stand the "nauseating tosh" surrounding the Royal Wedding and described Prince Charles and Princess Diana as "Big Ears and the Porcelain Doll."
Spot the anagram: A pasty by any other name?
Fancy that:
In a week when the cost of buying a hot pie helpfully overshadowed stories about rich donors buying dinner with David Cameron, did you notice that "Cornish pasty" is an anagram of "Tory cash spin"? Can you do better?
Is there a better anagram of "petrol shortage" or "Francis Maude's garage"? Email your anagrams to sundayletters@independent.co.uk, or tell us on twitter.com/@IndyOnSunday
Join our new commenting forum
Join thought-provoking conversations, follow other Independent readers and see their replies