Fuel poverty 'unacceptable': Sir John Major calls for excess profit tax on Big Six energy firms
Former Prime Minister says energy companies should fund people struggling to pay winter bills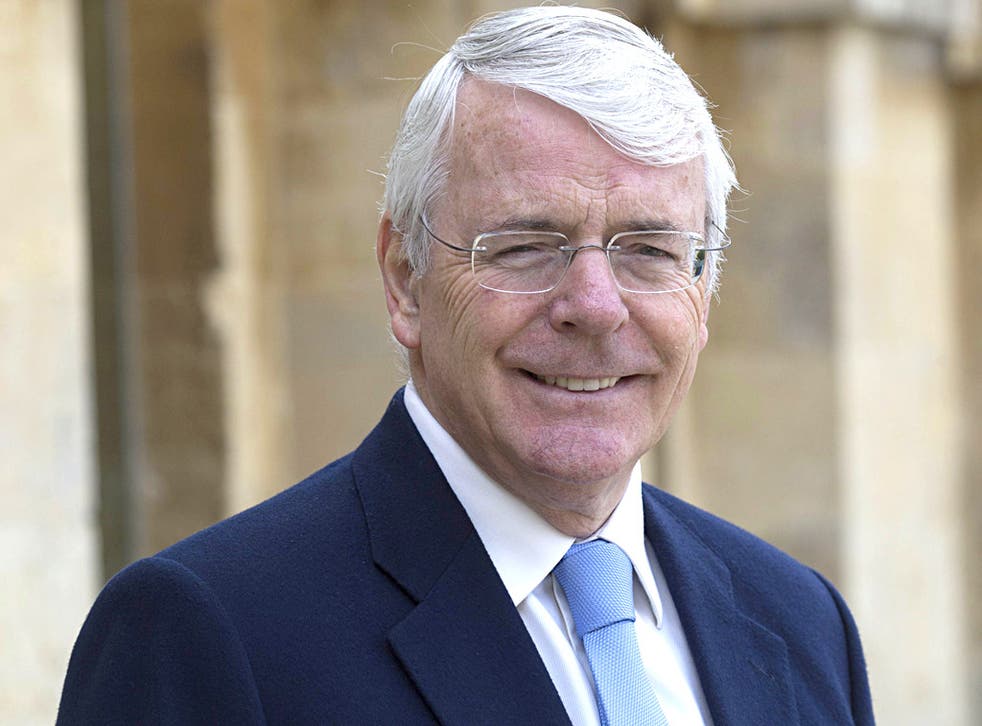 Sir John Major challenged ministers to levy a windfall tax this winter on energy companies' profits to protect the neediest in society as he warned Conservative chiefs of the electoral dangers of vacating the political centre ground.
The former Prime Minister urged his party to reconnect with voters in the North of England, where it had been relegated to the political fringe, and to help poor families struggling to make ends meet in tower blocks and council estates.
He predicted the Government would have to step in to prevent families from having to choose between heating and eating if there is a bitterly cold spell of weather.
Both Downing Street and Conservative sources distanced themselves from his comments, which follow Labour leader Ed Miliband's promise of a 19-month freeze on gas and electricity prices if he wins the next general election.
But they failed to rule out the move entirely, stressing they had "no plans" to impose a windfall tax on the profits of the Big Six energy companies which are raising prices by up to ten per cent this year.
Speaking at a Westminster lunch, Sir John said Mr Miliband's heart "was in the right place" but his head had "gone walkabout".
The former Prime Minister added: "He did touch on an issue that's very important. The private sector is something the Conservative party support, but when the private sector goes wrong or behaves badly I think it is entirely right to make changes and put it right."
He said: "It is not acceptable to me, it ought not to be acceptable to anyone, that many people are going to have to choose between keeping warm and eating."
Sir John forecast ministers would have to intervene if there was a cold snap and said it would be perfectly acceptable for them to "levy an excess profits tax on the energy companies and claw that money back to the Exchequer".
Last night Mr Miliband seized on the comments. He tweeted: "Sir John Major makes Labour's argument: David Cameron stands up for the energy companies not hard-pressed families."
In a wide-ranging speech, Sir John, whose premiership was dogged by Tory in-fighting over Europe, warned the Tories they would turn off the voters unless they spent less time on ideological wrangling over Britain's relationship with Brussels.
He warned the party's right-wing: "If we Tories navel-gaze and only pander to our comfort zone we will never win general elections. All the core vote delivers is the wooden spoon."
Sir John said the party faced an uphill struggle to win the election, adding that it needed to connect with the concerns in cities such as Liverpool, Sheffield, Manchester, Glasgow and Cardiff.
He argued that all parties had neglected the pressures faced by the "silent have-nots" and the "dignified poor, or near-poor", as well as the "lace curtain poverty" endured by the elderly.
Sir John praised Mr Cameron for "seeking to reclaim territory that is at the very heart of the sort of values that made me join the Conservative Party", adding it was "at its best when it is tolerant and open and at its worse when it is hectoring and censorious".
Although he insisted he backed Iain Duncan Smith's welfare reforms, he took a swipe at the Work and Pensions Secretary, who was a prominent critic of Sir John during the party's battles over Europe.
Urging the minister to consult widely over his plans, Sir John said: "Unless Iain Duncan Smith is very lucky, which he may not be, or a genius, which is unproven, he may get some of it wrong."
Major malfunction: What did Sir John say about today's politics?
"The Tories only ever plot against themselves. Labour are more egalitarian. They plot against everyone" – on the Conservative tendency to internecine strife.
"For the foreseeable future, the threat of a federal Europe is as dead as Jacob Marley. The ghost may return but for now there are more important matters for Parliament to discuss" – on Europe.
"There's no point in telling people to get on their bike if there's nowhere to live when they get there" – on the lack of house-building.
"A hundred years ago Lloyd George homes fit for heroes. Today too many live in tower blocks, estates and slums that frankly are fit for no one" – on poverty.
"We should have done more and I'm sorry in retrospect that we didn't. It is one of many things that you can look back on and regret" – on helping the victims of the Hillsborough disaster.
"I don't join in the general denigration there has been over the last few years of Nick Clegg…The difficult decision he did put himself into in the national interest was the right thing to do" – on Nick Clegg.
Join our new commenting forum
Join thought-provoking conversations, follow other Independent readers and see their replies