G4S fiasco could lead to longer Afghan tours for troops, officers warn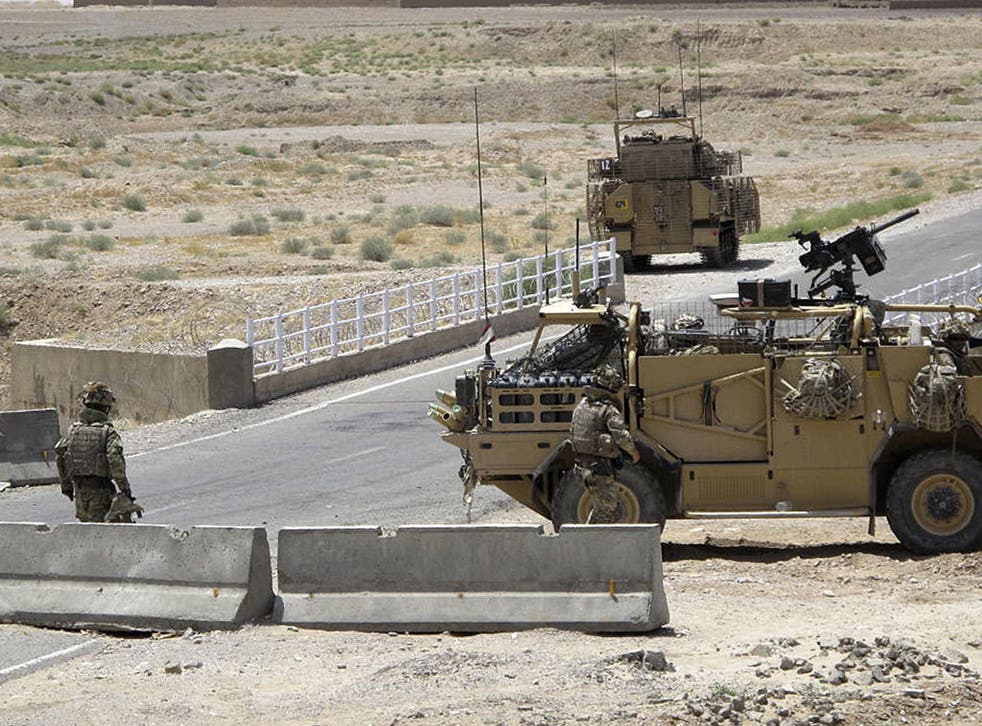 Hundreds of British soldiers face being stuck in Afghanistan for weeks longer than they had expected as a result of the G4S scandal, which has seen 3,500 troops drafted in to provide security during the Olympic Games.
Commanding officers have warned that the additional demands, including delays to training and holidays, could have a knock-on effect on operations and require servicemen and women to extend their six-month tours of duty by up to a month. A senior British Army source yesterday said bomb-disposal personnel were among those most at risk of having to stay longer in the conflict zone.
Some 3,500 servicemen and women will be deployed at the Games after the private firm G4S admitted last week that it had signed up only 4,000 of the 10,400 security staff it had been contracted to provide. The Home Secretary, Theresa May, pledged that all personnel called to work at Olympic venues would not lose leave, "even if it has to be rescheduled".
The Ministry of Defence (MoD) is believed to be trying to keep the number of operationally deployable soldiers used at the Olympics to a minimum, to relieve pressure on the Afghan operation.
An MoD spokeswoman yesterday said concerns over the impact on Afghanistan "have not been mentioned" at the department. She added: "Afghanistan remains the priority for the MoD. This [Olympic deployment] is really important to us and it is going to mean changes, but we can't affect operations overseas to conduct domestic duties."
But one officer said that many personnel preparing to deploy to Afghanistan in October, as part of Operation Herrick 17, had been warned that they could be staying longer than expected.
He added: "If the Government wants to allow everyone to get their holidays in after the Olympics, there will be a knock-on effect, as some of these will inevitably be due to go to Afghanistan next year.
"Either they reduce the length of pre-deployment training for the next group, or they let them arrive in Afghanistan later. There is an expectation that the tour dates will be affected."
Patrick Mercer, a Conservative MP and former Army officer, said the particular demands of supporting thousands of troops at the Olympics would have a direct effect on the British effort in Afghanistan. He said: "The large number of soldiers who have been called up to the Olympics will have to be supported.
"There are a number of specialist troops, including the Royal Electrical and Mechanical Engineers, signals, catering and ordnance disposal, who are very likely to be extended in Afghanistan as a result."
Forces personnel and families last year warned that individuals and their close relations, especially children, would suffer most from extended tours, after it emerged that the Government was considering doubling the standard tour length to 12 months.
Labour's defence spokesman, Kevan Jones, said last night: "It is shocking that the frontline in Afghanistan could be hit by the Government's Olympic security shambles. Full training is essential and tours are carefully planned to maximise strength. Compromising either would have very real military implications."
Register for free to continue reading
Registration is a free and easy way to support our truly independent journalism
By registering, you will also enjoy limited access to Premium articles, exclusive newsletters, commenting, and virtual events with our leading journalists
Already have an account? sign in
Register for free to continue reading
Registration is a free and easy way to support our truly independent journalism
By registering, you will also enjoy limited access to Premium articles, exclusive newsletters, commenting, and virtual events with our leading journalists
Already have an account? sign in
Join our new commenting forum
Join thought-provoking conversations, follow other Independent readers and see their replies