Gamble for Africa: Mali mission sucks in 400 British troops
PM heads for Algeria as MPs warn conflict in region could drag on 'for years'
James Cusick
Wednesday 30 January 2013 00:59 Comments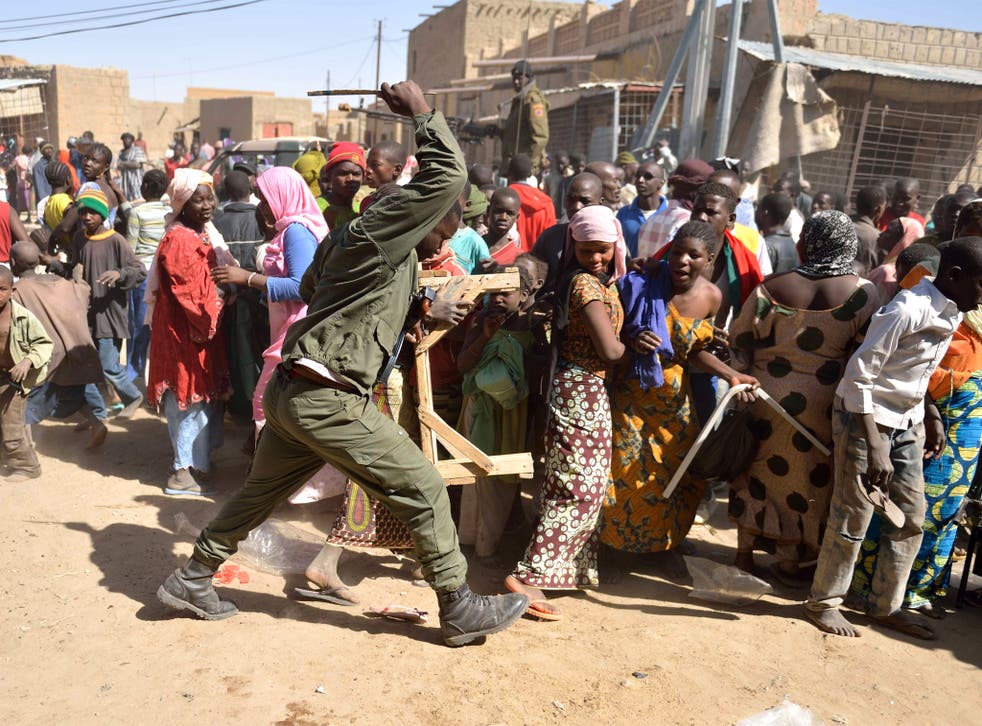 Britain's growing military commitment to Mali and West Africa is likely to pass 400 within a matter of weeks, sparking fears of "mission creep" and cross-party criticism that UK forces are being sucked into a Vietnam-style conflict without a defined exit strategy.
A fortnight ago David Cameron promised that Britain would only send "tens, not hundreds" of troops to help the French-led operation. That prediction from the Prime Minister has been shredded as UK assistance to the French-led operation has significantly increased.
The growing importance of the unrest in West Africa was highlighted last night when Downing Street announced the PM would be flying to Algeria tomorrow for urgent talks with Prime Minister, Abdelmalek Sellal.
Mr Cameron was already scheduled to attend a development conference in Monrovia, Liberia, but added the Algerian meeting following the recent hostage crisis at the Amenas gas plant which left six Britons and 47 others dead.
Number 10 said the discussions were likely to include the military campaign in Mali, a neighbour-state to Algeria.
The Defence Secretary Phil Hammond was forced to make a statement to the Commons today admitting that troop numbers in the region would substantially rise with new support for an EU training mission in Mali and up to 200 additional personnel who will assist a United Nations-backed training programme for forces from neighbouring West African states.
UK military advisers are already in place helping the UN's Africa-led International Support Mission to Mali (AFISMA). Ground and technical support teams for a Sentinel surveillance aircraft plus two C-17 transport planes protected by combat-ready troops from the RAF Regiment, have also been deployed.
Around 20 British personnel are in the Malian capital, Bamako, liaising with French forces that have already passed the 3500 mark. Further British military assistance in the form of a specialist ferry to help land French armoured vehicles at ports in Senegal or The Gambia, alongside the offer of expert personnel to help staff a joint UK-French logistics headquarters in Mali , is also being considered.
Britain's national security adviser, Sir Kim Darroch, has been in Paris this week holding talks with his French counterparts. The talks – focused on France's short-term military shopping list for Mali – suggest the UK's role could grow.
In advance of Mr Hammond's statement, a Ministry of Defence spokesman said the mission in Mali needed to be "flexible" and accepted that if circumstances changed and other countries did not contribute as predicted to the French-led operation, the UK's role could widen further.
The Shadow Defence Secretary, Jim Murphy, told the Commons that the government needed to face "broader worries about mission creep" adding that the commitment to Mali had grown from lending to aircraft to the French to the "deployment of perhaps hundreds of troops."
Mr Murphy said the British people "did not want to see this as another war that their country should not have been in."
In the Commons two former defence secretaries voiced concern that the Mali operation was proceeding without having precise military goals.
Sir Malcolm Rifkind, defence secretary during the Bosnian war, called on the government to develop a "political strategy" for the region, to work with north and west African countries, and warned if this did not happen Britain could be drawn in years of "asymmetric conflict" – uneven guerrilla warfare - with Islamist forces.
Bob Ainsworth, in charge of defence in Gordon Brown's government, warned against the dangers of UK heading into a conflict without knowing exactly how long the job would take.
The former cabinet minister, Frank Dobson, captured the mood of many MPs when he predicted that "Mali could become Britain's Vietnam." The "American catastrophe in Vietnam," said Mr Dobson, "started off with American troops in a training capacity."
Bob Stewart, the Tory MP and former British Army Colonel who commanded UK in Bosnia, also warned against the dangers of "mission creep" and said there was currently a "grey area" over the role of troops deployed for training, but who nevertheless were armed and could yet face combat situations.
General Sir Mike Jackson, the former Chief of the General Staff, backed the government's assessment of Mali's importance. "What happens in the middle of nowhere – as Timbuktu used to be called – matters. If the Jihadists took over in Mali, it would not end there."
Although Mr Hammond was forced to repeat that there was "no intention to deploy combat troops" and that so far there had been a "well-judged and well-leveraged intervention", Downing Street appeared to be on the defensive after the statement from the defence secretary and refused to answer any questions that mentioned parallels with Vietnam, Afghanistan and Iraq.
Two conferences taking place today – one in Brussels and the other in Addis Ababa in Ethiopia – addressed the military needs of forces in Mali and in it neighbouring states.
African and western states attending the two gatherings, pledged more than $450m to aid the Mali operation. Japan, which lost 10 of its national in the Amenas attack, pledged $120m.
The current price tag for the operation is estimated at close to a $1 billion.
Discussions in Brussels focused on how a 500-strong training mission could be put together and sent to Mali within two weeks. Deployment of the EU's battle group of 1700 troops has been ruled out.
France has so far not asked any western nations for ground troop support, but logistical, transport and intelligence help has widened from the UK to include forces from Germany and the United States.
Washington recently announced that it would operate specialist in-flight tankers to help refuel French fighters and bombers.
Register for free to continue reading
Registration is a free and easy way to support our truly independent journalism
By registering, you will also enjoy limited access to Premium articles, exclusive newsletters, commenting, and virtual events with our leading journalists
Already have an account? sign in
Join our new commenting forum
Join thought-provoking conversations, follow other Independent readers and see their replies