Gender pay gap falls - but men still earn 17.5% more
Average weekly earnings are £462 for women and £558 for men
Emily Dugan
Wednesday 19 November 2014 20:01 Comments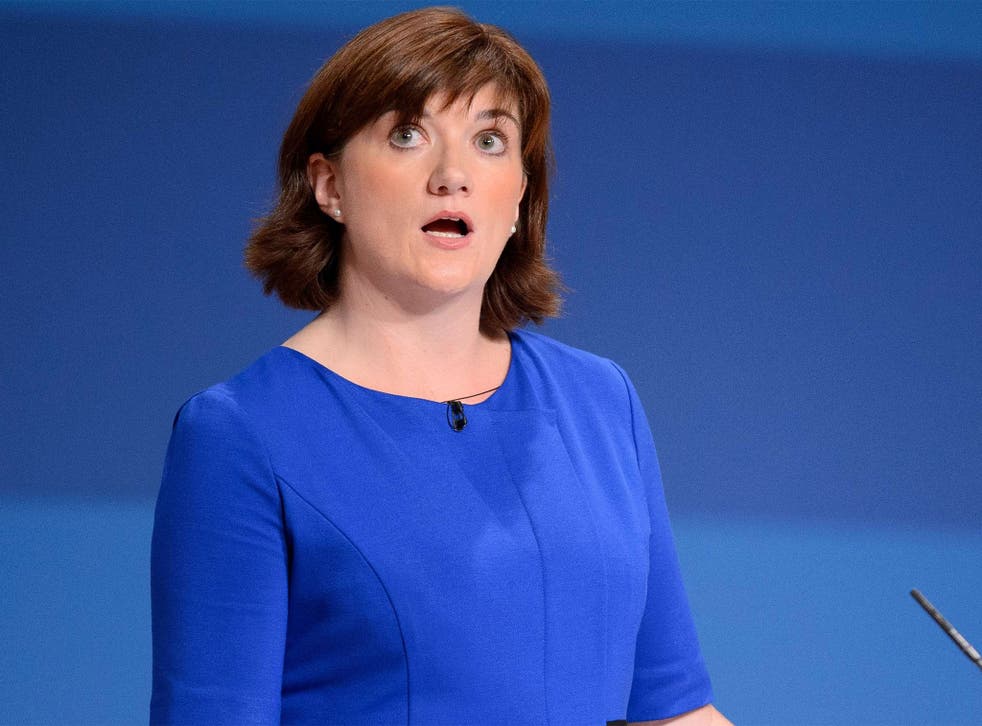 The gap between men and women's earnings is at its lowest level since records began, official figures show.
Men now earn 17.5 per cent more than women on average per hour, a fall of around two percentage points in a year. This means that women now earn 82p for every £1 earned by a man.
The closing gap was welcomed by ministers and campaigners as a sign of progress though they acknowledged that the disparity in earnings still needs to be tackled further.
Minister for Women and Equalities Nicky Morgan said she was "delighted" that the gap had been reduced but that it was not enough: "We have more women in work than ever before, but businesses need to value diversity in their workforce and pay attention to the role of women in their organisations."
The fall comes after the gulf in earnings widened last year for the first time in five years to 19.8 per cent.
When full-time work is taken in isolation, women earn 9.4 per cent less than men, down from 10 per cent in 2013. It means the gap between men and women's full-time earnings has now almost halved since records began in 1997.
Dr Eva Neitzert, deputy chief executive of the Fawcett Society welcomed the figures but she cautioned: "Now is not the time to become complacent. The recent news that Asda store workers – the majority of whom are female – are taking legal action on the basis that they are being paid up to £4p/h less for doing similar tasks performed by the largely male warehouse workers reminds us yet again that, even 44 years after the introduction of the Equal Pay Act, this kind of discrimination continues to persist.
"The time has come for greater transparency on pay. Big businesses – those with over 250 employees – should be required to measure and publish their gender pay gaps."
For women working full-time, earnings actually increased more than their male counterparts this year, going up by 0.6 per cent compared with 0.3 per cent. The rise took the average weekly earnings to £462 for women and £558 for men.
It appears that motherhood still causes the biggest disparity in wages. The pay gap has now disappeared for women in their 20s and 30s but it is larger for the over-40s. For workers in their 40s and 60s it is around 14 per cent and amongst over-50s the gap in full-time pay is 18 per cent.
Minister for Women and Equalities and Business, Jo Swinson, said: "It's great that the gender pay gap has reduced. We are taking more action to support women in the work place than ever before; last week announced measures to help businesses analyse their pay gap and empower women to challenge their employers if they feel they are not being paid correctly.
"We have extended the right to request flexible working and are introducing shared parental leave and tax free childcare from next year. This will give women the choice to return to work, and help to change the culture of workplaces."
In Northern Ireland the pay gap amongst full-time workers has not only been lessened, but flipped. Average pay for women now outstrips men in the region, bucking national trends. Two years ago the pay gap was reduced to zero and now women earn 3.3 per cent more than men on average. The figures mark a dramatic shift from 1997, when men in Northern Ireland earned 16.5 per cent more than women for full-time work.
A statistician for the ONS said: "The small 'negative' gender pay gap in Northern Ireland is in part due to a higher proportion of public sector jobs here than in the rest of the UK. There are more women employed in this sector than men and these jobs tend to be higher paid in general than in the private sector."
Average private sector pay is usually around 15 per cent lower than public sector pay because the private sector includes more of the lowest-paid jobs such as bar and restaurant staff, cleaners, labourers and checkout workers.
Scotland has bucked the downward trend in the rest of the UK, with its gender pay gap widening this year to nine per cent, the largest difference between men's and women's earnings in the nation since 2008.
Register for free to continue reading
Registration is a free and easy way to support our truly independent journalism
By registering, you will also enjoy limited access to Premium articles, exclusive newsletters, commenting, and virtual events with our leading journalists
Already have an account? sign in
Join our new commenting forum
Join thought-provoking conversations, follow other Independent readers and see their replies