General Election 2015: Labour gains four-point lead over Conservatives following TV 'debates'
Nearly half of those polled said Ed Miliband came out top after TV interviews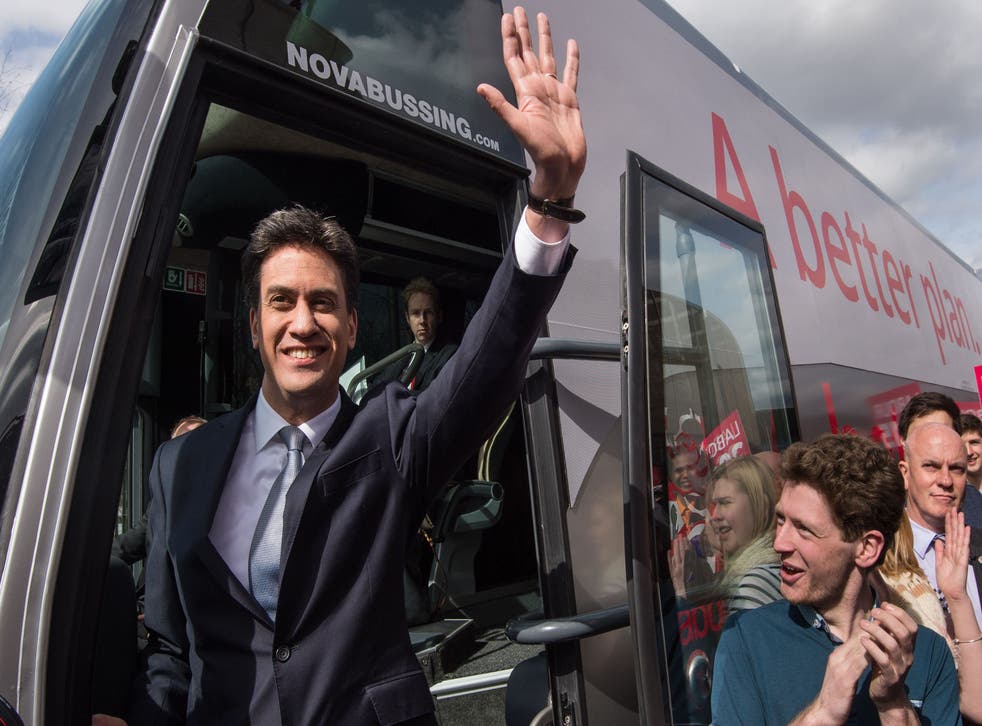 Labour has opened up a four-point lead over the Conservatives, according to a new opinion poll, as the parties head into the general election campaign with less than six weeks to go.
In contrast to other recent polls, which have seen the parties neck-and-neck, Ed Miliband's seemingly more assured performance during the first TV debate propelled Labour to 36% – comfortably ahead of the Tories on 32%, according to a YouGov poll for the Sunday Times.
However, Labour's attempts to win back former supporters who have decided to vote SNP in Scotland seem increasingly doomed to fail with almost all voters who switched are "certain" to choose the nationalist party, according to British Election Study findings.
SNP support is at 44% compared to 27% for Labour in Scotland. This is a huge swing compared to the 2010 results that showed SNP with almost 20% of the votes and Labour with 42% – which helped the party gain 41 seats in the House of Commons.
Labour's tally of Scottish seats could fall from 41 to 10 in the case of a uniform swing, with the SNP rising from six to 47, Lib Dems falling from 11 to one and Tories retaining their only seat.
The YouGov survey also found that Mr Miliband came out top after the back-to-back The Battle for Number 10 television interviews against David Cameron on Thursday.
Almost half, 49%, said they thought the Labour leader came across the best. Only 34% said they believe the Prime Minister gave a better performance.
This could come as a blow to Mr Cameron who is preparing to visit the Queen at Buckingham Palace tomorrow to seek the dissolution of parliament, thus triggering the general election.
The figures follow the Conservative Party Spring Conference yesterday in which Mr Cameron launched a scathing "personal" attack on his rival while delivering a speech about his pledge to extend full hospital services to the weekends.
He called Labour a "bunch of hypocritical, holier-than-thou, hopeless, sneering socialists". He also goaded Mr Miliband for being "too weak" despite also lampooning him for having been in competition with his own brother to lead the party.
Mr Cameron said: "Some people might say, don't make this personal. But when it comes to who's prime minister, the personal is national."
The debate opinion poll findings are in contrast to two snap surveys conducted immediately after the television interviews – with Jeremy Paxman, Kay Burley and a studio audience – which both gave victory to Mr Cameron.
It could seem that the electorate's previous preference for the Tory leader is waning while Ed Miliband's reputation has shot up after a surprising effort in the face of harsher questioning during The Battle for Number 10.
Dubbed the 'Miliband bounce' following the first TV election debate this year, there has been speculation as to whether Mr Cameron has been 'running scared' from facing the Labour leader for this reason.
Meanwhile, an Opinium poll for The Observer carried out by 1,959 adults before the debates continues to show the two main parties on an almost-equal footing. Tories are on 34% – down two points from last week – and Labour are unchanged on 33%.
The poll showed Ukip down one point on 13%, while the Liberal Democrats were up one on 8%. Greens were also up one on 7%.
Join our new commenting forum
Join thought-provoking conversations, follow other Independent readers and see their replies