Jeremy Corbyn admits he has to 'step up' as leader with Labour trailing far behind in polls
The Labour leader also attacked Tony Blair for failing to protect the country from the global financial crisis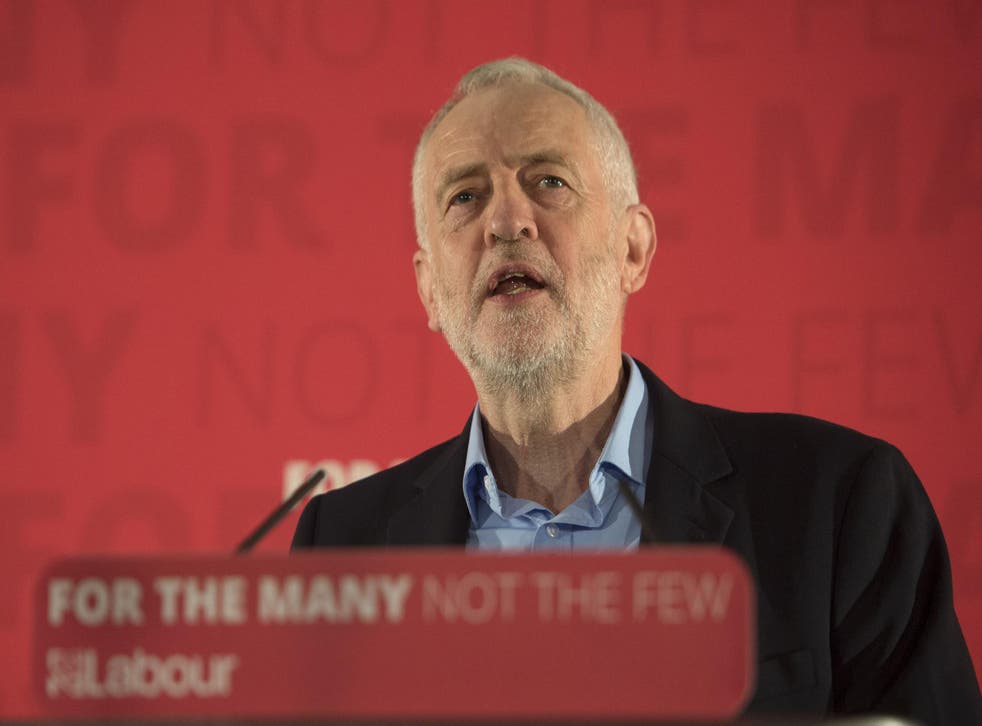 Jeremy Corbyn has admitted he needs to "step up" if Labour is to win the general election, and called on young voters to do the same.
"I've just laid down the gauntlet and asked you to step up," he told an audience of students at his former university in east London.
"Each and every one of us must step up for this country, including me."
Breaking more than three decades of his own personal convention, Mr Corbyn spoke not just about his policies, but himself.
"And now for a sentence I've yet to utter in my political life," he said to a surprised audience at London Metropolitan University. "Enough about you, what about me?"
Mr Corbyn has been an MP for 34 years, and said many of the problems he had fought against in 1983 are the same as today.
"In 1983, I stood up in Parliament for the first time and used my maiden speech to condemn deeply damaging cuts in public services and the NHS. It's a tragedy that I could make a very similar speech today and it would once again hold true," he said.
Jeremy Corbyn slams Conservative and Ukip leaders in passionate speech
At this time he was also campaigning against the apartheid regime in South Africa.
"At the time, young protesters were being shot dead on the streets by the racist apartheid regime in South Africa – Nelson Mandela and hundreds of ANC leaders were in prison. The Conservative Government refused to impose sanctions, entertained the leaders of the regime and banned protests outside the South African embassy in London," he said.
"Being an MP helped bring attention to that ban and the wider cause of South Africa's liberation – and got a group of us arrested. But the space for people in Britain to organise in support of freedom in South Africa was defended and strengthened. And I realised then that political leaders can, if they want to, create and preserve the space for others to organise and transform countries."
In a clear attack on Tony Blair and what he perceives to be his allies within the party, he said New Labour's 13 years in government showed what can go wrong if leaders go unchallenged. The Labour government "bought into Conservative ideas" about the economy that left Britain with no defence against the global financial crisis, and he said he could see similar traits in Theresa May: "It taught me that if leaders go unchallenged, they can make some of the most damaging mistakes.
"And if party leaders put themselves ahead of serving the people, they stop listening and even put our country at risk.
UK General Election 2017

Show all 47
"Barely nine months into Theresa May's premiership, there are clear warning signs that she and her closest advisers are slipping into that presidential bunker mentality.
"Whereas it is the job of leadership to hold open the space for dissent, new thinking and fit-for-purpose policy.
"So while it might not be the stuff of soundbites, I have always believed in standing firm and empowering others to make up their minds and come on board when they are ready.
"It is the mind-set that gets community centres and nurseries built, and increasingly defends them from closure.
"It is the mind-set that negotiates hard for better conditions in the workplace. It is the mind-set that serves the many, not the few."
Mr Corbyn said he always thought political leaders had to give in to "vested interests" while manipulating the public.
"I didn't want to be like that. And it wasn't clear to me there could be another way," he said.
"But I've learned there is. Whereas insecure leaders want to feel stronger by asking you to give them more power, I recognise strong leadership as equipping you with more power."
If current polling is even close to being accurate, the Labour Party are firmly on course for electoral wipeout under Mr Corbyn's leadership.
Register for free to continue reading
Registration is a free and easy way to support our truly independent journalism
By registering, you will also enjoy limited access to Premium articles, exclusive newsletters, commenting, and virtual events with our leading journalists
Already have an account? sign in
Join our new commenting forum
Join thought-provoking conversations, follow other Independent readers and see their replies