General election: Conservative candidate Craig Mackinlay to stand in South Thanet despite expenses charge
The Conservative said he was 'confident' that his name would be cleared as the case progressed
Joe Watts
Political Editor
Friday 02 June 2017 14:04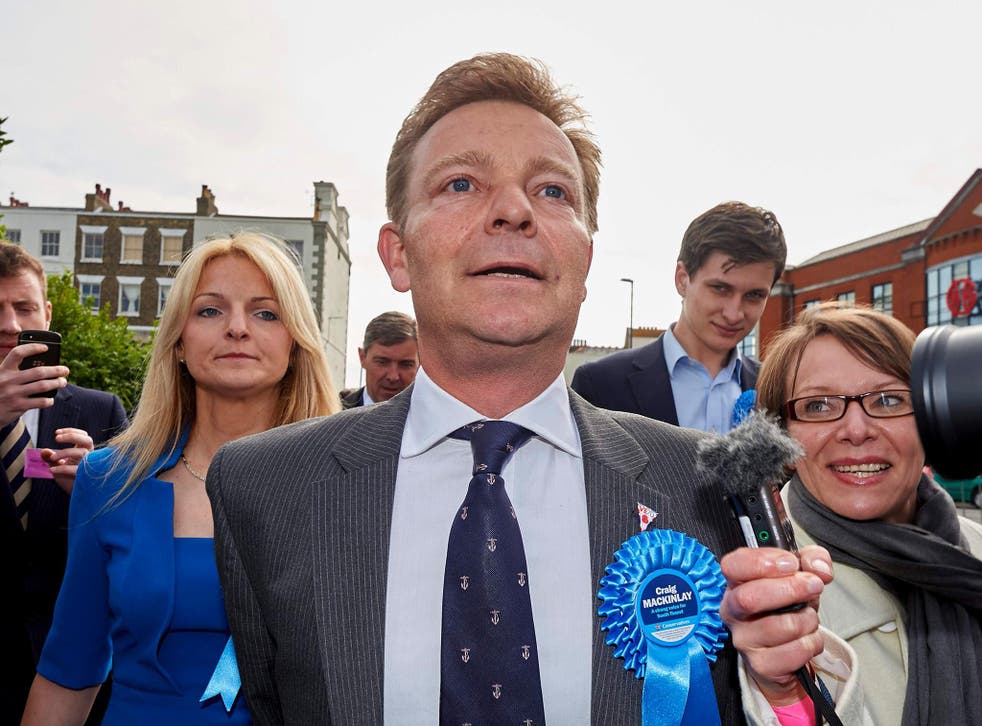 Craig Mackinlay will remain a Conservative candidate in the general election despite being charged as part of an electoral fraud investigation.
The Conservative politician argued his push to become the MP in South Thanet would be "unaffected" after the Crown Prosecution Service said there was enough evidence to bring charges relating to his 2015 election expenses.
The Independent understands Theresa May is backing Mr Mackinlay's position. In a statement however, the Tory candidate went further, attacking the CPS and Kent Police for their handling of the case and questioning why the decision had come just days before the 8 June election.
The CPS's announcement said Mr Mackinlay, 50, is accused of "falsely" declaring expenses in the run up to the 2015 vote, which saw him narrowly defeat Ukip's Nigel Farage.
But the Conservative said: "My candidature [in 2017] in South Thanet is entirely unaffected and my campaign continues as before.
"I will not let this decision affect the hard work I do for my constituents and the hard work I hope to do for them after the 8th of June."
Allegations were made against a string of Tories after the election two years ago, relating to claims that incorrect expenses were filed for the party's battle bus tour, but most had been dropped by the CPS up to now, with Mr Mackinlay's the only one outstanding.
UK General Election 2017

Show all 47
The candidate added: "Our justice system is underpinned by the presumption of innocence and I'm confident that I will be acquitted, as I have done nothing wrong and have acted honestly and properly whilst a candidate in 2015, and, as all candidates do, acted upon advice throughout.
"Clearly this is a shocking decision from the CPS, given that I have done nothing wrong, and I'm confident that this will be made very clear as the matter progresses."
The CPS's investigation saw them question whether any candidates had labelled spending on hotels and campaign material as national spending rather than local, potentially allowing them to increase their constituency campaigning without breaking a legal spending ceiling.
Tory election fraud: Theresa May insists candidates did nothing wrong in May 2017
In Mr Mackinlay's case, the focus of the investigation is believed to have centred on whether stays for party workers at the Royal Harbour Hotel in Ramsgate and the Premier Inn in Margate were wrongly attributed to national party expenditure, rather than a local expense.
But the candidate went on the offensive, hitting out at prosecutors by saying: "I'm very disappointed with the way this has been handled by the the CPS and Kent Police and I must question the timing of this decision, given that Kent Police confirmed on the 18th of April that their file had been sent to the CPS to review and make their decision.
"Why leave this until a few days before the election?"
Election agent Nathan Gray, 28, and party organiser Marion Little, 62, have also been charged with offences under the Representation of the People Act 1983 and, with Mr Mackinlay, are due to appear at Westminster Magistrates Court on 4 July.
A Conservative Party spokesman said: "We continue to believe that this remaining allegation is unfounded. Our candidate has made clear that there was no intention by him or his campaigners to engage in any inappropriate activity.
"We believe that they have done nothing wrong, and we are confident that this will be proven as the matter progresses. The individuals remain innocent unless otherwise proven guilty in a court of law."
Responding to the news, Labour leader Jeremy Corbyn said: "Nobody should be commenting on the details of an ongoing case. The police must be allowed to act independently to investigate on the basis of any evidence that they have got.
Election constituencies: May v Corbyn
"The Crown Prosecution Service must be allowed to make it's decision on whether to proceed with the case or not."
The Conservatives have already admitted under-declaring spending on their national 2015 campaign and were fined £70,000 as a result, but they insist all local spending was properly declared. Labour and Liberal Democrats had also been fined by the Electoral Commission in relation to spending returns from 2015.
The Metropolitan Police is also considering whether the Tory treasurer at the time, Simon Day, "knowingly or recklessly made a false declaration".