Former Liberal Democrat energy secretary Ed Davey to stand in general election
Ex-Cabinet minister claims his party is the 'the only really effective opposition to the Tories' hard Brexit'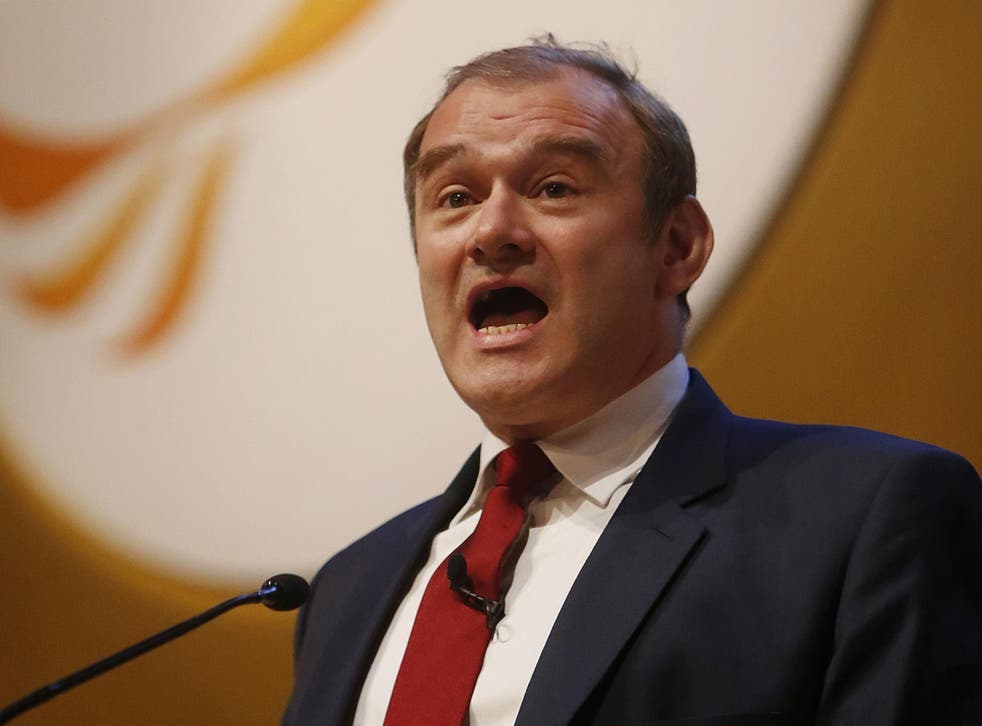 Former Cabinet minister Sir Ed Davey has confirmed he will stand in the June general election.
The Liberal Democrat ex-Energy Secretary claimed his party was "the only really effective opposition to the Tories' hard Brexit" as he announced he would attempt to re-take his old Kingston and Surbiton seat.
He was deposed by Conservative James Berry in 2015, who overturned a majority of more than 7,000 on a night that saw the departure of almost all Lib Dem MPs — including Sir Vince Cable, who has also said he will run again this year.
Sir Ed told The Independent: "We will be the surprise in this election, we will do far better than people currently think. Clearly the Tories are going to hammer Labour. But we can take some [seats] back.
"We need a strong opposition and many Liberal Democrat MPs in Parliament to hold this very right-wing government to account on hard Brexit and slashing the social infrastructure of our country.
"We've been winning council seats, and seats that voted solidly to Leave."
Asked why his former constituents would take him back just two years after rejecting him, Sir Ed said there had been a "dramatic change" in the political debate. "People can now see what the Tories actually represent."
A hard Brexit would constitute an "appalling threat to our economy," he said, and predicted Conservative and Labour voters would defect to the Lib Dems.
Mr Berry won Kingston and Surbiton by some 2,800 votes in 2015, representing a 15.3 per cent loss in vote share for Sir Ed, who had held the seat since 1997.
Contacted earlier on Tuesday before Sir Ed's announcement, Mr Berry said: "He'll try. I'm looking forward to standing on my record and the Government's, if a little sooner than expected."
Theresa May announced the snap general election, for 8 June, on Tuesday morning, saying: "We need a general election and we need one now."
She said a strong government was needed before pushing ahead with Brexit talks with the European Union.
UK news in pictures

Show all 50
Lib Dem leader Tim Farron called the poll "your chance to change the direction of your country". In a statement, he said: "If you want to avoid a disastrous hard Brexit. If you want to keep Britain in the single market. If you want a Britain that is open, tolerant and united, this is your chance.
"Only the Liberal Democrats can prevent a Conservative majority."
His party claimed to have signed up 1,000 new members in the hour following Ms May's announcement.
Jeremy Corbyn welcomed the news of the election. He said: "Labour will be offering the country an effective alternative to a government that has failed to rebuild the economy, delivered falling living standards and damaging cuts to our schools and NHS.
"In the last couple of weeks, Labour has set out policies that offer a clear and credible choice for the country. We look forward to showing how Labour will stand up for the people of Britain."
Join our new commenting forum
Join thought-provoking conversations, follow other Independent readers and see their replies