General election: Johnson, Corbyn and Swinson back new laws to combat rising 'rough sex defence' over women's deaths
Party leaders back changes to Domestic Abuse Bill to force change in courts
Lizzie Dearden
Home Affairs Correspondent
Tuesday 10 December 2019 21:47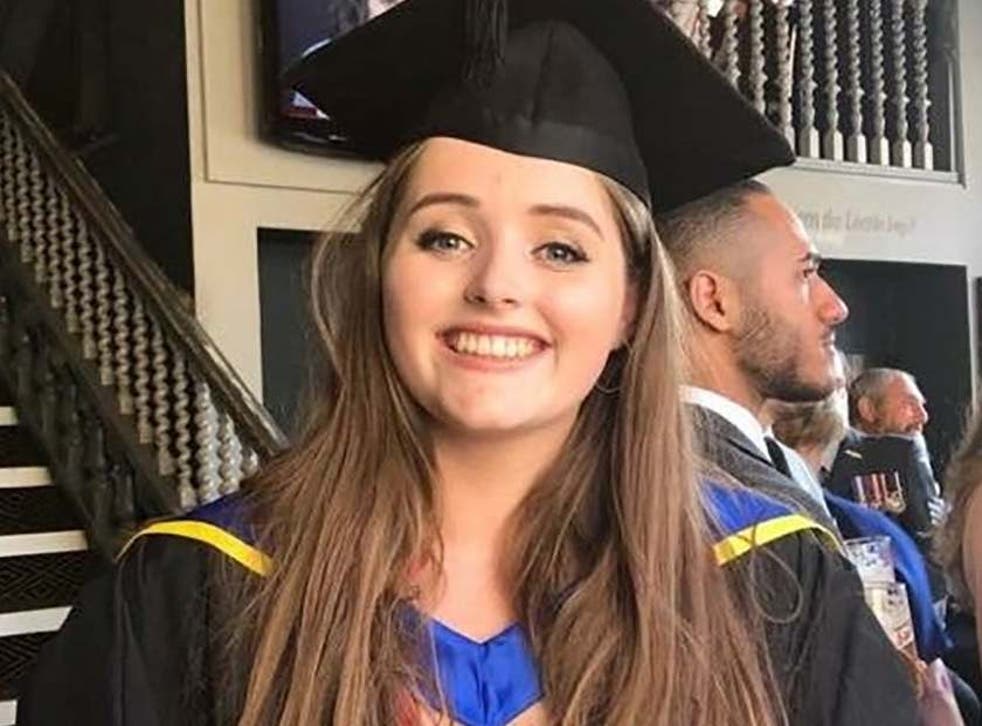 The leaders of all three main parties have pledged to introduce laws combatting the rising number of killers claiming that women died during "rough sex".
The defence was recently used by the murderer of British backpacker Grace Millane, as well as a man whose partner died after suffering 40 separate injuries in the West Midlands.
Boris Johnson, Jeremy Corbyn and Jo Swinson have now all backed new laws to stop the "rough sex defence", which campaigners say has been used after the deaths of at least 59 women in the UK.
Harriet Harman, Labour's former solicitor general, is among those demanding changes to make it impossible to argue a victim consented to treatment leading to their death.
"This law change is enormously important," she said. "It will put an end to men literally getting away with murder, by claiming it was 'rough sex gone wrong'.
General election: On the campaign trail

Show all 114
"We must end the culture of excuses where men blame women for the violence that they inflicted on her."
Major party leaders were questioned on the issue by Grazia magazine, which has been backing the campaign.
The Conservatives said they would re-introduce the Domestic Abuse Bill, which contains the proposed legal change, after it was repeatedly delayed by the general election, Brexit and the prorogation of parliament.
Mr Johnson said the Tories would bring back the bill "as soon as possible" if they win a majority, adding: "I agree with Ms Harman that the '50 Shades defence' is unacceptable and we'll make sure the law is clear on this."
Mr Corbyn said Labour had committed to re-introducing the Domestic Abuse Bill in its manifesto, and would also increase support for rape crisis centres.
"We will make sure that the '50 Shades defence' is banned, including it directly in our bill," he added.
Liberal Democrat leader Ms Swinson said her also party would also bring the bill back when parliament returns, but "strengthen it" with a new Domestic Abuse commissioner.
"Liberal Democrats want to change our justice system so it works for victims of violent and sexual crime," she added.
"Being on a certain app, agreeing to sex under certain circumstances or with certain boundaries, or once having told your friend about a sexual fantasy, does not equal consent. And it's our responsibility to make that clear in sex and relationships education as well."
Man found guilty of murdering British backpacker Grace Millane in New Zealand
The commitments came a year after Natalie Connolly's killer received a sentence of just three years and eight months for killing her.
John Broadhurst admitted manslaughter, rather than murder, after claiming the 26-year-old mother incurred 40 separate injuries – including serious internal trauma, a fractured eye socket and facial wounds – during "rough sex" and by falling over.
Ms Millane, a 21-year-old British backpacker who was murdered by a man on their first date in New Zealand, is the latest case to spark demands for change.
Jesse Kempson, 27, insisted he had choked her consensually and his defence team attempted to use details of Ms Millane's relationship history to portray her death as an accident.
But he was convicted last month, a week after Broadhurst's attempt to reduce his prison sentence failed.
Campaign group We Can't Consent To This – which was formed following Ms Connolly's death – has counted 59 women in the UK since 1972 who were killed by men that used the "rough sex" defence.
But 20 of those have come in the past five years, and campaigners fear that both the defence and non-consensual assaults during sex are on the rise.
Founder Fiona Mackenzie told The Independent: "It's horrifying to discover how frequent these injury and murder cases are – every few weeks they come through the court.
"When the women survive they always say they didn't consent … but when they're dead the man gets to tell the story."
The proposals would see the Domestic Abuse Bill bring important case law from 1993 formally into the statute.
The case, where a man had inflicted grievous bodily harm on his male lover, saw the House of Lords rule that if the injuries were serious, a defendant cannot claim that the victim consented as a defence.
Campaigners hope that making this distinction law would prevent police and coroners from dismissing the "accidental" sex-related deaths of women as non-suspicious.
The change could also undermine efforts by defence lawyers to use women's sexual history to suggest that they consented to the assaults that caused their injury or deaths.
It could see more defendants charged with murder – which requires intent – rather than manslaughter, which can be involuntary or negligent.
Register for free to continue reading
Registration is a free and easy way to support our truly independent journalism
By registering, you will also enjoy limited access to Premium articles, exclusive newsletters, commenting, and virtual events with our leading journalists
Already have an account? sign in