Nigel Farage offers Tories deal to support minority Conservative Government in exchange for referendum before Christmas
Wants EU citizens without British passports to be banned from voting - including his German wife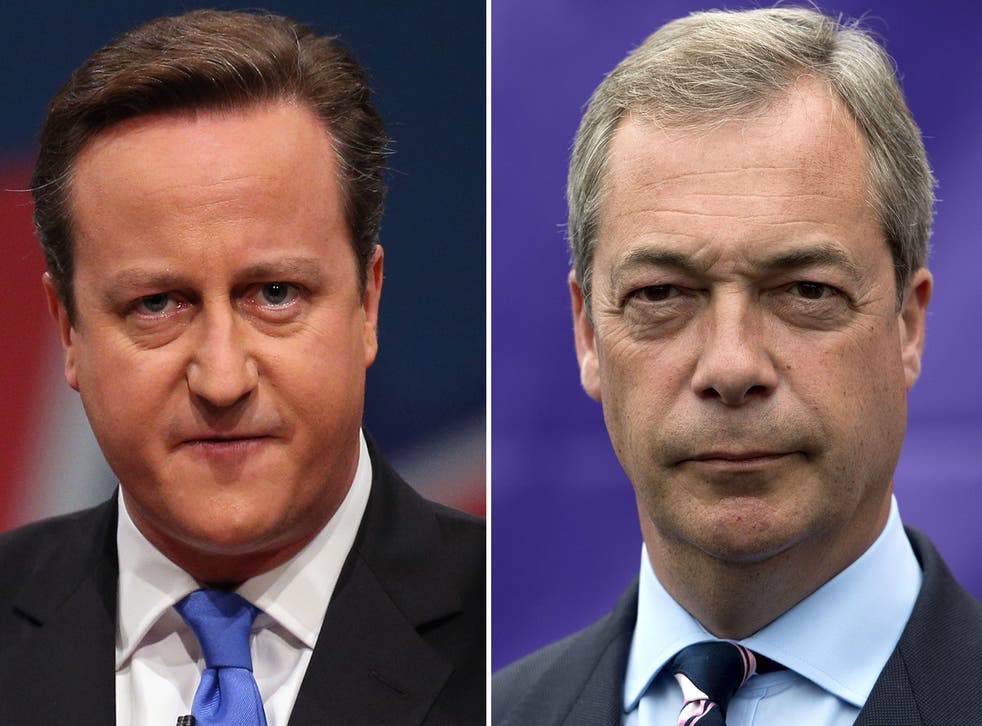 Ukip leader Nigel Farage will support a minority Conservative Government if Prime Minster David Cameron offers to hold the EU referendum he's promised voters - before Christmas this year.
Farage ruled out an official coalition with the Tories but suggested that Ukip and Northern Ireland's Democratic Unionist Party could support a minority government on a vote-by-vote basis, while issuing a four-point ultimatum in exchange for his support.
He made the claims in his memoirs, The Purple Revolution, published by The Telegraph, in which he said Ukip would support a Conservative budget if certain terms for an EU referendum – which Cameron has already promised the electorate – are met.
Farage wants the referendum held before Christmas, and is demanding that anyone without a British passport should not be allowed a vote – excluding his own German wife, Kirsten, from voting – but there are fears this could lead to a legal challenge from the EU.
He said: "It is my strong belief that the four million EU citizens living in the UK without British passports should not be allowed to do so (vote). And yes, that includes my German wife. They are eligible to vote in European elections, but they should not have the right to decide on Britain's future in the EU. It may be that that would require us to do battle with the European Court of Justice - but so be it."
Despite offering some support, the South Thanet candidate ruled out a former Coalition with the Tories, saying he was not interested in "ministerial car".
He said: "I would look to do a deal where we would back key votes for them - such as the Budget - but in return for very specific criteria on an EU referendum.
"The terms of my deal with the Tories would be very precise and simple. I want a full and fair referendum to be held in 2015 to allow Britons to vote on being in or out of the European Union. There would be no wiggle room for 'renegotiation' somewhere down the line'.
"The EU is facing an existential crisis and, given that it only takes a few weeks to launch and organise a referendum, it should be held in 2015."
The deal offer comes as Ed Miliband is under increasing speculation to rule out speculation over a similar vote-by-vote agreement between Labour and the Scottish Nationalist Party (SNP).
Alan Johnson MP, Labour's Shadow Chancellor, is the latest in a string of high-profile Labour MPs to call for Miliband to rule out a potential deal.
The comments come as polls predict a wipe-out for Labour in Scotland, prompting Miliband to tell the Scottish Labour Conference that the only way to fight Tory cuts is to vote Labour in an attempt to stave off the nationalist threat.
Farage's remarks mark a tide change in his attitude to the Conservatives, who he predicts will hold on to power in the May election by forming a minority Government - but won't win an overall majority so will need support from smaller parties to pass bills through Parliament.
However, in his memoirs, he also claimed it was "the most unpredictable election in 100 years", and admitted that even he wasn't sure how Ukip would fare.
He said: "Ukip has upset the political apple cart, and I am constantly being asked how many seats we can win in May. My public answer mirrors my private view: I just don't know, and no one else has a clue either."
Register for free to continue reading
Registration is a free and easy way to support our truly independent journalism
By registering, you will also enjoy limited access to Premium articles, exclusive newsletters, commenting, and virtual events with our leading journalists
Already have an account? sign in
Register for free to continue reading
Registration is a free and easy way to support our truly independent journalism
By registering, you will also enjoy limited access to Premium articles, exclusive newsletters, commenting, and virtual events with our leading journalists
Already have an account? sign in
Join our new commenting forum
Join thought-provoking conversations, follow other Independent readers and see their replies