General Election 2015: Poll says this will be the closest call for 40 years
Ether Miliband or Cameron could become prime minister with the lowest share of the popular vote since 1923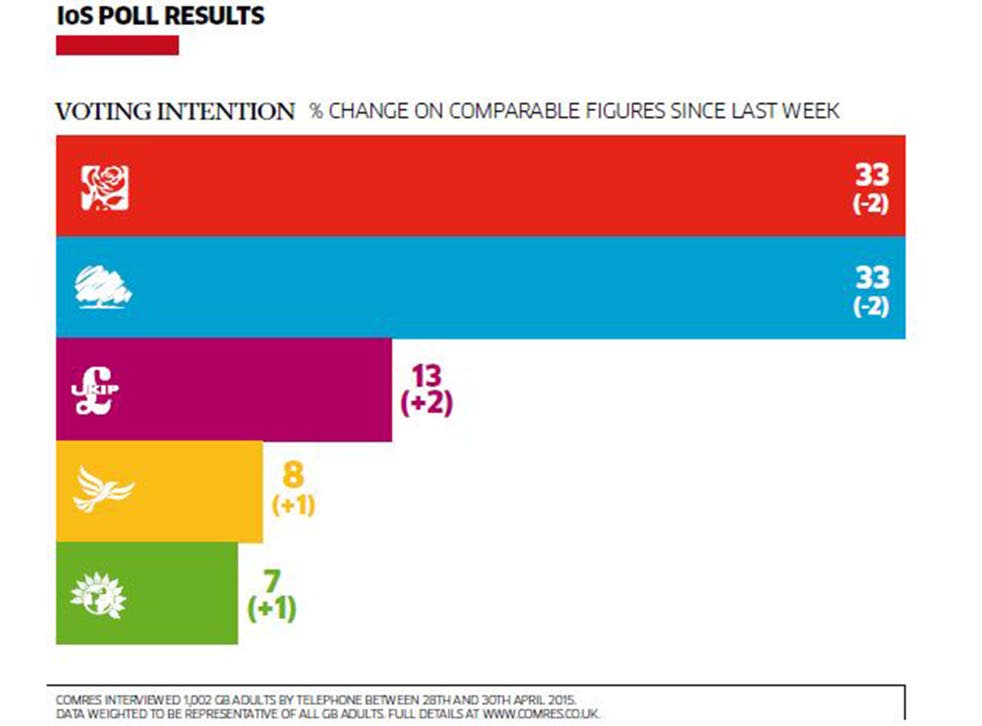 Labour and the Conservatives are tied in the race for Downing Street only four days from polling day – with voters regarding Ed Miliband as an ineffectual leader while David Cameron is seen as smug.
The two major parties were both down by two points to 33 per cent of the vote since last week, according to a ComRes poll for The Independent on Sunday. The poll suggests that this will be the closest result since 1974, when there were two general elections.
The Liberal Democrats were up one point to 8 per cent, but still trailed Ukip, up two points to 13 per cent. The Greens were up one point to 7 per cent.
If replicated on Thursday, either Mr Miliband or Mr Cameron could become prime minister with the lowest share of the popular vote since 1923. Tony Blair currently holds that unwanted record, when he re-entered No 10 with only 36.2 per cent of votes cast in his third election victory 10 years ago.
---
Are you undecided about who to vote for on 7 May? Are you confused about what the parties stand for and what they are offering? Take this interactive quiz to help you decide who to vote for...
---
Given the likely support of the Scottish National Party in a hung parliament, a tie favours Labour, with Mr Miliband becoming prime minister. The bookies agree: Paddy Power makes Mr Miliband 8/11 favourite, giving him a 58 per cent likelihood of leading the country.
The ComRes poll shows, though, that a significant proportion of even Labour voters have doubts about Mr Miliband's suitability for the job.
Nineteen per cent of Labour supporters think that Mr Miliband is not a capable leader, against only 2 per cent of Conservatives who think the same of Mr Cameron, while 47 per cent of Labour voters considered Mr Cameron to be a capable leader.
In pictures: Experts' predictions for the General Election - 03/05/15

Show all 10
Across the parties, 63 per cent of all voters believe that Mr Cameron makes a capable leader, against 38 per cent for Mr Miliband. But the Prime Minister is considered heartless by 32 per cent of voters, against only 14 per cent who think the same of the Labour leader; 56 per cent also said that Mr Cameron is too pleased with himself, although 45 per cent also think the same of his opponent.
Election fatigue and the nature of the campaigns, which have included personal attacks on Mr Miliband by the Defence Secretary, Michael Fallon, appear to have taken their toll on voters. They are more likely to say that they feel negative rather than positive about the future, given what they have heard from politicians over the past few weeks, by 47 to 33 per cent.
But that might just be a result of the cynicism that often comes with age – 50 per cent of those aged 18 to 24 were upbeat about the future as a result of the campaign, against only 28 per cent of those aged 55-plus.
In a sign that the Tories could still regain support from the Eurosceptic voters who have deserted them, 50 per cent of Ukip voters said that Mr Cameron understands the problems facing Britain; only 30 per cent thought the same of Mr Miliband.
Join our new commenting forum
Join thought-provoking conversations, follow other Independent readers and see their replies