General Election 2015: Imagine if the leading political parties were fashion labels
Are fashion and politics really that different? They're mostly about looks, but without the substance to back it up, it's difficult to get anyone to buy what you're selling. Alexander Fury gives his verdict on what the leaders' appearances tell us about them
Alexander Fury
Monday 27 April 2015 17:26 Comments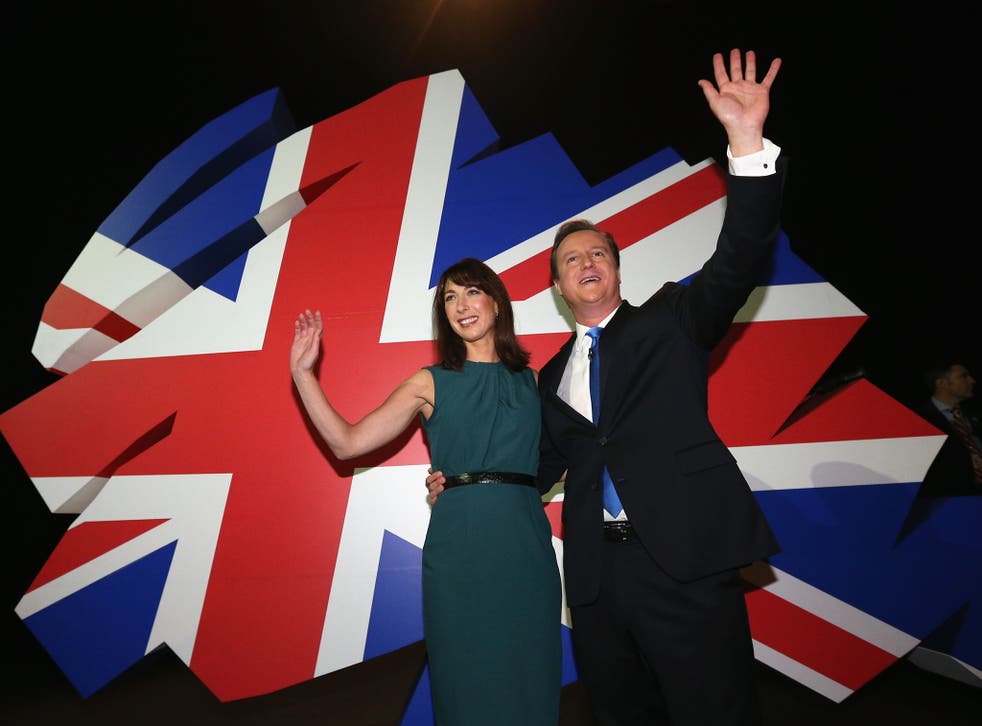 Conservatives
How can you redesign a label for today, if the spectre of a past leader's greatest hits overshadows your own? That's the question David Cameron must be asking himself, as he presents his 2015 line for the Conservatives. Margaret Thatcher's legacy looms large – Right-to-Buy, the 1980 label she and the Tories will forever be associated with, is overdue a revival. At least, in Cameron's mind. Others have tried to repackage the Eighties to us before, with limited success. Are we really willing to don that decade's boulder shoulders, elitist ideals and eschewing of community values in favour of "greed is good"? Moreover, should anyone even be proposing this, in the 21st century – post economic recession and all? Cameron tries to promote his new 2015 lines as "one size fits all": all figures, all pay packets.
However, you can't help but think the clients he has in mind for his party's rebranded same-old-shtick are much the same as Thatcher's: the well-heeled, the wealthy, the one-percenters (and those close to). There's nothing wrong in that, of course – many people aim their goods clearly at the top end of the market. But the dishonesty of Cameron's swipes at egalitarianism, the frilly trimming of "200,000 starter homes" or "500 free schools", does nothing to camouflage the simple, severe Conservatism of his lines. We've seen it all before. That said, they'll have their ardent supporters who would wear nothing else but Conservative blue. Marie Antoinette would doubtless approve.
Ukip
Nigel Farage doesn't have an eye for colour. You can tell that immediately from his lurid party shades of violet and yellow, a virulent contrast that could appeal only to the colour-blind. Perhaps that's why his party's lines are so strong – strident, even – overpowering the subtleties of tone that others rely on to express their evolving message each year. Say what you want about Farage, but he plays to his strengths – hence, he could have fashioned his lines with a sledge-hammer. They're brutal, but true to his belief in how contemporary politics should look. A bit frightening, that. I suspect, in Farage's mind, his party politics are black and white.
But where Farage sees sharp, punchy, emphatic monochrome, many others see a sludgy, ill-defined swathe of grey. There's also the patriotism that Farage pumps into all his designs – he probably sees them as powerful, as do his fans (not quite as numerous as he would like you to think). Nevertheless, to my eyes, that patriotism easily collapses into parochialism, of the bunting and tin-horn variety. I can't help but wish Farage would open up himself, and his brand, to new experiences and endeavours to broaden his horizons. As it is, it's difficult to imagine this appealing to any man, let alone to every man. At least, I hope so. For good taste's sake.
---
Are you undecided about who to vote for on 7 May? Are you confused about what the parties stand for and what they are offering? Take this interactive quiz to help you decide who to vote for...
---
Labour
"Cool Britannia" was the label Ed Miliband's predecessors rode to success on: it's one he's struggling to maintain. What's cool about Miliband's lines for this year? Not much. But times are very different to the Nineties, and political consumers now demand far more from their parties. They're expected to last longer, and – most importantly – to cost less. If Cameron is aiming his wares purely at the top end, Milliband can be forgiven for taking a broad sweep at the lower levels, and positioning his Labour label to offer something more accessible for 2015.
The late fashion designer Bill Blass once declared "When in doubt, wear red." Granted, in the US red is the colour of the Republicans, whose First Lady Blass dressed with propriety back in the Eighties. And, by focusing Labour on the requirements of the vast majority in their everyday working lives, Miliband assures himself a wide audience who can relate to his proposals. That doesn't mean they'll be especially popular, though – there's something a touch humdrum about Miliband's concepts, and nothing especially cool or seductive. Maybe the practicality will snag people looking for new ideas to enrich their quotidian grind?
But unpick the seams of Miliband's 2015 confections, and the material feels pretty old, harking back to the Labour label's old roots rather than their Nineties reinvention. That said, the fabric's still sturdy – if a bit dull. You don't go to Miliband (or, maybe, Milibland) and his Labour for flash and dazzle. But you do go there for something that may actually work.
SNP
There's something to be said about knowing your customer, and tailoring your approach to appeal purely to them. That's the notion that's powering the success and popularity of Nicola Sturgeon and the SNP, whose approach – previously thought too provincial to substantially export – is gaining attention and traction. Hers is a label that, for many, will nevertheless be a difficult sell – naturally, its success is limited to north of the border, although there it's expected to be a runaway hit. Sturgeon's challenge is convincing everyone else of the SNP's validity, away from its core customer base. Like tartan, it's an acquired taste, and marks out your clan at first glance. Even in London, Sturgeon is hankering after Scotland and has its interests purely at heart.
Although she understands the need to travel, for publicity's sake, she isn't really all that bothered about convincing everyone else of her wares' validity. The fact she's come to that realisation is canny – she knows her appeal is niche, and if she needs to team up with another label to get her brand a nationwide foothold, she's happy to do so. The workaday focus of Labour's offering suggests it and Sturgeon's SNP would make ideal creative and business partners.
The interesting thing is watching as Sturgeon leaves the avant-garde outer fringes for the establishment heart. Her increasing followers seem keen to wear no brand bar hers. For her competitors, that's a seductive consumer base to try to tap into.
Liberal Democrats
Who would be out of fashion – especially when it comes to politics? That's the unfortunate case when it comes to Nick Clegg, who got a taste of the limelight via a rather unsatisfying five-year collaboration with Cameron. During that time, it must be said, Clegg's Lib-Dem lines have become somewhat Conservative – so much so, in fact, that you're now struck by the difficulty in extricating them from one another. Further difficulties? Exactly why anyone would choose Clegg's wares over Cameron's, given that the latter sells them with greater gusto and far more conviction. It's a crowded marketplace, and Clegg seems to be the leader with the most to lose, namely, alienating those who could never bear to sport a Conservative label; and failing to offer the definitive lines and luxurious finish that the Cam fans demand in order to snag their support.
Clegg is fighting a losing battle, of influence and indeed of relevance. It's long been argued that there's only room for three labels in British politics – but when Clegg himself couches his ideas in the rhetoric of other creatives, dubbing his 2015 proposals "Conservative with a heart" and "Labour with a brain", you can only wish that he'd get a grip. And possibly a clue. The great British public doesn't want a Frankenstein's monster of a manifesto, cack-handedly stitched together from others' ideas, but a fresh, innovative brand that you won't mind having in your life for the next half-decade.
I'm not sure he can offer that. Increasingly, it looks as if Clegg's Liberals will be shunted into the discards bin. Yellow isn't the new black.
---
The Independent has got together with May2015.com to produce a poll of polls that produces the most up-to-date data in as close to real time as is possible.
Click the buttons below to explore how the main parties' fortunes have changed:
All data, polls and graphics are courtesy of May2015.com. Click through for daily analysis, in-depth features and all the data you need. (All historical data used is provided by UK Polling Report)
Register for free to continue reading
Registration is a free and easy way to support our truly independent journalism
By registering, you will also enjoy limited access to Premium articles, exclusive newsletters, commenting, and virtual events with our leading journalists
Already have an account? sign in
Join our new commenting forum
Join thought-provoking conversations, follow other Independent readers and see their replies