General Election 2015: Scottish Sun to back SNP – while UK edition throws support behind Tories
'The UK edition and Scottish edition have two very distinct audiences'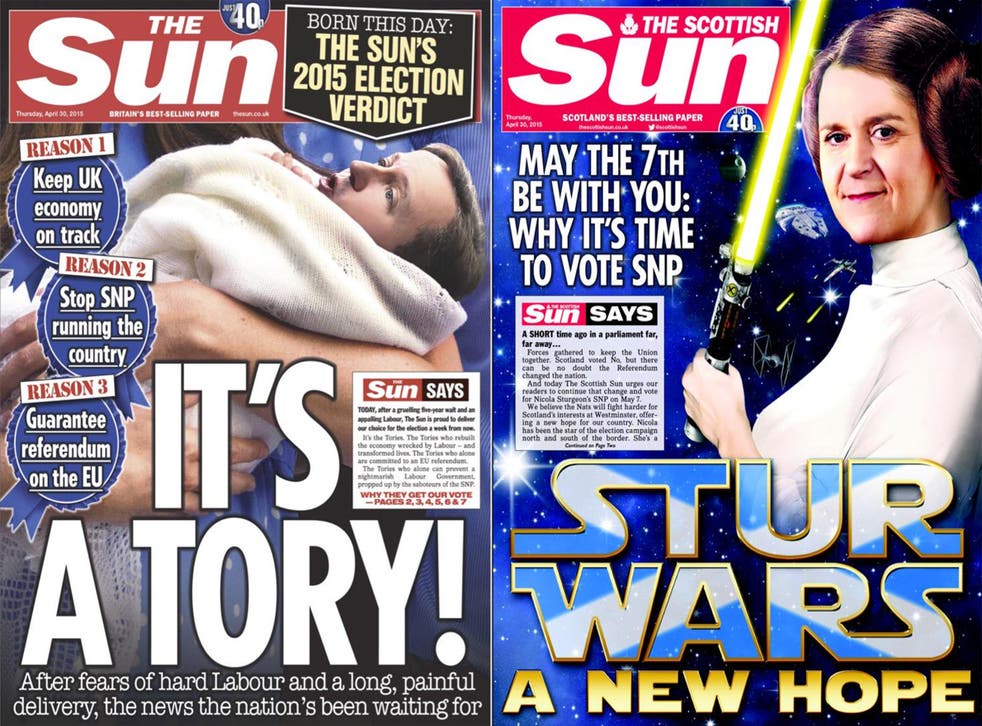 The Sun has given what it calls its "verdict" on who it wants to win next week's general election - and it turns out it is both the SNP and the Tories.
While the UK edition of the newspaper called on the British public to vote Conservative so as to "stop [the] SNP running the country", The Scottish Sun announced its support for Nicola Sturgeon's party saying it will "fight harder for Scotland's interests at Westminster".
Alongside a front page with a Star Wars theme, an editorial urges readers to back the SNP, saying: "Scotland voted No but there can be no doubt the referendum changed the nation.
"And today The Scottish Sun urges our readers to continue that change and vote for Nicola Sturgeon's SNP on 7 May.
The Scottish Sun did not back either side in the referendum debate last year but it supported the SNP at the 2011 Scottish parliament election.
Meanwhile, the UK edition of The Sun announced it will support the Tories with a mocked-up image of the Duke and Duchess of Cambridge holding up a baby-faced David Cameron - a reference to the expected imminent arrival of a new royal baby.
It said: "The Tories alone can prevent a nightmarish Labour Government, propped up by the saboteurs of the SNP."
A Sun spokesman said: "The Sun is written first and foremost for its readers, and the UK edition and Scottish edition have two very distinct audiences.
General election 2015: The worst gaffes and controversies

Show all 36
"If Scotland and England were playing each other at football, no one would expect The Scottish Sun to support the English national team."
Register for free to continue reading
Registration is a free and easy way to support our truly independent journalism
By registering, you will also enjoy limited access to Premium articles, exclusive newsletters, commenting, and virtual events with our leading journalists
Already have an account? sign in
Register for free to continue reading
Registration is a free and easy way to support our truly independent journalism
By registering, you will also enjoy limited access to Premium articles, exclusive newsletters, commenting, and virtual events with our leading journalists
Already have an account? sign in
Join our new commenting forum
Join thought-provoking conversations, follow other Independent readers and see their replies