General Election 2015: Sixty per cent of people want voting reform, says survey
Exclusive: Fears of post-election crisis of legitimacy fuel surge in support for proportional representation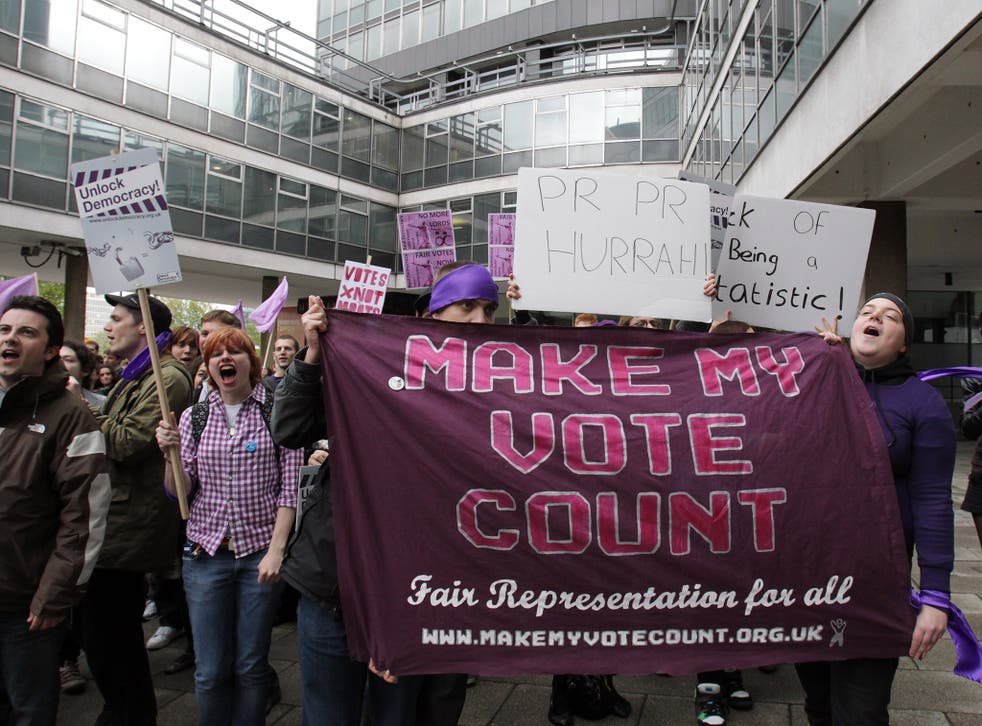 A majority of people support electoral reform amid growing fears of chaos after Thursday's general election, according to a survey for The Independent.
Politicians in all parties admitted there will be a renewed debate about voting reform if the first-past-the-post system produces the stalemate suggested by the opinion polls. Only four years ago, Britain voted by 68 to 32 per cent in a referendum against a switch to the alternative vote system.
Pollsters ORB, who questioned more than 2,000 people between May 1-3, found that 61 per cent believe the system should be reformed so that smaller parties are better represented in parliament, while 39 per cent think it should remain as it is, with MPs chosen directly by their constituents.
Men (63 per cent) are slightly more likely to support change than women (59 per cent). There is majority support for electoral reform among all age groups, although 18-24 year-olds (68 per cent) are more likely to back change than those 65 and over (52 per cent). Reform is endorsed by all social class groups and in every region of Great Britain.
---
Are you undecided about who to vote for on 7 May? Are you confused about what the parties stand for and what they are offering? Take this interactive quiz to help you decide who to vote for...
---
The fairness of the system is bound to be in the spotlight after the election. Ukip and the Greens look certain to win only a handful of seats between them despite averaging 13 per cent and 5 per cent respectively in the polls. In contrast, the Scottish National Party could win 46 seats with about 4 per cent of the national vote.
Politicians believe that support for reform will grow if Thursday's result leads to a prolonged period of uncertainty and instability. In a foretaste of the wrangling ahead, Labour prepared to call it "a constitutional outrage" if David Cameron tries to "squat" in Downing Street after the Conservatives won more seats than Labour without being able to muster a Commons majority with other parties for his first Queen's Speech.
In a frantic final 48 hours of campaigning, Labour will focus on the NHS and the Conservatives the economy. 10 leading economists warn that the incoming government must drop the Coalition's economic policies and not repeat the mistakes made since 2010. In a letter to The Independent, they say: "The overall policy result since the financial crisis of 2008-9, has been the slowest recovery from any major recession in modern times."
The parties are gearing up for a post-election debate about voting reform. Although the current system may help the Liberal Democrats save more seats that their 9 per cent opinion polling rating suggests, the party will stick to its long-standing support for proportional representation.
Vince Cable, the Lib Dem Business Secretary, said: "There must be a debate. The system is breaking down and producing particularly absurd outcomes." He said the SNP could sweep the board north of the border with "barely majority, and possibly minority support."
Mr Cable added: "First-past-the-post was designed for a two-party system. We have long since passed that point. The next step is for people in the two biggest parties to say 'enough is enough'. The problem is that they are vested interests standing in the way. I would hope they realise we are getting into dangerous political waters – parties with very limited legitimacy trying to form governments."
In pictures: Experts' predictions for the General Election - 03/05/15

Show all 10
Rob Hayward, an elections expert and former Tory MP, supports the present system but admitted: "Clearly, there will be a debate." He said Ukip could win 3.5m votes on Thursday but only two or three seats. Although the voting system would be a secondary issue for the Tories if they formed a government, he said, it would be pushed up their agenda if Labour tried to govern with SNP support. Mr Hayward said that, on one scenario, the Tories could win the same number of votes as Labour and the SNP combined, but the Tories and could have 280 seats and Labour and the SNP 320 or more between them.
Graham Allen, who was Labour chairman of the Commons Political and Constitutional Reform Committee in the last parliament, said MPs should be recalled next Monday, if no party wins a majority to discuss the election outcome --including the electoral system. There should then be a constitutional convention. "If people who vote for smaller parties feel under-represented, we could be in danger of de-legitimising our democracy," he said. "The idea that we could park this and go back to business as usual would look complacent to the public."
Mr Allen added: "A constitutional convention could deal with all these issues outside the battle of a general election and come to a rational decision about our democracy. It is tremendous opportunity."
There is growing support for a constitutional convention among academics, experts and pressure groups such as the Electoral Reform Society (ERS). Labour, the Liberal Democrats and the Greens back the idea. A convention would also look at the issues raised by last autumn's referendum on Scottish independence and Tory plans for "English votes for English laws."
Defenders of the present system say that in the 29 elections since 1900, the average vote share has been Tory 44 per cent, Labour 33 per cent and Lib Dems 19 per cent. The amount of time spent in government has been Tory 54 per cent, Labour 29 per cent and Lib Dems 12 per cent – not wildly different.
Critics of PR claim that some small parties can enjoy long spells in governing coalitions, giving them much more influence than their popular support merits. They cite the role of the Free Democrats in Germany.
AV referendum
A referendum on the voting system sealed the deal on the Coalition in 2010 when the Conservatives surprised the Liberal Democrats by agreeing to one on the alternative vote (AV).
Under this, voters can list candidates in order of preference, the bottom candidate drops out and second preference votes are redistributed until one candidate gets more than 50 per cent.
When the referendum came a year later, things did not go according to Nick Clegg's plan. Fearing defeat at one point, the Tories attacked him personally. The Labour leadership backed changed but refused to campaign alongside Mr Clegg.
It was no surprise when the public voted by 68 to 32 per cent against change, on a 41 per cent turnout.
Register for free to continue reading
Registration is a free and easy way to support our truly independent journalism
By registering, you will also enjoy limited access to Premium articles, exclusive newsletters, commenting, and virtual events with our leading journalists
Already have an account? sign in
Register for free to continue reading
Registration is a free and easy way to support our truly independent journalism
By registering, you will also enjoy limited access to Premium articles, exclusive newsletters, commenting, and virtual events with our leading journalists
Already have an account? sign in
Join our new commenting forum
Join thought-provoking conversations, follow other Independent readers and see their replies