General Election 2015: The 'Green Surge' is just beginning, says Natalie Bennett
Party leader remains upbeat despite Greens' decline in support in polls
Nigel Morris
Wednesday 22 April 2015 19:29 Comments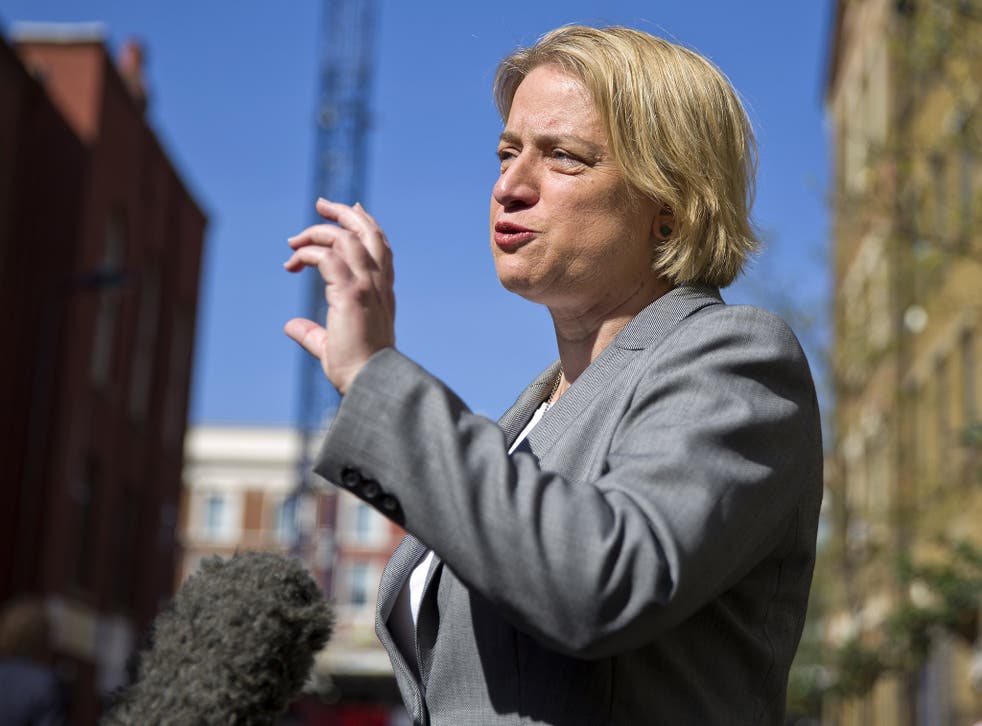 The Green Party has already achieved victory by permanently establishing itself on the political map whatever happens on election day, its leader insisted despite signs that its vote is being steadily squeezed.
Natalie Bennett dismissed claims that the "Green surge" was in retreat, arguing that a "real desire for change" would translate into a strong performance on election day.
Her upbeat message, in an interview with The Independent, follows polls showing support almost halving in three months as well as criticism of her leadership style, highlighted by a notorious radio appearance in which she suffered "brain fade".
She was speaking during a campaign visit to the University of Sheffield where undergraduates queued up for "selfies" with her after she addressed a crowd of around 200. The student vote is a crucial target for the Greens, but a survey this week suggested their appeal is waning on campuses, mirroring a gentle decline in national polls.
In an apparent recognition that some sympathisers were heeding rivals' claims that a Green vote is wasted, Ms Bennett said it was not surprising the party's support was under pressure because "people have been trained to vote tactically over generations".
The party's priority is to defend the Brighton Pavilion constituency of its sole MP, Caroline Lucas, and it is pouring resources into its key target seats of Bristol West and Norwich South. It also hopes to register a strong performance in around nine other constituencies, including Sheffield Central.
---
Are you undecided about who to vote for on 7 May? Are you confused about what the parties stand for and what they are offering? Take this interactive quiz to help you decide who to vote for...
"We have more than quadrupled our membership numbers – we have gone over 60,000 members," Ms Bennett said. "I've been on the leader debates – the Green Party is now clearly established as a major part of British politics. As far as I'm concerned the 'Green surge' has only just started."
She insisted voters were responding to the party's support for a £10 minimum wage by 2020, nationalising the railways, banning private profits in the NHS, its "fair and humane" stance on immigration and its willingness to confront Ukip.
She blamed the media's appetite for trivia for the focus on such Green policy suggestions as banning the Grand National and boycotting the 2022 World Cup.
In pictures: Experts' predictions for the General Election - 19/04/15

Show all 10
She sidestepped suggestions that she carried a heavy personal responsibility for the Greens' performance, arguing that voters were often most influenced by local campaigning, and said she had not decided whether she would stand again when her term of office runs out next year.
"Eighteen months is a huge length of time in politics. At the appropriate time I will think about where things are."
The former journalist said she had developed a thick skin over personal attacks on her abilities, adding: "I can guarantee you I have never cried in the corner."
She said: "It took me a few weeks to get to this point, but every time I see another right-wing media outlook taking a gratuitous swing at me I go: 'Yes, we're having an impact, they are worried about us; it's better than them ignoring us'."
---
The Independent has got together with May2015.com to produce a poll of polls that produces the most up-to-date data in as close to real time as is possible.
Click the buttons below to explore how the main parties' fortunes have changed:
All data, polls and graphics are courtesy of May2015.com. Click through for daily analysis, in-depth features and all the data you need. (All historical data used is provided by UK Polling Report)
Register for free to continue reading
Registration is a free and easy way to support our truly independent journalism
By registering, you will also enjoy limited access to Premium articles, exclusive newsletters, commenting, and virtual events with our leading journalists
Already have an account? sign in
Join our new commenting forum
Join thought-provoking conversations, follow other Independent readers and see their replies