General Election 2015 TV debate: How many of the seven party leaders can you name?
Video: We asked the public to see whether they knew who Nick, Nicola, Nigel and Natalie were
Kiran Moodley
Thursday 02 April 2015 12:03 Comments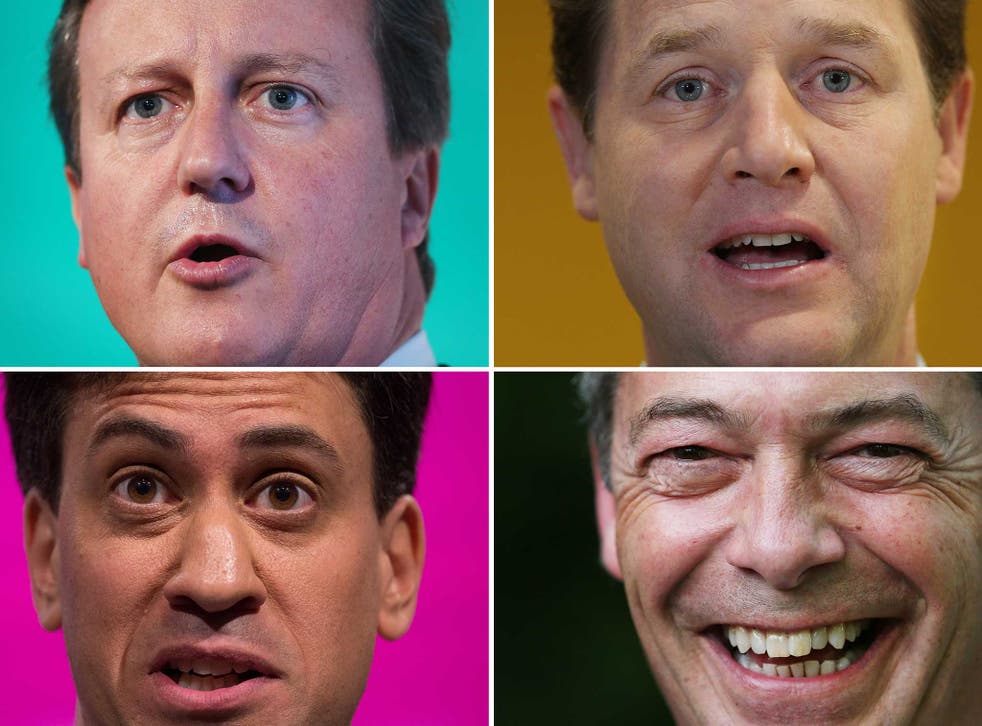 After so much bickering around the election TV debates - with broadcasters "threatening" the Prime Minister with a sinister "empty chair" and Ed Miliband desperately keen to get David Cameron to himself - the public will at last see a decent political battle tonight - albeit a rather crowded one.
After weeks and weeks of faffing, ITV will host all seven major party leaders in a live two-hour debate. In advance of the seven-way tussle, ITV revealed where the seven individuals would be standing, after the "contestants" drew lots earlier this week.
Green Party leader Natalie Bennett will be on the far left of the screen, followed by Deputy Prime Minister Nick Clegg, Nigel Farage of Ukip and Ed Miliband. To the Labour leader's left will be Plaid Cymru's Leanne Wood, then the Scottish National Party's Nicola Sturgeon before Cameron completes the line up on the far right of the screen. The debate airs at 8pm tonight and will last two hours.
ITV Leaders' Debate: Who's in it?

Show all 6
The incredibly unscientific survey shows that many viewers may be wondering why Cameron and Clegg are sharing the centre stage with a bunch of apparent strangers.
Register for free to continue reading
Registration is a free and easy way to support our truly independent journalism
By registering, you will also enjoy limited access to Premium articles, exclusive newsletters, commenting, and virtual events with our leading journalists
Already have an account? sign in
Join our new commenting forum
Join thought-provoking conversations, follow other Independent readers and see their replies