General Election: Second Scottish independence referendum should be held if UK quits the EU, says Nicola Sturgeon
SNP leader says this election is not about independence but said the Tories' pledge to hold EU referendum in 2017 would justify a second Scottish vote
Matt Dathan
Tuesday 21 April 2015 10:38 Comments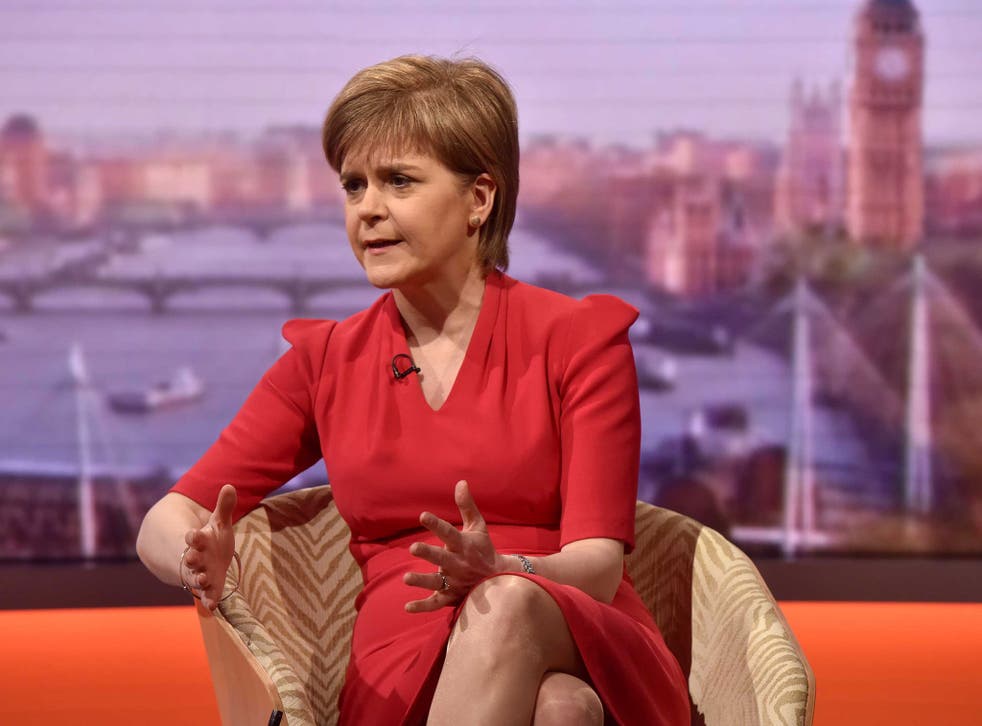 A second referendum on Scottish independence should be held if the UK votes to quit the European Union, Nicola Sturgeon has said.
Scotland's First Minister insisted this election was not about a second independence referendum but refused to rule out staging one after next year's Scottish Parliament elections.
The Conservatives have pledged to hold a referendum on Britain's membership of the EU in 2017 if they win power and the Liberal Democrats have shown signs they may be willing to accept an EU vote in exchange for concessions if they enter a second coalition with David Cameron's party.
The SNP manifesto, which Ms Sturgeon unveiled yesterday, calls for each of the UK nations to be given a veto on leaving the EU and will propose a "double majority" rule.
This would mean that unless England, Scotland, Wales and Northern Ireland each vote to leave the EU, the UK would remain a member state. If this was resisted, it could lead to a second independence referendum, she said.
In an interview with the Daily Mail, Ms Sturgeon said: "I'm quite clear - a vote for the SNP at this election, I'm not taking that as a mandate for another referendum, she said.
"So it would have to be something like the EU situation, if there was an out vote across the UK and Scotland wants to stay in."
"If I put a commitment to a referendum in any future SNP manifesto, people have to vote for that manifesto, so I can't do that lightly. I have to be sure that there is a change of circumstances that has led to people by majority opinion wanting another referendum."
Support for the SNP has been on the up, despite the vote against independence last year, with polls suggesting there could be a record number of Scottish nationalists at Westminster.
A survey of bosses of the 10 top polling companies for their predictions for The Independent on Sunday suggested the SNP could win 45 seats, while other calculations puts the party's seats projection even higher.
With the election apparently on track for another hung parliament, that could see Ms Sturgeon and her party holding the balance of power across the UK.
Some of Labour's top figures also face losing their seats to the SNP, including the party's Scottish leader Jim Murphy and shadow foreign secretary Douglas Alexander.
The SNP manifesto makes the case for "modest" increases in public spending, resulting in "at least £140 billion extra investment" across the UK.
This would see an additional £9.5 billion above the rate of inflation for the NHS by 2020/21, a total increase of £24 billion.
SNP MPs would back an increase in the minimum wage, wanting this to rise to £8.70 an hour by 2020, and would also vote in favour of the reintroduction of the 50p rate of income tax for top earners, as well as mansion tax and a bankers' bonus tax.
While the tax changes are similar to those set out by Labour, one key difference between the two parties remains over the issue of Trident.
In pictures: Experts' predictions for the General Election - 11/04/15

Show all 10
---
The Independent has got together with May2015.com to produce a poll of polls that produces the most up-to-date data in as close to real time as is possible.
Click the buttons below to explore how the main parties' fortunes have changed:
All data, polls and graphics are courtesy of May2015.com. Click through for daily analysis, in-depth features and all the data you need. (All historical data used is provided by UK Polling Report)
Register for free to continue reading
Registration is a free and easy way to support our truly independent journalism
By registering, you will also enjoy limited access to Premium articles, exclusive newsletters, commenting, and virtual events with our leading journalists
Already have an account? sign in
Join our new commenting forum
Join thought-provoking conversations, follow other Independent readers and see their replies