General Election: Why manifestos aren't worth the paper they're written on but the one reason why they matter more than ever to politicians
Parties unveil their manifestos this week, but in an era of hung parliaments and broken promises, are any voters paying any attention?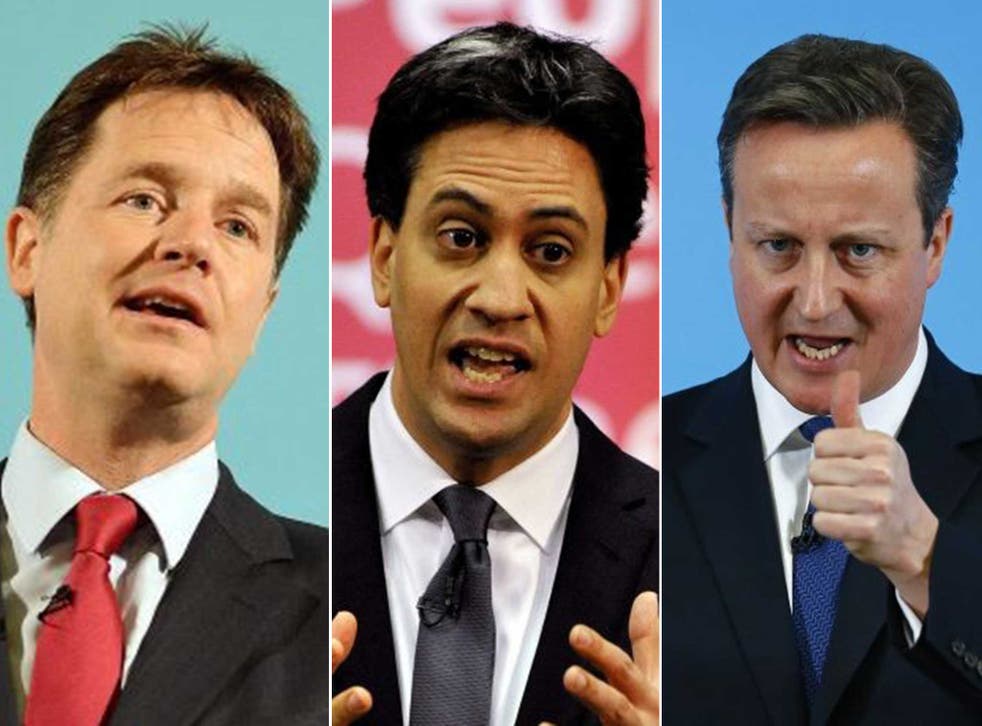 Labour kicks off manifesto week today after months of agonising over what to put in, what to prioritise and what to leave out.
The Tories will follow tomorrow, along with the Green party, while the Liberal Democrats and Ukip follow on Wednesday.
But do manifestos matter anymore? In an era of hung parliaments, coalition government, broken promises and an electorate that couldn't care less, why do the parties bother spending so much time drafting and publishing their manifestos?
Here are three reasons why manifestos matter little to voters, followed by the one reason why they are massively important for politicians.
A hung parliament will make them redundant… again
All polls are pointing to another hung Parliament, which means none of the parties will be able to implement all of their manifesto pledges and will undoubtedly be forced to compromise some of their policies in exchange for support from one or more parties.
If there is a second coalition, the parties involved will have to rip up their manifestos and draw up their own, joint effective manifesto just days after the election.
For the junior party, or parties as it may be in May, the vast majority of their manifesto will become redundant in government as they will be forced to choose just their very top priorities, while ditching the rest as the cost of entering into government.
Manifestos have traditionally been seen as a contract with voters and a mandate to take action in government, but that fundamental purpose is ceasing to be relevant in an era when majority governments appear a luxury of the past.
No one reads manifestos – and why would they?
Very few voters actually read them, with personalities playing a much bigger role in how people vote. The Conservative party's election strategist Jim Messina told the party last year that the average voter only thinks about politics for four minutes a week – so the average voter would need several months to read the 30,000 word documents.
A poll in 2010 found just 27 per cent of people said they had read them, but who knows how much of the document they actually read.
Considering the manifestos are likely to be replaced by a coalition agreement very soon after they are published, why would the rational voter ever think of reading them?
Politicians break their manifesto pledges – all the time
Less than six months after pledging to scrap tuition fees, the Liberal Democrats were part of a government that trebled them; the Conservatives promised not to put up VAT but soon after the 2010election they did, along with breaking another promise not to touch child benefit; and in 2005 Labour refused to give voters a referendum on the Lisbon Treaty – two years after vowing to give the people a say on the almost-identical European Union Constitution.
Why have manifestos if politicians are so willing to row ignore them when they enter government?
And the one reason they matter more than ever to politicians...
But for the parties, manifestos are important as ever – if not more so. They represent their opening bids for post-election deals, setting out their absolute priorities, their red lines, as well as offering potential sweeteners to possible coalition partners by hinting that they would be open to negotiation on an issue.
Would the Lib Dems concede their opposition to an EU referendum to enter into a second coalition with the Tories? Would the SNP drop their demands for scrapping Trident to back up a Labour-run administration? Would Nigel Farage compromise on the date of an EU referendum to support a second term for David Cameron?
Those are the big compromises the smaller parties may have to make, but there will also be significant sacrifices made by Labour and the Tories to persuade a smaller party to back them up.
General election 2015: The worst gaffes and controversies

Show all 36
So for political parties, manifestos play a vital role in this era of hung parliaments. They will be the starting point for the parties as they enter into sweaty backroom negotiations after an inconclusive election result.
But by the time a new government presents its Queen's Speech to Parliament in late May, manifestos will have long-been forgotten and abandoned in those sweaty backrooms.
The Independent has got together with May2015.com to produce a poll of polls that produces the most up-to-date data in as close to real time as possible.
Click the buttons below to explore how the main parties' fortunes have changed:
All data, polls and graphics are courtesy of May2015.com. Click through for daily analysis, in-depth features and all the data you need. (All historical data used is provided by UK Polling Report)
Join our new commenting forum
Join thought-provoking conversations, follow other Independent readers and see their replies