Labour leadership: Party braced for bloody fight ahead as at least 7 figures set to fight it out to replace Ed Miliband
Only Liz Kendall has officially declared she is running for leader but a string of others have dropped very big hints they are about to join her
Matt Dathan Comments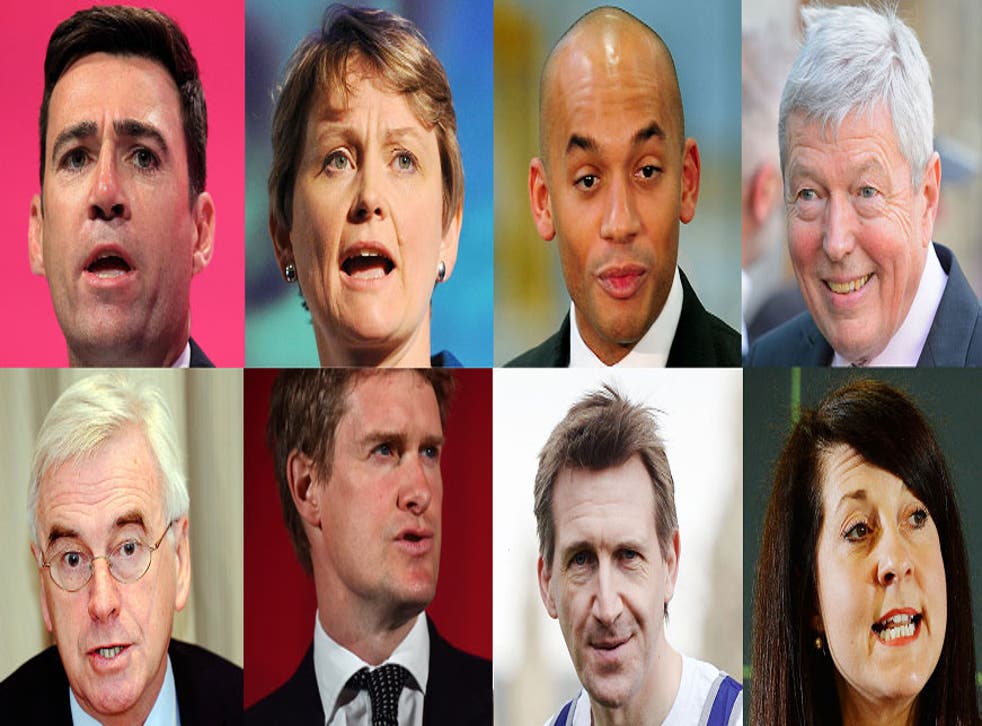 A fierce Labour leadership battle has broken out just two days after Ed Miliband stood down, leading to fears of a bloody contest that could set the party fall back further after its worst election defeat in more than 20 years.
Only one - Liz Kendall - has declared she is running for the leadership so far but there are plenty of other candidates making very open hints that they will join her in the race.
Three of the party's 2010 intake – Chuka Umunna, Tristram Hunt and Liz Kendall – have already said they are considering standing for leadership while others, including frontrunners Yvette Cooper and Andy Burnham, are believed to be taking soundings before declaring their leadership bids.
Two outsiders – Barnsley MP Dan Jarvis and London Mayoral hopeful David Lammy – are also considering standing.
The race to become deputy Labour leader is also set to become a brutal battle, with three runners so far.
Caroline Flint, who championed Labour's energy price freeze, as energy secretary; shadow Leader of the House of Commons Angela Eagle and Mr Miliband's former campaign coordinator Tom Watson are the early contenders.
Who will be the next Labour leader?

Show all 7
Mr Watson, MP for West Bromwich East, has already set up a crowdfunding campaign to become deputy leader – targeting £25,000.
Speaking this morning, Mr Umunna admitted Labour had spent too much in the past – something Mr Miliband pointedly refused to do during the campaign and many say significantly damaged his chances.
He said: "Going into the crash, should we have been running albeit a small and unremarkable deficit? Of course we shouldn't."
Asked by Sunday Politics whether she was running for the leadership, she said: "Yes." It was the first time she confirmed publicly that she was running. In an interview with the Sunday Times, Ms Kendall said Labour needed a "fundamentally new approach".
Ms Kendall, who served as Mr Burnham's deputy as a shadow health minister, said Labour had lost voters over the economy and – like Mr Umunna – had said "far too little" to more aspirational voters.
"I think we lost because people didn't trust us on the economy. People didn't think we understood their lives, shared their values and aspirations," she said.
Meanwhile Mr Hunt said he wanted to be "one of those voices" in rebuilding the party, adding: "I'll certainly be considering that in the coming days."
But an unnamed leadership rival hit out at the raft of MPs from the 2010 intake who have been all-too-happy to criticise Mr Miliband's campaign just days after they were part of his front-bench team.
A source from an "unannounced" leadership campaign told the New Statesman the likes of Mr Umunna and Ms Kendall were "behaving like family members taking jewellery off a corpse".
There is disagreement however over how long the leadership race should take, with some arguing against a long, drawn-out process similar to 2010 when the party lost ground to the Conservatives early on and failed to offer a counter-argument to the line that New Labour's spending spree had caused the recession.
Sources from Labour's head office said on Friday that the party wanted a relatively swift leadership battle to make sure it does not repeat this mistake, but others are demanding a more route and branch approach to make sure the party not only chooses the right leader but also to make sure it learns all the necessary lessons about its failure.
Jon Ashworth, who was part of Mr Miliband's campaign team, thinks the party should take its time over appointing a new leader, an approach that is backed by one of the contenders - Mr Hunt.
Register for free to continue reading
Registration is a free and easy way to support our truly independent journalism
By registering, you will also enjoy limited access to Premium articles, exclusive newsletters, commenting, and virtual events with our leading journalists
Already have an account? sign in
Join our new commenting forum
Join thought-provoking conversations, follow other Independent readers and see their replies