Nick Griffin faces legal threat for using photo of kilted black men to mock SNP
Photographer Daniele Tamagni was furious that Mr Griffin had used one of his pictures without permission for the purposes of 'disgusting racist propaganda'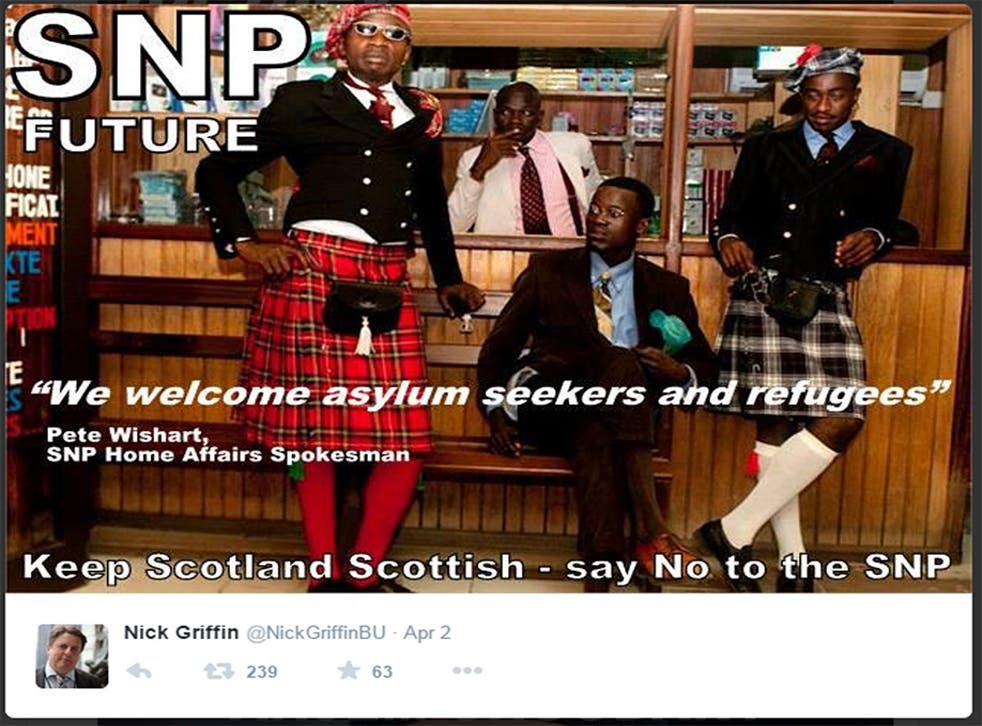 Nick Griffin is facing possible legal action from an award-winning Italian photographer angered at the former British National Party leader's use of one of his images in a tweet.
Daniele Tamagni, who was awarded a World Press Photo prize in 2011, was furious that Mr Griffin had used one of his pictures without permission for the purposes of "disgusting racist propaganda", having learned about it from a report in The Independent.
After adding his own captions across Mr Tamagni's 2008 photograph of Congolese dandies posing in kilts to demand "Keep Scotland Scottish", Mr Griffin was roundly mocked on Twitter last month. One user tweeted: "Those lads look cool as fuck. You shooglie eyed bigot."
But Mr Tamagni, 40, was horrified and has now contacted a UK solicitor about taking action against Mr Griffin for infringing his copyright and moral rights.
He said: "I am really disgusted that my picture has been used for racist propaganda. I want to defend my work and the values behind it.
"I am pleased that people were clever enough to ensure that it had the contrary effect to the one Nick Griffin intended, but it remains a fact that my picture has been used for something very offensive."
Mr Griffin, who lost his North West England European Parliament seat last May and was expelled from the BNP in October, was unavailable for comment last night. He was declared bankrupt last year and now fronts a new group called British Unity.
Join our new commenting forum
Join thought-provoking conversations, follow other Independent readers and see their replies