Nigel Farage brands LGBT activists 'filth' and 'scum' and accuses them of scaring away his children after they invade his local pub
Ukip leader has become a target for protests against anti-immigration policies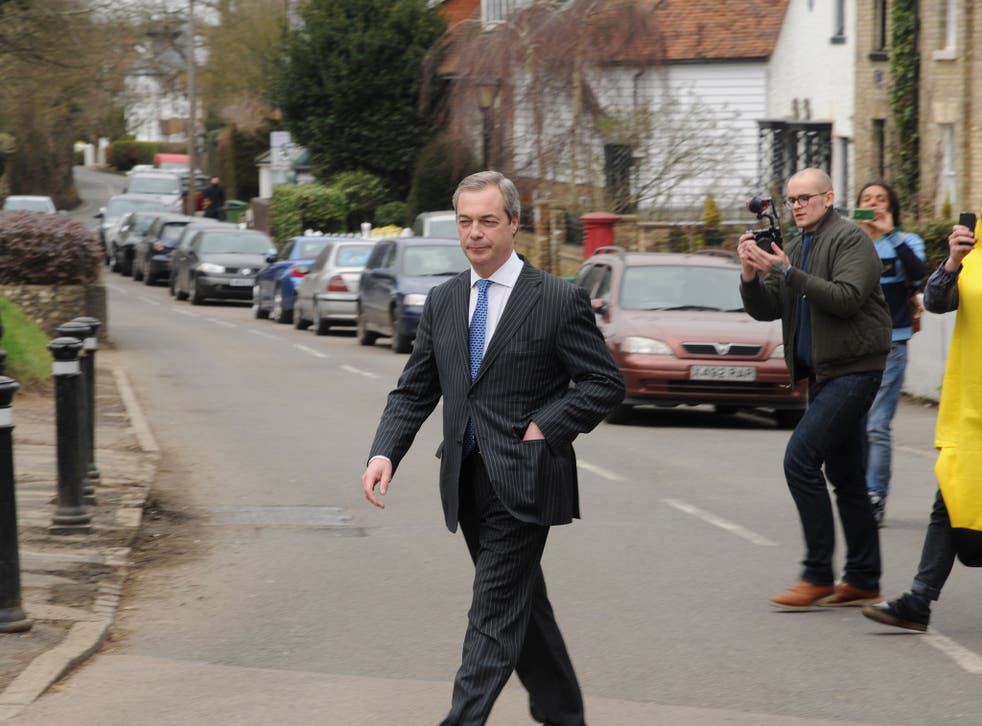 The Ukip leader Nigel Farage branded a group of LGBT rights protesters "filth" and "scum" after they invaded a pub where he was having lunch with his family – apparently causing his children to run away.
Campaigners claiming to represent "those who have been targeted by Ukip" planned to stage a demonstration of around 100 people at Mr Farage's local pub in the village of Downe in Kent.
When they realised the Ukip leader was actually at another pub across the road, they ran across and "took the cabaret of diversity into that pub" instead, according to the activists.
The politician claimed to be in the pub with his wife and two younger children, aged 15 and 10, when the activists wearing fancy dress came in.
Speaking after the incident, he said: "I hope these 'demonstrators' are proud of themselves. My children were so scared by their behaviour that they ran away to hide.
Ukip's confusing policies

Show all 7
"At the time of writing this a relative has gone to look for them, and they are not yet at home. These people are scum."
It was later reported that the children had been found and returned home.
But protesters inside the pub claimed that Mr Farage was at the bar with his "entourage" and an almost-empty pint when they came in.
One, who asked to remain anonymous, said Mr Farage "charged like a bull" and questioned why they were there, calling the protesters "filth".
Protest organiser Dan Glass said the campaigners wearing fancy dress included migrants, HIV activists, gay people, disabled people and breastfeeding mums.
"Ukip are a con," he said. "They pretend to be anti-establishment but this couldn't be further from the truth.
"By wrongfully shifting the blame for the economic crisis on to immigrants they have let the bankers off the hook.
"We will not succumb to their prejudice. We will create the world we want to live in. A world beyond Ukip."
Responding to reports that Mr Farage's children had fled from the protest, Mr Glass said: "He was sitting on his own and left on his own. We didn't see any kids."
"It was very good-natured - there was certainly nothing very intimidating about it," he said.
Register for free to continue reading
Registration is a free and easy way to support our truly independent journalism
By registering, you will also enjoy limited access to Premium articles, exclusive newsletters, commenting, and virtual events with our leading journalists
Already have an account? sign in
Register for free to continue reading
Registration is a free and easy way to support our truly independent journalism
By registering, you will also enjoy limited access to Premium articles, exclusive newsletters, commenting, and virtual events with our leading journalists
Already have an account? sign in
Join our new commenting forum
Join thought-provoking conversations, follow other Independent readers and see their replies