Nigel Farage promises Ukip will not 'stigmatise' would-be migrants – and says he wants 'everyone to speak the same language'
Ukip leader says party has ruled out 'arbitrary targets' for immigration - despite previously calling for net migration to be capped at 50,000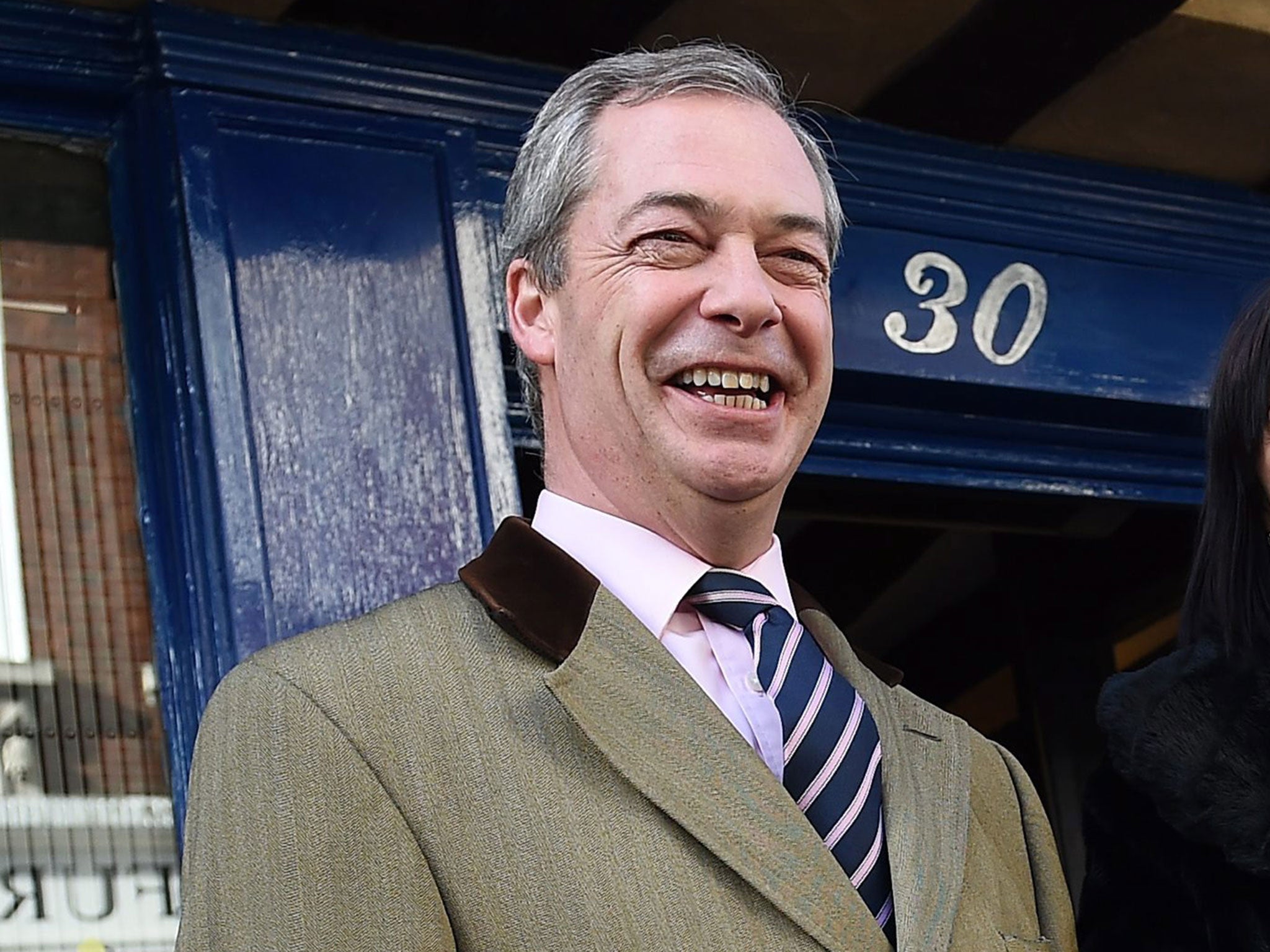 Nigel Farage has pledged to introduce a five-year ban on immigration and an Australian-style points based system to reduce migration in the UK - before stating that he wants everyone in the UK to speak "the same language".
Farage says Ukip has ruled out imposing "arbitrary targets" for immigration, despite the party previously calling for net migration to be capped at 50,000.
Instead, the leader has said his party would establish a Migration Control Commission responsible for reducing net migration into the UK in an article ahead of a speech today.
Mr Farage denied the decision to rule out immigration targets, telling the BBC his party had "evolved" since the 50,000 pledge recently reiterated by Steven Woolfe.
"What he said was 'up to 50,000'," he said. "Actually, that's a very high number because 27,000 is the number that would have qualified under the Australian-style points system.
"I am not getting caught up with ridiculous arguments about caps," he added. "There is no U-turn, there is a change of emphasis."
Ukip's confusing policies
Show all 7
The Chancellor George Osborne accused Ukip of "making it up as they go along" on the Today programme.
"One moment he is talking about a cap and then he ditches it live on air, which is a novel approach to policy-making," he countered.
Speaking in central London today, the Ukip leader detailed proposals for a more "common-sense" approach to immigration with controls on both the quantity and quality of people coming to the UK.
He said this would include an Australian-style points-based visa system which would ensure the right numbers of highly-skilled workers were able to enter the country while imposing a five-year ban on visas for unskilled workers.
"We as a party hold no prejudice against anyone on the grounds of their nationality, their religion or their race," he said. "But we are calling for a return to sanity.
"Britain needs to take back control of her borders, control of her immigration policy and let us turn what has become a negative in our society into a positive."
Answering questions after his speech, Mr Farage admitted he was "concerned" that Ukip was being perceived as prejudiced.
"I don't want this party to be perceived as anything other than an open, inclusive political party, which without doubt it is," he said.
Asked whether immigration could reach the point where he was uncomfortable living in Britain, Mr Farage said: "I want to live in a country that is at ease with itself, where we speak the same language ... where our kids can play football with each other, and we all get on."
Rules discriminating between European Union (EU) and non-EU nationals would be abolished, and those workers who qualified under the system would be issued with a visa valid for five years.
During that time, they would not be entitled to claim UK benefits and would be expected to take out health insurance. After five years they would be entitled to apply for permanent leave to remain, provided they had not broken the law.
In an article for The Daily Telegraph ahead of his speech, Mr Farage said Ukip's policy would not "stigmatise, or discourage, or blame people for coming to this country".
"While politicians and the people they represent determine the direction of travel for this country, we will not, unlike the other parties, seek to set arbitrary targets which only result in broken promises," he wrote.
Farage went on to claim he feels so strongly about immigration because his own ancestors were French Huguenot refugees.
"I feel so passionately about this because my ancestors were migrants – technically, asylum seekers. The 'wave' of immigration behind my ending up here numbered around 50,000 people."
"We are a party that believes that Britain can and does benefit from skilled workers. […] One example of this from my ancestry is my great-great-grandfather Nicholas Schrod, a skilled cabinet maker.
"He and his wife integrated into British society, worked their fingers to the bone, and created a life for their children, and their children's children. A life that eventually led to me standing here, praising migrants just like them."
Mr Farage insisted migrants from the Commonwealth would be given a "fair chance" at entering the UK after Ukip's policy came into effect.
Additional reporting by PA
Join our commenting forum
Join thought-provoking conversations, follow other Independent readers and see their replies