Prime Minister's Questions: 11 reasons why it epitomises the worst in British politics
Politicians love it; the vast majority of the public hate it. This is why no one will miss the weekly shouting match and why it should be consigned to history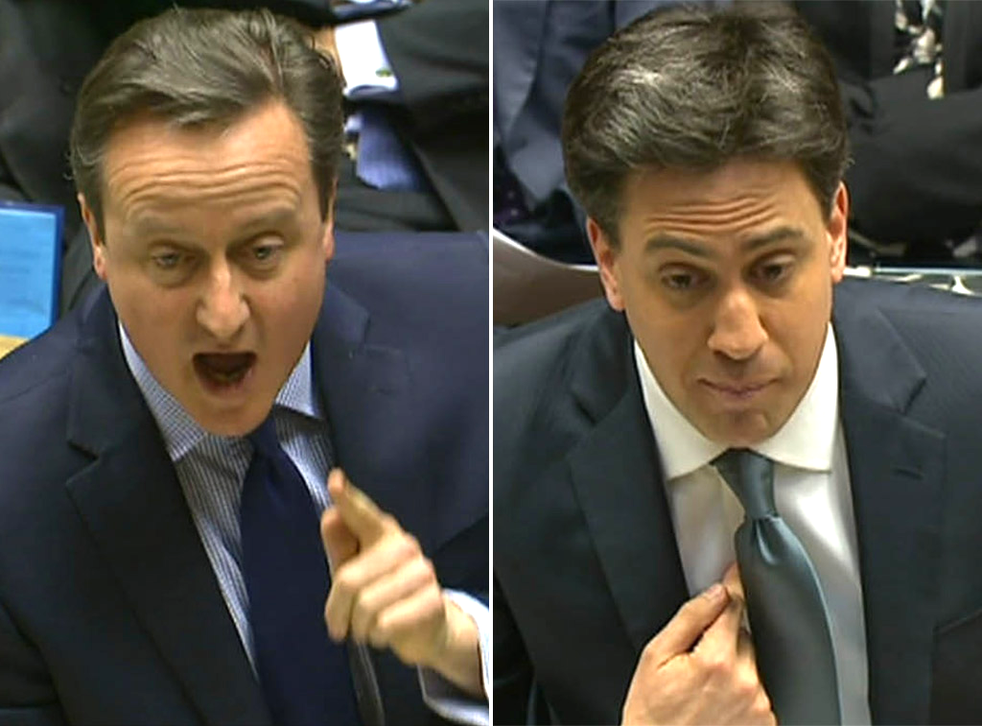 Politicians and journalists love it but for the vast majority of the public, watching Prime Minister's Questions resembles a trip to the zoo and epitomises everything they hate about British politics.
We had to wait for the final session of the Parliament to finally get anything of any substance out of the weekly shouting match but it was hard to hear through all the noise.
Asked by Ed Miliband to give a rare "straight answer," David Cameron ruled out a VAT rise today and made the Labour leader look like a fool.
And that's the overriding goal for each of the leaders: embarrass the opposition.
This inevitably leads to the most childish of tactics as MPs resort to classroom antics to try and get one over the opposition benches.
This is exactly why so many people hate Prime Minister's Questions and think it should be binned for the new Parliament.
Here are 11 reasons why no one will miss it over the next two months and why it should never return.
1. MPs turn into animals
Clucking, barking and roaring have become the norm at Prime Minister's Questions over recent weeks. Miliband accusing Cameron of chickening out of the TV debates has been accompanied by clucking noises from the red benches.
Today we heard woofing noises – and it wasn't from David Blunkett's guide dog. When Cameron joked about how he was "looking at Alex Salmond's poodle", Tory MPs barked with joy, their metaphoric tails wagging behind them.
And last year the Speaker John Bercow told off Labour MP Ian Lucas for letting out a "lion's roar".
2. MPs behave like it's a football match
The British public might love going to the football, but they certainly don't like watching MPs behaving as if they're at the football.
Today the Scottish Nationalist MP Angus MacNeil could be seen fist-pumping each time his hero Alex Salmond was mentioned, while Ed Balls once performed a bizarre fist-pump:
3. MPs use gestures when it's too loud to shout
Indeed, the Shadow Chancellor's hand gestures have had a life of their own this parliament. We've had his flat-lining gesture, but after the recovery picked up he swapped it for a thumbs down motion.
Today we were treated to Labour's Angela Eagle gesturing towards a pint to suggest Cameron was drunk, as well as the usual images of SNP MPs clutching their top pockets at any mention of their rise north of the border in reference to the Tory election poster depicting a tiny Ed Miliband in Alex Salmond's top pocket.
4. MPs hide in the aisles so they can shout louder
Younger, more agile MPs hide in the aisles, where – obstructed from the view of the Speaker – they are able to heckle and shout as loud as they can to try and put their opposition leader off their game. Matt Hancock, George Osborne's loyal apprentice, often deploys this tactic, while Michael Dugher, Labour's shadow transport secretary, is one who shouts back from the Red benches.
5. The constant shouting and mud-slinging
Lemsip is in short supply on Wednesday afternoon because of the amount of shouting that goes on in the chamber during Prime Minister's Questions.
Cheers erupt every time a party buzzword is mentioned. The phrase "long-term economic plan" is met with as much noise as a Harry Kane goal at White Harte Lane.
Whether it's Tory MPs shouting "more," after Cameron successfully bats away a Miliband attack, a Scottish Nationalist shouting "SNP gain" to put off a Scottish Labour MP from asking his question or a Tory trying to impress his mates by shouting "cheer up Labour", it doesn't present the best example of the work our elected representatives do.
6. The whole thing is orchestrated by Downing Street
Number 10 hands out a set of pre-prepared questions to the party's backbench MPs that the Prime Minister can then use to reel off a whole list of pre-prepared statistics boasting about the government's record.
Conservative MP Andrew Percy recently revealed copy of an email sent by Downing Street to backbench Tories suggesting a set of questions about how well the government's "long-term economic plan" was going.
7. MPs acting like the teacher's pet
The MPs shameful enough to agree to ask a planted question then stand up in the Commons and – acting like the teacher's pet – reel out a load of statistics about how the government's policies are benefiting their constituents.
This allows the Prime Minister to then proudly stand up and boast about how he's helped not only those constituents, but every single person in the country by regurgitating a whole list of pre-prepared statistics.
8. The Speaker has to behave like the head master
When the noise levels reach such a level that peers sleeping next door in the House of Lords start waking up, John Bercow intervenes with a bit of pomposity to remind everyone that he thinks he's in charge.
And sometimes, he roars.
9. The Prime Minister ends up asking the questions himself
When the Prime Minister doesn't like the sound of a question, he just responds by posing a question himself.
Today was one of the rare times David Cameron did give a straight answer – in ruling out VAT – but the last few weeks have been dominated by Cameron asking Miliband whether he would rule out a Coalition with the SNP.
10. Even the jokes are bad:
It's a sign of how poor Prime Minister's Questions are that the jokes are the things most people remember from the session.
Here is one of the better jokes we've heard in the chamber from Cameron – and it doesn't say much.
Commenting on Ed Miliband revealing that Angel by Robbie Williams was among his favourite song, David Cameron said: "It's fair to say he's no longer a follower of Marx, he's loving Engels instead."
11. Spin doctors do the real work by briefing journalists about what their leaders were meant to say
The real meaning and significance of what the leaders said is revealed after Prime Minister's Questions behind the scenes. Journalists gather in a huddle as they quiz each of the leaders' advisers, who try and spin what Cameron or Miliband said (or didn't say) to their party's advantage.
Register for free to continue reading
Registration is a free and easy way to support our truly independent journalism
By registering, you will also enjoy limited access to Premium articles, exclusive newsletters, commenting, and virtual events with our leading journalists
Already have an account? sign in
Register for free to continue reading
Registration is a free and easy way to support our truly independent journalism
By registering, you will also enjoy limited access to Premium articles, exclusive newsletters, commenting, and virtual events with our leading journalists
Already have an account? sign in
Join our new commenting forum
Join thought-provoking conversations, follow other Independent readers and see their replies