Ukip candidate Alan Harris blames 'Facebook hack' for alleged homophobic and anti-Muslim comments
Harris was named Ukip's candidate for the Oxfordshire constituency in November 2014 and has been a member of the party since May 2013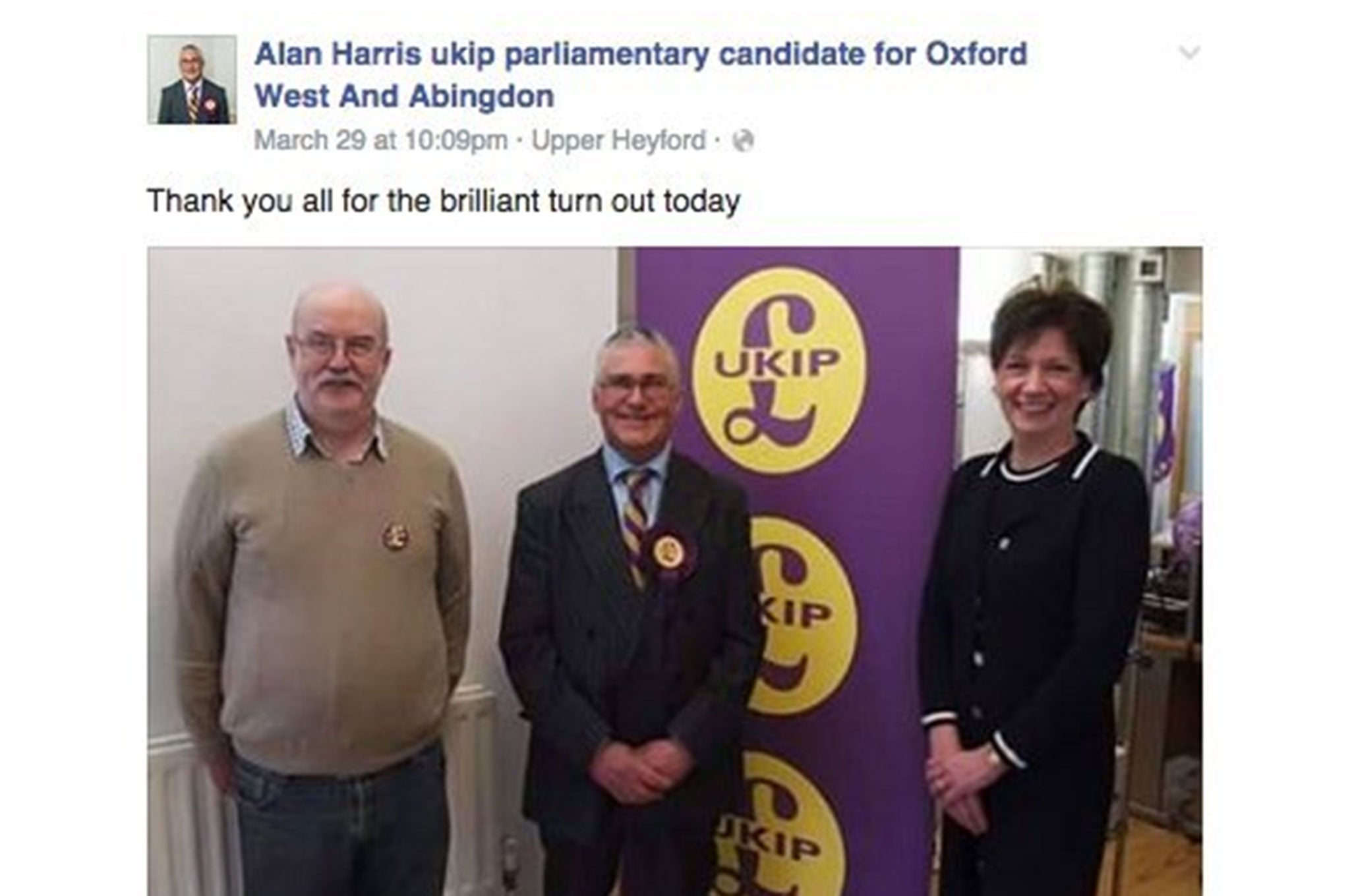 Ukip representatives have said they are looking into allegations a series of homophobic, racist and anti-Muslim posts on were posted on the personal Facebook page of one of the party's prospective MPs.
The Facebook page of Alan Harris, a prospective parliamentary candidate for Oxford West and Abingdon, is alleged to have included the comments between 2011 and 2013.
Anti-Ukip blog Hope Not Hate posted screenshots which read: "why cant i say in my own bloody country black is still a colour and gay are still queers." [sic]
Two Facebook pages linked to Harris have been deleted and his Twitter account also appears to have been taken down.
Harris was named Ukip's candidate for the Oxfordshire constituency in November 2014 and has been a member of the party since May 2013.
Ukip Oxfordshire organiser Dickie Bird, who one of the messages appeared to have been sent to, told the Oxford Mail: "I will be looking into this urgently and I think the party will as well.
"I am a close personal friend of Alan's and can say this is not language he uses."
Speaking to The Independent's Andy McSmith, Harris said: "I'm absolutely disgusted. My account has been hacked – again. You know what Facebook is like.
"I wouldn't say anything about gay people because I have a gay son. I've got lots of Asian friends. I never said any of this."
Last week former Ukip candidate for Hendon Jeremy Zeid stepped down after details of a bizarre tirade were made public, where he urged the Israeli government to "do an Eichmann" on US President Barack Obama, kidnap him and put him on trial like a Nazi war criminal.
The Independent has contacted a Ukip spokesperson for comment
Join our commenting forum
Join thought-provoking conversations, follow other Independent readers and see their replies